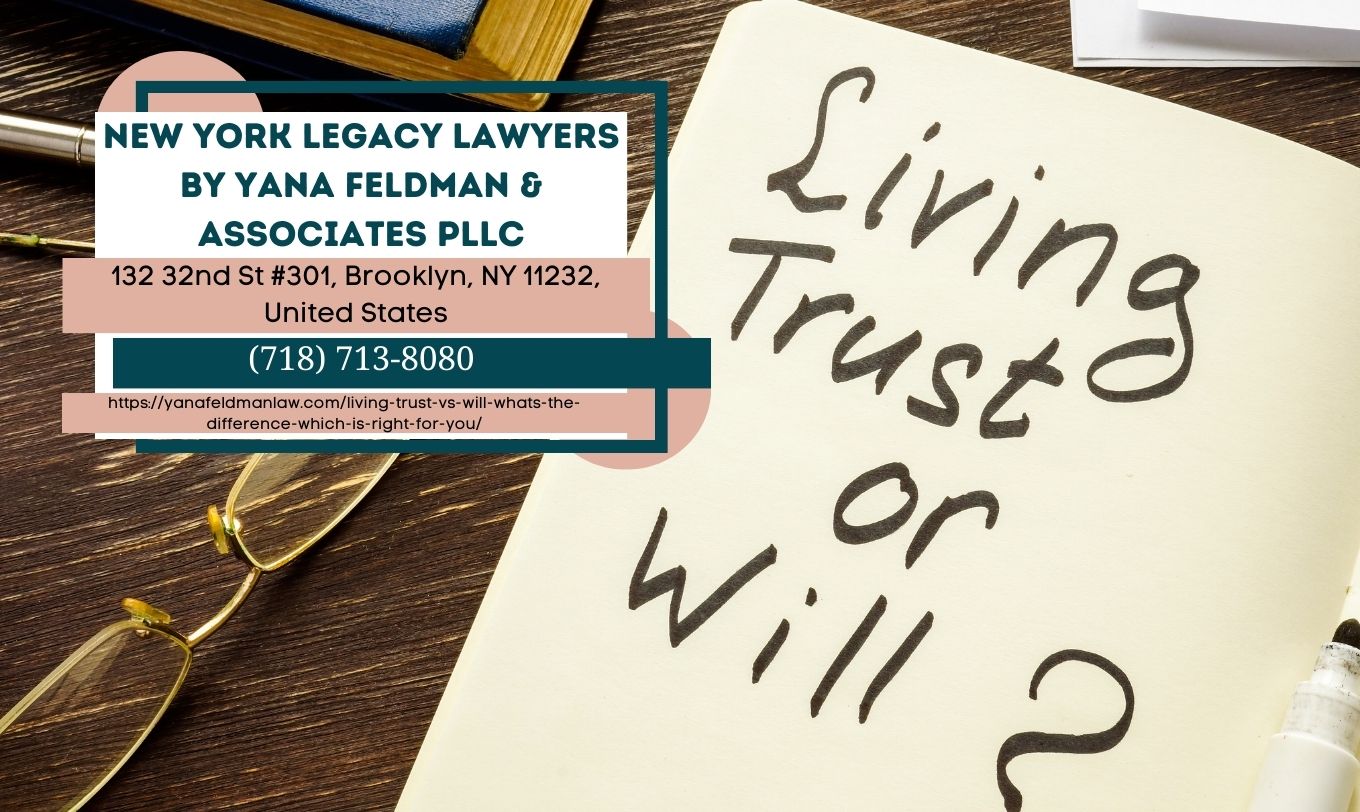 New York estate planning lawyer Yana Feldman (https://yanafeldmanlaw.com/living-trust-vs-will-whats-the-difference-which-is-right-for-you/) has recently published an insightful article titled 'Living Trust Vs. Will: What's The Difference? Which Is Right For You?' The article provides a detailed comparison between a living trust and a will, two essential tools in estate planning.
New York estate planning lawyer Yana Feldman aims to clarify the complex yet critical subject of estate planning through this article. Feldman believes that understanding the difference between a living trust and a will is crucial for anyone who wishes to protect their assets and ensure the well-being of their loved ones.
"Facing the reality of death or incapacitation may be challenging, but it's essential to have these conversations, especially if one has young children or a non-traditional family structure," says the New York estate planning lawyer.
The article extensively covers various factors that differentiate a living trust from a will, such as complexity, privacy, health considerations, matters involving children, and estate handling post-death. It reveals that while both tools are beneficial for estate planning, their application depends on the unique circumstances of each individual.
"A combination of both will provide individuals with the best options for caring for their estate and their family," Feldman advises in the article. She also reassures that employing both a will and a living trust in an estate planning strategy can be advantageous in specific situations.
Feldman's article is not just an informational guide but also a call to action for individuals to take proactive steps in planning their estates. "Don't wait until it's an emergency to plan one's estate," Feldman encourages her readers.
The article provides a comprehensive examination of the topic, helping individuals understand the nuances of estate planning. It serves as an excellent resource for anyone seeking clarity and direction in managing their assets and ensuring their loved ones' future.
Feldman encourages individuals to engage with this insightful piece and take a step towards informed estate planning.
About New York Legacy Lawyers:
New York Legacy Lawyers is a team of skilled estate planning attorneys committed to assisting individuals in navigating the complexities of estate planning. Led by Yana Feldman, the firm's objective is to provide peace of mind to their clients, ensuring that their estate planning meets their unique needs and circumstances. New York Legacy Lawyers are dedicated to ensuring clients' wishes are respected, and their loved ones are protected, making them a trusted choice for estate planning in New York.
Embeds:
Youtube Video: https://www.youtube.com/watch?v=1lRWGE1D8iA
GMB: https://www.google.com/maps?cid=16408561942605909937
Email and website
Email: yana@yanafeldmanlaw.com
Website: https://yanafeldmanlaw.com/
Media Contact
Company Name: New York Legacy Lawyers by Yana Feldman & Associates PLLC
Contact Person: Yana Feldman
Email: Send Email
Phone: (718) 713-8080
Address:132 32nd St, Brooklyn, NY 11232
City: Brooklyn
State: New York
Country: United States
Website: https://yanafeldmanlaw.com/