Seoul, Korea – February 26, 2020 – Toilets can be kept clean and germ-free even without the good old bleach. Toelect is an eco-friendly toilet sterilization system ('Toilet+electrolysis') that uses electrolyzed water to keep the washroom clean and free of germs.
Toelect, the eco-friendly, automatic toilet cleaning and sterilization system will soon make its debut on Kickstarter. A special giveaway event is on its Instagram page.
Toelect works with only salt and water, and using the power of electrolyzed water, cleans the toilet without requiring the use of harmful, colored chemicals. Electrolyzed water removes 99.9% of harmful bacteria in the toilet. The device production began in 2015 through government support, and the gadget is now seeking crowdfunding on Kickstarter for eventual launch and production.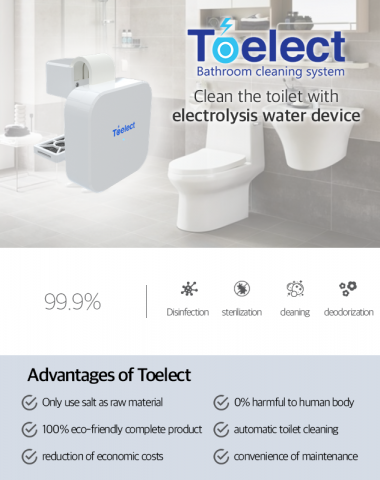 Old ways and habits die hard, but new technologies like Toelect will usher in a new culture to keep toilets clean. Bleach is cumbersome to use and is made of synthetic chemicals. This made the founder of Toelect, Koo Kyo-Pil, think of a 'natural bleach' that would be safe for humans and also automatically clean and disinfect the toilet every time it was used.
"'Toelect' is a next-generation toilet sterilization care device using electrolyzed water, which can safely and cleanly clean toilets using only salt and water," says Koo Kyo-Pil, Founder, Toelect.
Electrolyzed water, obtained by applying electrolyte (salt) and electric power to general water such as tap water or groundwater, is used in various fields. Toelect is a smart gadget that can be hung in the water tank of the toiler, with its special electrode submerged in water. The salt solution kept on one side of the device is automatically released into the water. All that the user needs to do is start the device and flush the toilet.
Toelect automatic electrolyte toiler cleaner will be loved by housewives, early adopters of new technologies, shoppers looking for new home gadgets and Kickstarter backers who want to invest in genuine and revolutionary new devices, gadgets and technologies.
Toelect has been selected for the Eureka Pavilion in Las Vegas CES, 2020. Collaboration with companies like Royal & Company and Intervas or Coway and others is on the cards. The device has obtained some US patents before launching on Kickstarter. In the next stage, export and distribution channels will be secured, both online and offline, with showcasing of the product in the US, Japan, and China.
For more information, please visit:
Website: https://toelect.com/
Instagram: https://www.instagram.com/toelect_us/
Facebook: https://www.facebook.com/toelect.us
Kickstarter: https://www.kickstarter.com/projects/toelect/toelect-chemical-free-toilet-cleaning-system/description
Media Contact
Company Name: Toelect
Contact Person: Steven
Email: Send Email
Country: Korea
Website: https://toelect.com/