Dedicated to giving listeners music that is delivered with heartfelt honesty, artist/songwriter JoeyNiles is not afraid to express his views with the confidence in his creative ability. His new album "Who Are You" is his strongest release to date and represents his evolution as an individual songwriter. As his own worst critic, he makes himself available to his listeners who may agree or disagree without fear.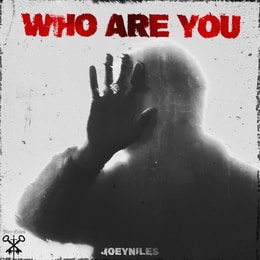 With a release date of September 30, 2021, "Who Are You" is the latest work of songwriter/artist JoeyNiles, who has been recording his own brand of rock music that includes elements of soul, rock, and a touch of heavy metal. Not afraid to put out the music he believes reflects his honest thoughts and opinion, the result of the single is one that hits a variety of Niles' strong points as well as what he admits is part of a constant work in progress.
With a commitment to writing what honestly comes to his conscious mind, JoeyNiles welcomes both lovers and critics of his music, which he admits reflects one's will to adapt while remaining true to himself. Understanding that constructive criticism can only aim to improve his craft, JoeyNiles is unafraid to share with listeners what can only be described as impassioned. Having always loved the sound of rock and heavy metal, these two genres are featured in his unique brand of experimental progressions. It is this eclectic taste and Niles' willingness to listen to his critics that is the baseline for his latest release "Who Are You".
After many years of tribulation and personal challenges, his new single is the perfect example of what it means to take things in stride and always aim to build on past experiences and never giving up. Recorded on both Pro Tools as well as in a professional recording studio, "Who Are You" is a finely crafted single. It provides a more polished, yet raw sound that represents his honest musical take, and is not afraid to experiment.
Realizing that this is only the beginning of getting out into the open the feelings he wishes to express, JoeyNiles is currently in the process of writing and recording new material as listeners can look forward to the release of "Who Are You". The new single is being made available on all major online distributors on 9/30/2021. Check out his YouTube video at https://youtu.be/Osv4LPOIJ4o, and stay updated by clicking on the pre-order button and simply subscribing to his channel.
Listen to JoeyNiles on ReverbNation at https://www.reverbnation.com/JoeyNiles
Connect with JoeyNiles on Facebook at https://www.facebook.com/joeynilesmetal
Media Contact
Company Name: 3000 Records
Contact Person: Terrance Schemansky
Email: press@3000records.com
Phone: (586) 480-3000
Country: United States
Website: reverbnation.com/JoeyNiles