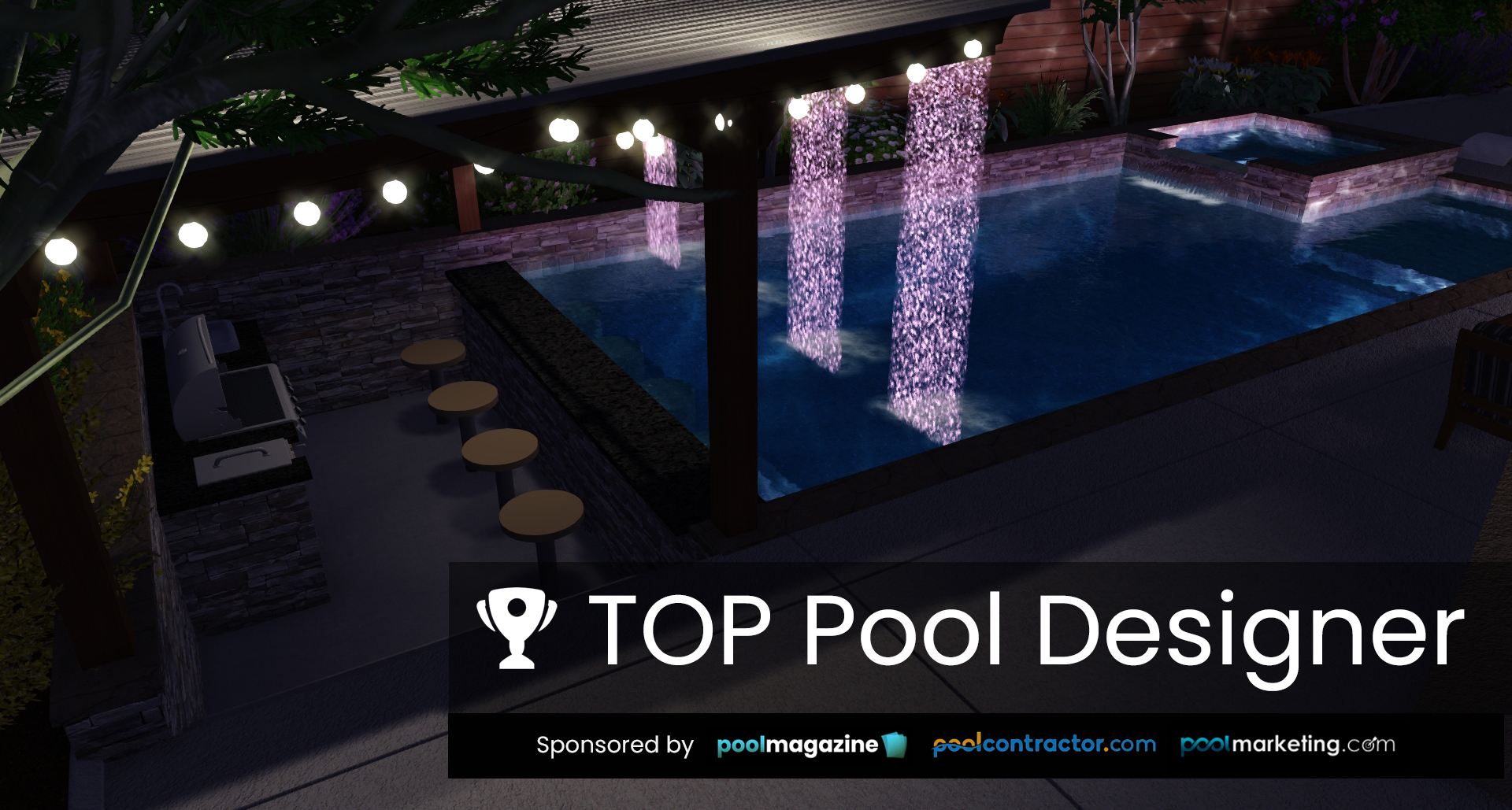 The artform of 3D pool rendering has certainly progressed over the last two decades. 3D rendering software has made it possible to create sophisticated virtual walkthroughs that allow homeowners to reimagine the backyard area virtually. Pool companies in particular have quickly gravitated towards adapting the software as a sales tool to help potential customers visualize the end product. Homeowners and designers can think work side by side to customize the design, features, options and create a truly unique pool design that's one of a kind.
A new competition seeks to acknowledge the Top Pool Designers in America and showcase their talents to the entire swimming pool industry. Recently Pool Magazine announced the launch of their annual Top Pool Designer contest. The competition aims to bring awareness to the art form of 3D Landscape & Swimming Pool Design. The contest is being run by PoolDesigners.com, one of the industry leading sources of 3D pool renderings. Judges comprise an expert panel of 3D / CAD / Pool Design professionals.
The Advancement of Swimming Pool Design Technology
Some of the most elaborate swimming pools in the world first start off as just a concept. In the past artists presented sketches and wireframe diagrams to homeowners to illustrate exactly what they envisioned building in the backyard.
Over time and with the advancement of computer technology, designers now utilize a multitude of different methods including 3D videos, virtual reality and even augmented reality. This has allowed the artform of swimming pool design to transcend to a new unimagined level.
The swimming pool industry has exploded this year in light of the Covid-19 pandemic. More homeowners are building a swimming pool in 2021 than in the last 2 years combined predict analysts. Consequently, homeowners are looking for cutting edge pool designs that compliment the aesthetic of their home and create the backyard resort they're looking for. The art of pool design is suddenly becoming more appreciated and recognized as a result of so much new found attention.
"Until now there really has not been an official organization that truly recognizes the talent and commitment that it takes to be at the top of your field." – Joe Trusty, CEO of Pool Marketing
One of the goals of this new yearly competition is to bring awareness to the field of Pool Design. "We are looking for over the top designs that really draw attention to the art form." said Joe Trusty. "This is such an under-appreciated field of design that really doesn't get as much attention as say Landscape Design or Home Architecture".
First Annual Pool Design Competition
Pool Designers has partnered with Pool Magazine to run the competition and provide a panel of expert judges. First prize in the contest is having your design showcased in Pool Magazine to the entire swimming pool industry. The grand prize winner will also get a year long subscription to Vip 3D by Structure Studios the leading software for 3D Pool Design.
"Entrants will be judged on originality, composition, texture, and production value. We use those metrics to determine whether the design they are submitting truly merits consideraion." – Diana Scagnetti – competition Judge for Top Pool Designer
"So far we are receiving entries from all over the country. We're seeing gorgeous freeform pools with grottos, lazy rivers, waterfalls – just really beautiful features. This is going to be a tough competition to judge with so many fantastic designers out there" said Phil Godspeed, one of the Judges.
The winning design will have ultimate bragging rights as being voted Top Pool Designer in America. The competition is being co-sponsored by PoolContractor.com the leading directory for pool companies and SwimmingPoolLoan.com one of the leading sources of pool financing.
How To Enter The Top Pool Designer Contest
Participants can submit their entry in the form of a 3D rendering graphic or video. To qualify, entrants must be a Pool Designer or be professionally designing swimming pools for a pool company or landscaping company.
PoolDesigners.com who is hosting the competition sponsored by Pool Magazine has made a portal available for entering the competition. They are accepting entries through 11/31/2021 with a winner to be announced 12/1/2021.
See their website to enter and for official terms and conditions: https://www.pooldesigners.com/3d-pool-designers/top-pool-designer/
Watch the Video: https://www.youtube.com/watch?v=qvBbvZKex4w
Media Contact
Company Name: Pool Marketing
Contact Person: Alise Everton
Email: Send Email
Country: United States
Website: https://www.poolmarketing.com/