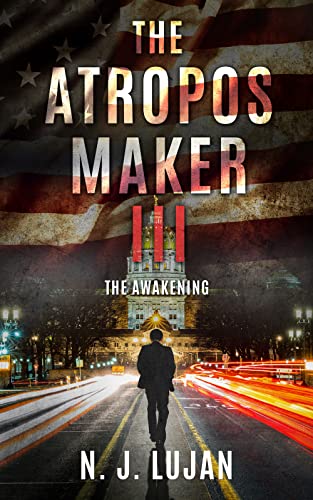 "The Atropos Maker III: The Awakening" by N.J. Lujan has been released worldwide. This 240-page novel is the third and final installment of Lujan's "Atropos Maker" series, bringing an exciting and dramatic conclusion to the adventures of Alexander, who has taken the helm of the elite Atropos team, and his tenacious pre-teen daughter Elina. With tensions high and changes coming too frequently for the family, they encounter new challenges when a mysterious new agent joins Atropos and Elina goes missing.
Ranked as Amazon's #1 bestseller in the "Asian" category, and #4 in the "Intelligence & Espionage" category, this gripping, suspenseful story draws readers into a shadowy world of secret operations and threats both internal and external. Dealing with the past, navigating the effects of PTSD, and understanding the nature of their relationship are but a few of the obstacles Alexander and Elina must contend with.
Drawing from personal experience as a veteran, Lujan provides an intimate look into the difficulties of balancing civilian life with missions and expectations, giving her characters depth and showing readers that battles can also be deeply personal. The novel is action packed and heartfelt, with the struggles of fatherhood set against a backdrop of elite special-ops, agency secrets, and a sinister plot that threatens to tear Alexander and Elina apart.
The Atropos Maker III: The Awakening (ISBN: 9798985794243 / 9798985975949) can be purchased through retailers worldwide, including Barnes and Noble and Amazon. The paperback retails for $22.22, and the hardcover retails for $35.75. Wholesale orders are available through Ingram.
From the back cover:
What is more terrifying than a covert mission to North Korea? Try raising a 12-year-old girl.
Elina struggles with the countless rules in her life, especially when they keep her from a mysterious new boy who arrives at her school.
What is Alexander Veurr to do?
As the leader of Atropos—one of the government's most elite tactical teams—Alexander assigns retired agent Xavier to guard his budding daughter. With Xavier's skills and agency resources, what could possibly go wrong?
A lot, it turns out. Elina goes missing and Alexander is exiled from the agency. Two things become clear.
One – Someone in the agency is as crooked as a dog's hind legs.
Two – Elina may be someone's unwitting secret weapon.
The fate of Atropos is in the hands of a father and daughter in this epic novel of parental fear and adolescent wonderment.
About the author:
N. J. Lujan was born in Washington, DC then raised in a small town of West Virginia. Her first experience with journalism and writing complex, thrilling stories was as a teenager when she was the public affairs officer for her high school. It was then she discovered her love for writing. After graduation she entered the Army, then later went on to enjoy a successful corporate career while still fueling a passion for creating complex fictional stories. Today she continues to use parts of her backdrop to vividly take you on a thrilling journey.
N. J. Lujan, an accomplished ghostwriter and internationally published author, has traveled globally and now lives in North Carolina. She splits her time between writing, work, family, and three very spirited pups. To learn more, visit http://nj-lujan.com
About MindStir Media:
MindStir Media LLC is an award-winning book publisher. To learn more about publishing a book with MindStir Media, visit http://mindstirmedia.com or call 800-767-0531.
Media Contact
Company Name: MindStir Media LLC
Contact Person: Jen McNabney
Email: Send Email
Phone: 800-767-0531
Address:1 New Hampshire Ave Suite 125
City: Portsmouth
State: NH
Country: United States
Website: https://mindstirmedia.com/