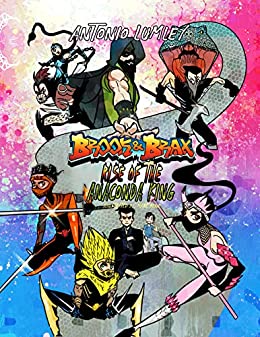 "Brook & Brax: Rise of the Anaconda King" by Antonio Lumley has been released worldwide, quickly rising to Amazon's #2 bestseller in the Martial Arts category. This 252-page middle-grade novel is the latest in Lumley's Brook & Brax series that follows a school of young ninjas as they fight for good and learn life lessons from Sensei Iron Post. In this most recent installment, Brook & Brax are feeling overly confident after the events of the previous book, but the feeling doesn't last long.
They quickly learn that the sensei's daughter possesses superior skills, and that they'll need to train harder to stand up to the villainous adversaries hunting them down. As Brook & Brax learn valuable lessons and hone their abilities, Sensei Iron Posts old rival, the Anaconda King, is hatching an evil plan that will prove to be their greatest test.
The comedic and adventurous story also contains empowering messages for young people, with a focus on being a good person, studying hard in school, embracing others' differences, dealing with bullies, and standing up for what's right.
Brook & Brax: Rise of the Anaconda King (ISBN: 9798985634525) can be purchased through retailers worldwide, including Barnes and Noble and Amazon. The paperback retails for $16.95. Wholesale orders are available through Ingram.
Learn more about Brook & Brax at https://xtaticbooks.com/
From the back cover:
After defeating Puke, Lil Dumps, and the Stank Rebels, Brook & Brax bring peace and hope back to Moondrop Academy. Little do they know, evil is brewing once more. With a new classmate, Akari, in the dojo, the boys find out quickly that her skills are far superior to theirs and they struggle to keep up.
As they train, an old foe rises from the ashes of Sensei Iron Post's complicated past. His former training partner, Akuno, went rogue many years ago, utilizing his martial arts skills to cause mayhem and destruction. During his menacing crime spree, his uncontrollable rage turned him into the wicked Anaconda King, vowing to destroy Sensei Iron Post and everyone he loves.
Now the Anaconda King's back, along with the sinister Vulture, Hyena, and Blue Scorpion ninjas, his prized students under his dark tutelage. Will the Anaconda King finally hunt down Sensei Iron Post? Can Brook, Brax, and the team survive the impending apocalyptic battle? The fate of humanity is in their hands…
About the author:
Antonio was born in Boston, Massachusetts. He graduated from Wentworth Institute of Technology and pursued an exciting career in Construction Management and Engineering. He has always been an artist at heart and loves to see things that are physically created and tangible. Now as a proud father of two spunky school-aged boys, he decided to try something new. As an avid comic book reader and superhero admirer, he decided to make his own brand of modern-day superheroes that kids could relate and gravitate to. His writing style incorporates life lessons, current themes, and humor. From that idea Brook & Brax was born. Come follow Brook & Brax on their adventure to become the new heroes of 2022.
About Manhattan Book Group:
Manhattan Book Group ("MBG"), located on Broadway in New York City, is a registered trade name of Mindstir Media LLC. MBG is widely known as a premier hybrid book publisher. We have combined the best of traditional publishing with the best of self-publishing to provide authors with the "best of both worlds" in a sense.
To learn more about MBG, visit https://www.manhattanbookgroup.com/
Media Contact
Company Name: Manhattan Book Group
Contact Person: Jen McNabney
Email: Send Email
Phone: 212-634-7677
Address:447 Broadway 2nd Floor #354
City: New York
State: New York
Country: United States
Website: https://www.manhattanbookgroup.com/