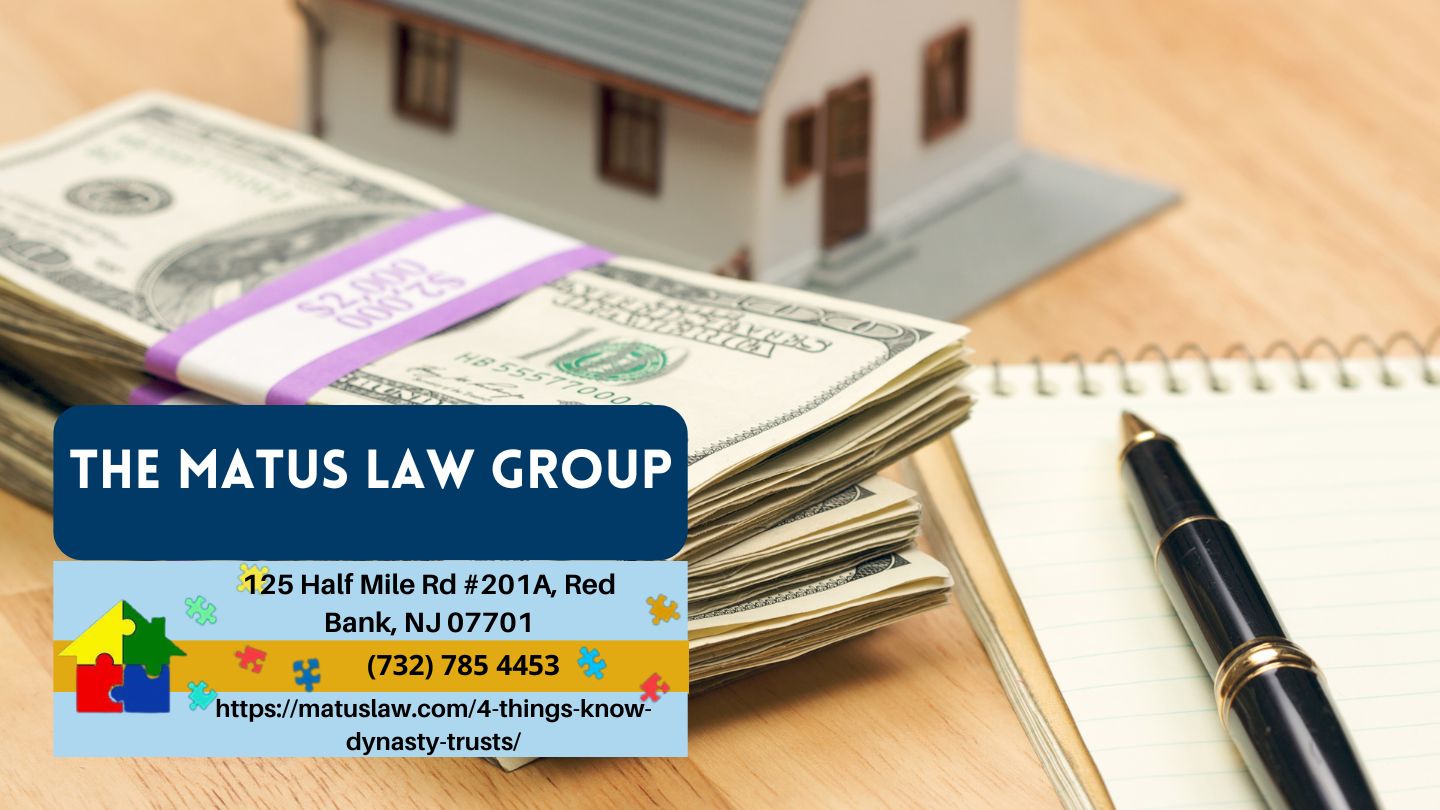 New Jersey trust attorney Christine Matus (https://matuslaw.com/4-things-know-dynasty-trusts/) of The Matus Law Group, has recently published an enlightening article about the essential aspects of Dynasty Trusts. The piece serves as a valuable resource for those interested in long-term estate planning and wealth preservation for succeeding generations.
Christine Matus, a New Jersey trust attorney, sheds light on the importance of understanding the complexities of Dynasty Trusts. She says, "Dynasty Trusts are invaluable estate planning tools for individuals looking to preserve and grow their wealth for future generations. These intricate financial instruments offer numerous benefits, including tax advantages and asset protection."
The New Jersey trust attorney explains that a Dynasty Trust is a long-term trust that allows individuals with considerable wealth to protect and preserve their assets for multiple generations. It's a financial tool typically utilized by individuals with substantial wealth, business owners, and families with significant assets.
In her article, Matus carefully explains the functioning of Dynasty Trusts and their benefits. She says, "Once assets are placed within the trust, beneficiaries can pass them down to future generations without being subjected to transfer taxes, like estate, Generation-Skipping Transfer Tax (GST), or gift taxes. Establishing a Dynasty Trust also protects the assets in the trust from death taxes, as well as other situations that, under different circumstances, would threaten the beneficiaries' interest in these assets."
In addition to explaining the structure and benefits of Dynasty Trusts, Christine Matus also highlights the common misconceptions surrounding this type of trust. She emphasizes that Dynasty Trusts are not exclusively for large estates and that they can be beneficial for individuals seeking to preserve portions of their estate for future generations.
Furthermore, Matus clarifies that the duration of a Dynasty Trust may vary depending on the state's laws. She mentions, "Some states don't place limitations on trust duration, allowing the trust to continue passing from generation to generation indefinitely. Others have done away with laws against perpetuities—requiring the trust to end 21 years after the death of the last known beneficiary."
The article also clarifies the potential beneficiaries of a Dynasty Trust, including corporations and charities. Matus notes, "Because the purpose of a Dynasty Trust is to last throughout several lifetimes, many choose to designate a corporate trustee, such as a bank or an independent trust company. Incorporating a charity into a Dynasty Trust is relatively simple. An attorney can include a provision that states that with every beneficiary's passing, a portion of the trust's assets gets donated to the charity of their choice."
Despite the numerous benefits, Matus advises individuals to be aware of potential downsides, such as substantial administrative fees, wealth dilution across generations, and less familial connection to the deceased over time.
By exploring the countless possibilities of Dynasty Trusts, this insightful article by Christine Matus proves invaluable for those seeking to establish a lasting legacy and safeguard their wealth for future generations.
About Matus Law Group:
Matus Law Group, led by New Jersey trust attorney Christine Matus, is a distinguished law firm dedicated to providing comprehensive legal guidance on estate planning and wealth preservation. With a focus on trust law, the firm assists clients in navigating the complex world of estate planning, offering personalized strategies to protect assets and establish enduring legacies. Committed to empowering clients with knowledge, the Matus Law Group continually educates the public with informative articles and resources.
Embeds:
Youtube Video: https://www.youtube.com/watch?v=7HyAxuTgMEo
GMB: https://www.google.com/maps?cid=3241702663730814860
Email and website
Email: admin@matuslaw.com
Website: https://matuslaw.com/
Media Contact
Company Name: The Matus Law Group
Contact Person: Christine Matus
Email: Send Email
Phone: (732) 785-4453
Address:125 Half Mile Rd #201A
City: Red Bank
State: New Jersey 07701
Country: United States
Website: https://matuslaw.com/