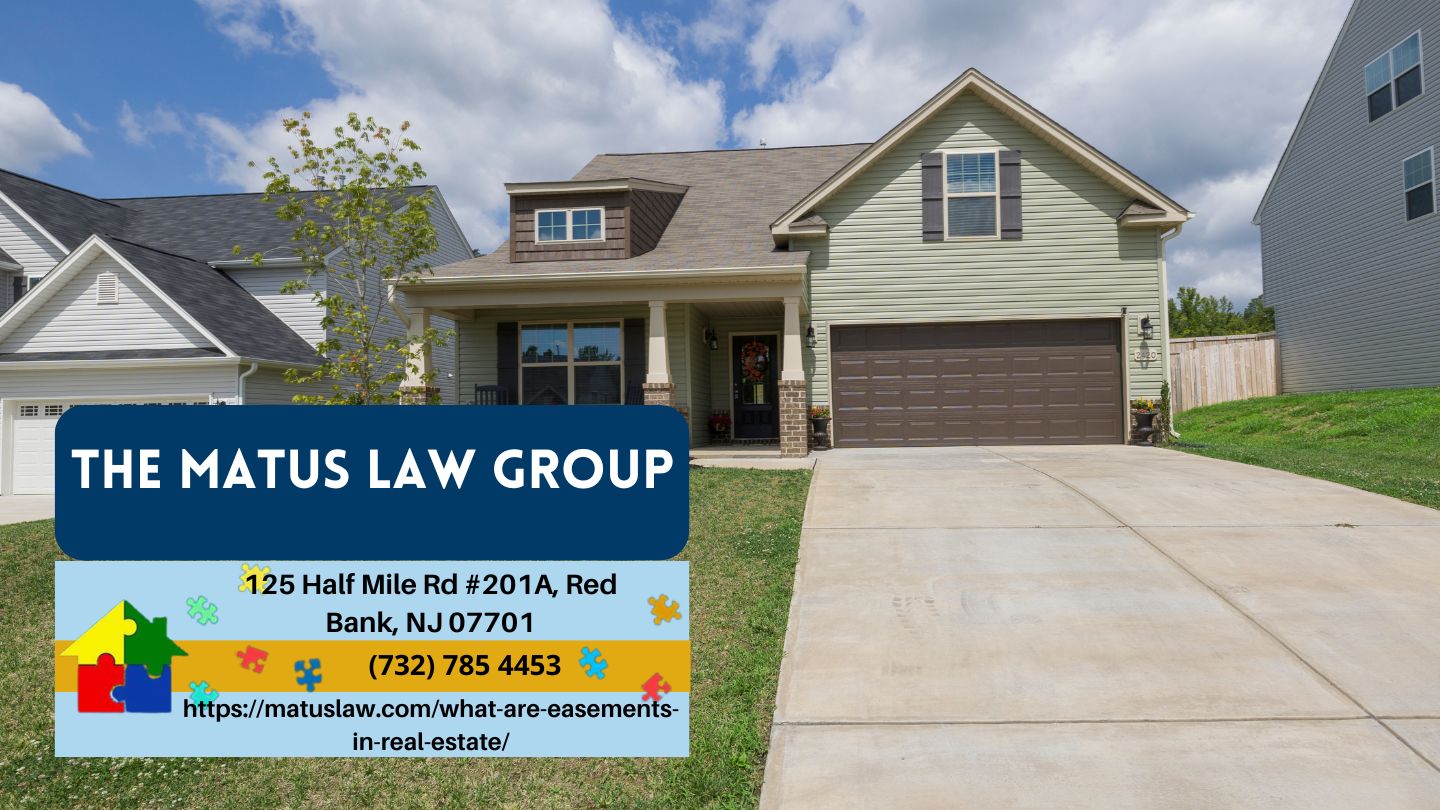 New Jersey real estate attorney Christine Matus (https://matuslaw.com/what-are-easements-in-real-estate/) has recently published a thorough guide on easements in real estate. The article, titled "What are Easements in Real Estate?" delves into the intricacies of the subject and offers valuable insights to property owners, potential buyers, and real estate enthusiasts.
As a seasoned New Jersey real estate attorney, Matus is well-versed in the complexities surrounding property law. She begins the article by acknowledging the confusion and misunderstanding that often surround easements. Matus states, "Easements are a key part of the New Jersey property law system, often coming as an unpleasant surprise when individuals purchase a home or commercial real estate, only to discover that they don't have total control of their property."
The New Jersey real estate attorney breaks down the concept of easements, detailing what they are, how they affect land ownership, and how to navigate them if they become an issue. She explains, "An easement is a nonpossessory right for another party to use land for a specific purpose. This right remains in effect even if the property is sold."
The article provided by Matus also discusses common examples of easements, including adjacent property owner rights, municipal easements, and utility easements. It further delves into the formation of easements, and how to tackle them, emphasizing the importance of seeking professional guidance from a real estate attorney when dealing with these issues.
Matus takes the time to explain how easements can impact a property owner's ability to make modifications to their property. "Easements can restrict one's ability to add an extension to their home, cultivate a garden, or build a backyard patio. If they don't comply with the access requirements, they may be legally obligated to undo the obstruction at their own expense," she elaborates.
The article also sheds light on the right-of-way property ownership, a topic often filled with misconceptions and misunderstandings. Matus clarifies, "While the town has the right to access and work in these areas, it does not imply ownership of the property, nor does it involve responsibility for everything within it."
Matus encourages readers to seek professional guidance when dealing with easements. She stresses the importance of making informed decisions when acquiring property and the role of a real estate attorney in reviewing the title prior to purchase to ensure no restrictions will impede the use of the property.
About Matus Law Group:
Matus Law Group, led by Christine Matus, is a renowned law firm based in New Jersey. The firm offers a wide range of services, primarily focusing on real estate law. With a dedicated team of attorneys who are committed to assisting clients navigate complex property issues, Matus Law Group has become a trusted name in New Jersey's legal landscape. The firm continues to prioritize its commitment to delivering high-quality legal advice, empowering all clients with the knowledge and protection they need in their real estate transactions.
Embeds:
Youtube Video: https://www.youtube.com/watch?v=-qmR4iAbgTM
GMB: https://www.google.com/maps?cid=3241702663730814860
Email and website
Email: admin@matuslaw.com
Website: https://matuslaw.com/
Media Contact
Company Name: The Matus Law Group
Contact Person: Christine Matus
Email: Send Email
Phone: (732) 785-4453
Address:125 Half Mile Rd #201A
City: Red Bank
State: New Jersey 07701
Country: United States
Website: https://matuslaw.com/