New Jersey – September 27, 2023 – Ink Start Media is excited to announce the release of "Gaels on Three," a captivating novel by author Donald Schlenger. Set against the backdrop of 1980s North Jersey, this book offers readers a compelling love story intertwined with the world of Catholic junior high school girls' basketball.
"Gaels on Three" follows the journey of childhood sweethearts Will and Ramona, who, after a tragic breakup just weeks before high school graduation in 1976, embark on separate paths. Will enlists in the army, while Ramona pursues a college basketball scholarship. Six years later, with no contact in between, their lives intersect once more when Will asks Ramona to help him coach the girls' basketball team at St. Ethel of the Holy Oasis junior high school, near their childhood homes. Their reunion is marked by negotiations, bickering, humor, and the rekindling of their complex relationship.
The story unfolds against the backdrop of the vibrant ethnic diversity of their surroundings, including Irish, Polish, Slovak, Italian, African-American, Hungarian, Cornish, Cuban, and Native American communities. With the support of a Dominican nun from the Navajo Nation and a Jesuit priest from Hell's Kitchen, Will and Ramona navigate the challenges of coaching, parenting, and clerical intrigue.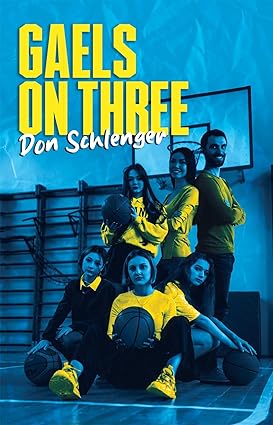 "Gaels on Three" delves into the intricacies of human relationships, exploring themes of love, healing, and reconciliation. Will and Ramona's "you go first" dance reveals their shared wounds, fear of being hurt again, and their undeniable yearning for one another. As the season progresses, the book presents a compelling narrative that captures the essence of the era and the community it portrays.
Author Donald Schlenger brings a wealth of experience to his writing, having served as a high school girls' basketball coach, psychology and sociology teacher, and guidance counselor for three decades. His deep understanding of the world he portrays shines through in the authentic characters and compelling storytelling within "Gaels on Three."
In his own words, Schlenger states, "I simply love the book. I couldn't finish it because I kept going back over it, not wanting to lose touch with the people in it." He invites readers to immerse themselves in this heartwarming tale of love, basketball, and the resilience of the human spirit.
"Gaels on Three" is now available on Amazon: Book Link – https://www.amazon.com/Gaels-Three-Don-Schlenger-ebook/dp/B0CHLBT8WM/ref=sr_1_1?crid=32MUUUNZLW1X8&keywords=Gaels+on+Three&qid=1694448309&s=books&sprefix=gaels+on+three%2Cstripbooks-intl-ship%2C285&sr=1-1
For media inquiries, author interviews, or review copies, please contact Sage Grey at Ink Start Media.
Donald Schlenger is a respected educator and author with over 30 years of experience in teaching, coaching, and counseling. He holds a BA in Social Studies from Montclair State University and an MA in Sociology and Education from Columbia University. His debut novel, "Gaels on Three," draws on his extensive background in high school education and sports coaching, offering readers a heartfelt and humorous exploration of the human spirit.
Ink Start Media is a leading publishing house committed to bringing engaging and thought-provoking literature to readers worldwide. With a passion for storytelling and a dedication to supporting talented authors, Ink Start Media strives to connect readers with books that resonate deeply and leave a lasting impact.
Visit www.inkstartmedia.com for more information.
Media Contact
Company Name: Ink Start Media
Contact Person: Sage Grey, Public Relations Manager
Email: Send Email
Phone: (555) 123-4567
Country: United States
Website: www.inkstartmedia.com