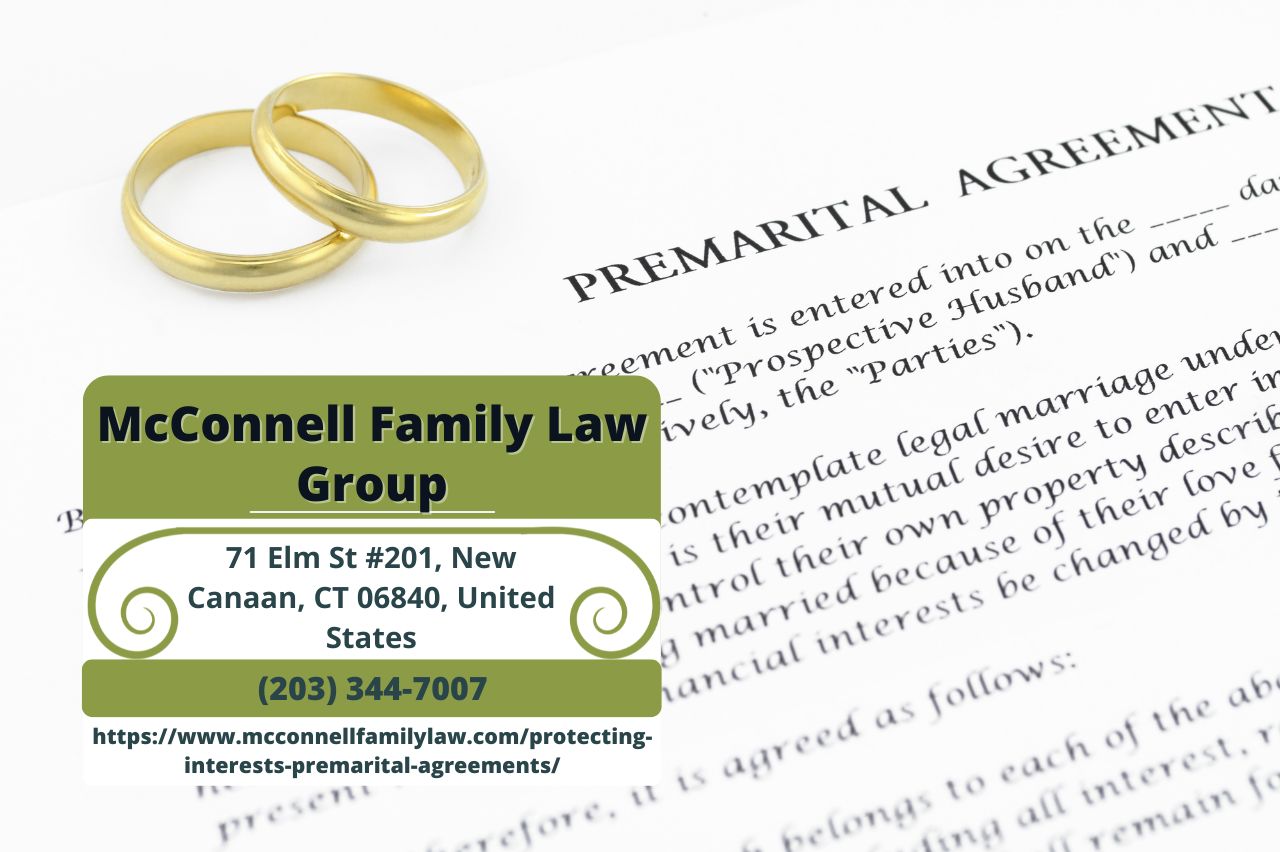 Paul McConnell (https://www.mcconnellfamilylaw.com/protecting-interests-premarital-agreements/), a reputable New Canaan prenuptial agreements lawyer from the McConnell Family Law Group, has released an insightful article titled 'Protecting Your Interests Through Premarital Agreements'. In this comprehensive piece, McConnell discusses the often misunderstood concept of prenuptial agreements, emphasizing their importance in safeguarding individual interests before entering into marriage.
As a New Canaan prenuptial agreements lawyer, McConnell stresses the importance of promptness when it comes to drafting these vital documents. "Ideally, a premarital agreement should be drafted at least three to four months prior to the wedding date. The process of preparing a valid and enforceable premarital agreement requires a significant amount of time," advises McConnell. He underscores the need for the parties involved to consult with independent counsel, prepare and exchange financial disclosures, and negotiate the terms of the agreement well in advance to avoid unnecessary stress.
In his role as a New Canaan prenuptial agreements lawyer, McConnell has encountered numerous cases where individuals have overlooked the importance of premarital agreements, leading to potential disputes and misunderstandings in the future. His article goes into great detail, explaining how these agreements can protect assets, property, and financial well-being, fostering a sense of security as couples embark on their marital journey.
McConnell states, "A premarital agreement removes the uncertainty of a court decision and ensures that all important decisions were made by both partners." The article further outlines the contents of premarital agreements under Connecticut law and how these agreements can be effectively enforced.
The article does a thorough job of highlighting the reasons why couples might seek a premarital agreement, explaining, "The most fundamental reason why people enter into premarital agreements is for security. People feel more secure knowing what will happen in the event of death or divorce."
Although the content is detailed, it is also accessible, making it an excellent resource for anyone considering a premarital agreement. McConnell works to dispel common misconceptions around premarital agreements, emphasizing that they are not just for the wealthy but also for individuals who want to have clarity about their financial future, regardless of their current assets.
Drawing on years of experience in family law, McConnell candidly discusses the potential challenges faced during the enforcement of premarital agreements, providing readers with crucial knowledge to help them navigate these complex scenarios. "Any premarital agreement can be challenged in a divorce proceeding. However, the Connecticut Premarital Agreement Act limits the ways in which an agreement can be challenged," McConnell explains.
For readers seeking further guidance, McConnell's article is a valuable starting point. It offers a comprehensive overview of the topic, reinforcing the fact that premarital agreements can offer many benefits, provided they are drafted correctly.
About McConnell Family Law Group:
The McConnell Family Law Group is a distinguished law firm in New Canaan, Connecticut. With five convenient locations, the firm is dedicated to helping individuals and families navigate the complexities of family law. Paul McConnell, a New Canaan premarital agreements lawyer, leads the team with his profound understanding of the intricacies of Connecticut law. The firm relentlessly strives to tailor agreements that align with clients' unique needs, fostering a sense of security as they embark on new chapters in their lives.
Embeds:
Youtube Video: https://www.youtube.com/watch?v=umHBFwO5ZM4
GMB: https://www.google.com/maps?cid=14886609724326725958
Email and website
Email: info@criminal-lawyer-news.com
Website: https://www.criminal-lawyer-news.com/
Media Contact
Company Name: McConnell Family Law Group
Contact Person: Paul McConnell
Email: Send Email
Phone: (203) 344-7007
Address:71 Elm St #201
City: New Canaan
State: Connecticut 06840
Country: United States
Website: https://www.mcconnellfamilylaw.com/