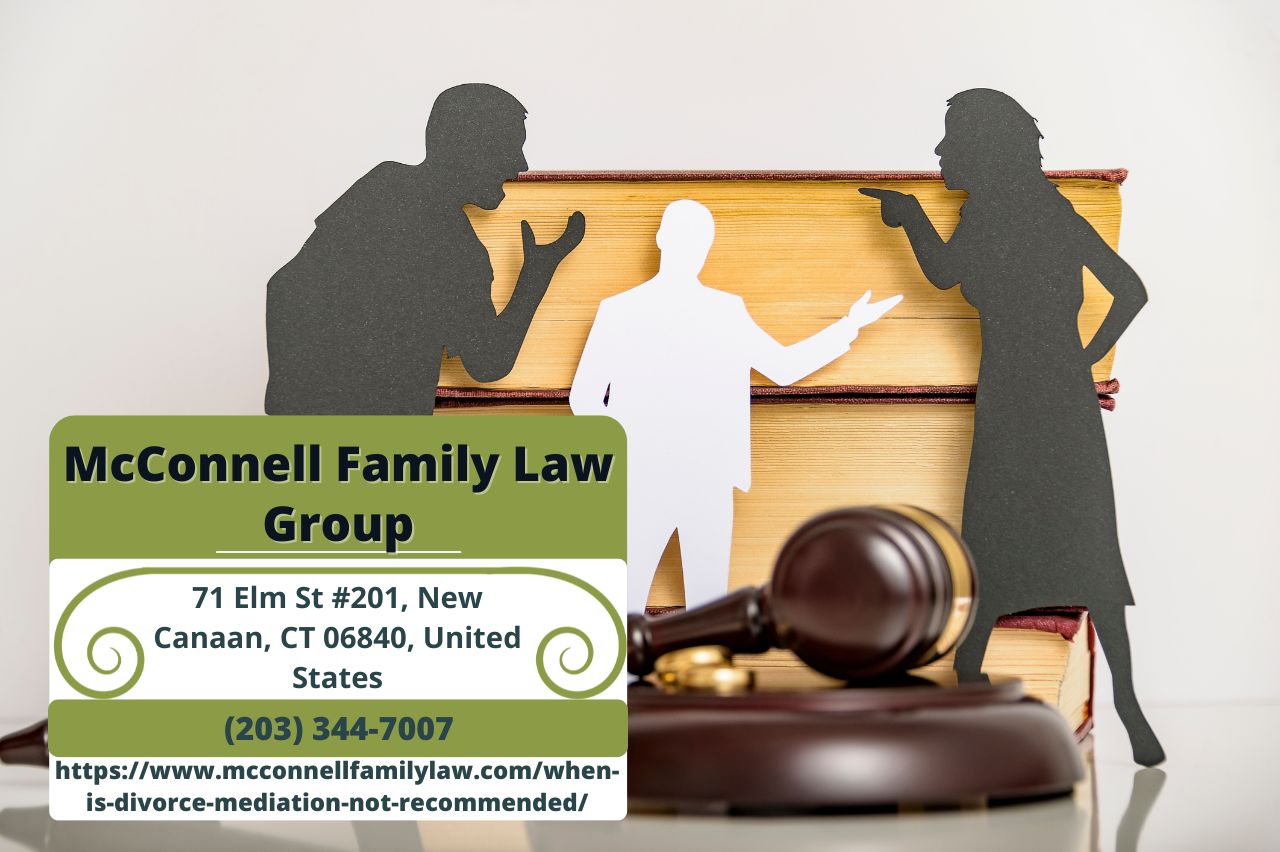 New Canaan divorce lawyer Paul McConnell (https://www.mcconnellfamilylaw.com/when-is-divorce-mediation-not-recommended/) of McConnell Family Law Group has recently published an insightful article titled 'When is Divorce Mediation Not Recommended?' The article offers a detailed and thorough exploration of the context in which divorce mediation may not be the most advisable solution, breaking down the complexities of this alternative dispute resolution method.
McConnell, a prominent New Canaan divorce lawyer, delves into the intricacies of divorce mediation, shedding light on its advantages and potential drawbacks. Through this article, McConnell aims to provide a balanced view of mediation, enabling individuals undergoing divorce to make informed decisions based on their unique circumstances.
"Divorce mediation is a voluntary process where divorcing spouses work with a neutral third party, known as a mediator, to facilitate discussions and negotiations aimed at reaching mutually agreeable resolutions," the New Canaan divorce lawyer explains. McConnell outlines some of the benefits of divorce mediation, such as cost-efficiency, faster resolution, confidentiality, and the ability to customize solutions to unique circumstances.
McConnell also highlights the potential disadvantages of mediation, such as the potential for power imbalances, bias, and the inability of mediators to provide legal advice. He states, "In cases where there is a power imbalance between the spouses, the mediator may not advocate for the disadvantaged spouse. In extreme cases, without judicial intervention or the advocacy of a dedicated attorney, the spouse with less power may agree to a less favorable settlement than they are entitled to."
The article outlines specific scenarios where mediation might not be suitable, including when the dynamics of the relationship are highly charged and emotional, there are issues of significant substance abuse, domestic violence is a factor, one party is coercive or controlling, a party feels intimidated by the other spouse, there are disputes regarding child custody, complex financial matters are involved, or one party has an advantage or more knowledge about marital assets than the other spouse.
"Connecticut law recognizes that each divorce case is unique, and what might work in one situation may not be effective in another," McConnell explains. "In certain cases, traditional litigation or other alternative dispute resolution methods may serve the parties better."
The article further distinguishes the roles of attorneys versus mediators, clarifying how they contribute differently to divorce proceedings. McConnell emphasizes how attorneys advocate for their clients, provide legal experience, and negotiate on behalf of their clients, while mediators maintain neutrality, assist in conflict resolution, and help draft the divorce agreement.
The article offers a comprehensive understanding of the role of a divorce lawyer during mediation. It explains that divorce attorneys can serve as review counsel, offering advice outside of mediation sessions and reviewing the final divorce settlement. This ensures that the interests of the party they represent are appropriately considered and protected.
About McConnell Family Law Group:
McConnell Family Law Group is a renowned law firm with offices in five convenient locations, including New Canaan. The team of dedicated divorce attorneys is committed to providing comprehensive legal assistance tailored to the individual needs of clients. With a focus on delivering skillful support and conducting thorough evaluations to decide the best dispute resolution method, the firm continues to uphold its reputation for professionalism and empathy in the challenging landscape of divorce law.
Embeds:
Youtube Video: https://www.youtube.com/watch?v=9U3yq-zqzhA
GMB: https://www.google.com/maps?cid=14886609724326725958
Email and website
Email: info@criminal-lawyer-news.com
Website: https://www.criminal-lawyer-news.com/
Media Contact
Company Name: McConnell Family Law Group
Contact Person: Paul McConnell
Email: Send Email
Phone: (203) 344-7007
Address:71 Elm St #201
City: New Canaan
State: Connecticut 06840
Country: United States
Website: https://www.mcconnellfamilylaw.com/