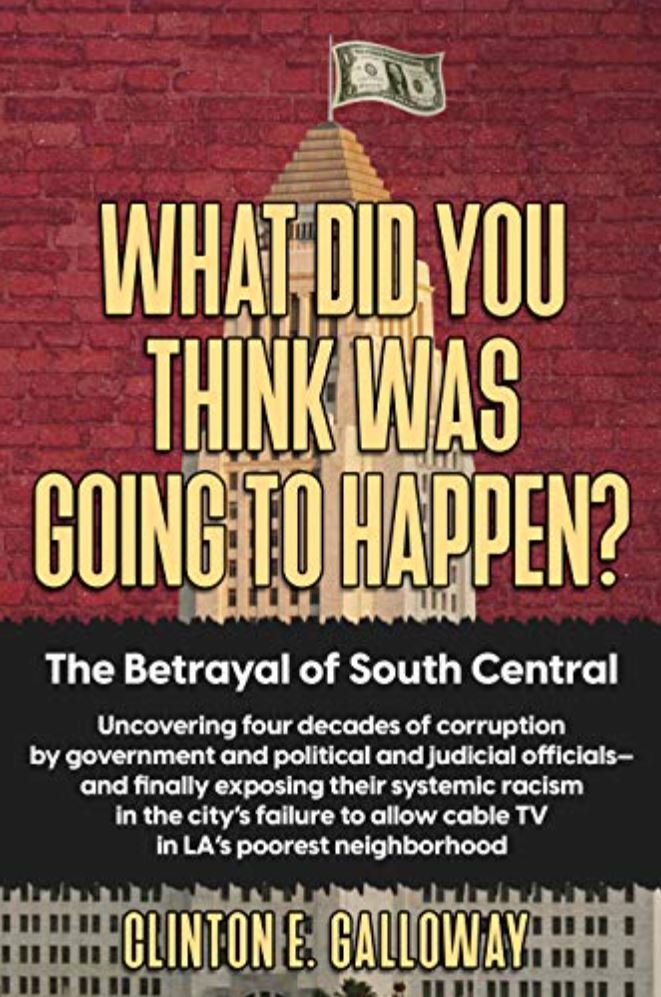 "What Did You Think Was Going to Happen?" by Clinton E. Galloway has been released worldwide. This 194-page nonfiction study examines over forty years of problematic socioeconomic and political history in South Central Los Angeles. The author uncovers numerous factors that helped create a corrupt city government and impoverished population, as well the abysmal pattern of civil rights for the area's people of color. Unflinching, unapologetic, and extremely revealing, Galloway digs into essential questions about the events in South Central, and what continues to happen across the US today.
What Did You Think Was Going to Happen? (ISBN: 9781735707600) can be purchased through retailers worldwide, including barnesandnoble.com and Amazon. Wholesale orders are available through Ingram.
From the back cover:

The Court Case You Never Heard of, and Why the Ruling Remains Relevant Today
In City of Los Angeles v. Preferred Communications, the US District Court, Ninth Circuit Court of Appeals, and the US Supreme Court all agreed that the City had violated the civil rights of half a million people for ten years and had refused to comply with a 9-0 decision by the Supreme Court of the United States.
Like a made-for-TV movie that's all too real, this injustice to the Black community includes a corrupt big-city mayor, unethical city and country officials, and a dishonest federal judge who deprived the poorest citizens of Los Angeles the right to have cable television. And when the case was finally settled decades later, the side of right won and the author and his minority business investors were awarded a dollar in damages. A dollar.
Yet the true cost was the loss of the rights of free speech and free press (education and internet) to the impoverished citizens of South Central LA – as generations of injustice were perpetuated and continue to play out on the mean streets of one of America's largest cities.
A dollar. Injustice. Black America. Media. Corruption at the highest levels of government. This is the case you never heard of – until now. What did you think was going to happen?
About the author:
Clinton E. Galloway was born in Birmingham, Alabama, but moved shortly thereafter with his family to New York City. He attended Northern Arizona University with the assistance of a baseball scholarship. After getting his CPA license in the late 1970s, he relocated from a large international accounting firm in San Francisco to a major international investment banking firm in Beverly Hills.
Today, he is a Certified Public Accountant with a practice in Marina del Rey, California. He is also a registered securities principal and runs a registered securities broker-dealer licensed by the Securities and Exchange Commission.
His first book is titled Anatomy of a Hustle: Cable Comes to South Central Los Angeles (2012). This is his second book.
Media Contact
Company Name: MindStir Media LLC
Contact Person: Jen McNabney
Email: Send Email
Phone: 800-767-0531
Address:45 Lafayette Rd Suite 181
City: North Hampton
State: NH
Country: United States
Website: http://www.mindstirmedia.com