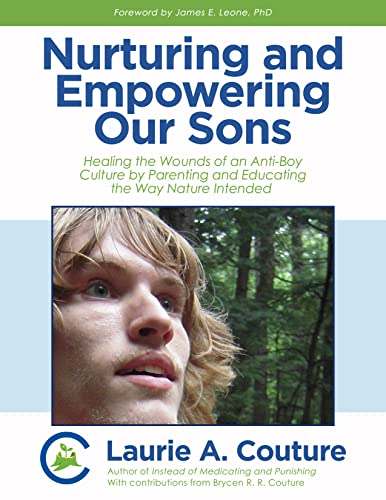 "Nurturing and Empowering Our Sons: Healing the Wounds of Anti-Boy Culture by Parenting and Educating the Way Nature Intended" by Laurie A. Couture has been released worldwide. This 991-page work, which has achieved Amazon Bestseller status as #1 in the "Adolescent Psychology" category, #1 in the "Suicide" category, and #5 in the "Medical Adolescent Psychology" category, is a masterfully crafted, meticulously researched book that addresses the social and psychological epidemics facing boys and young men in today's society.
By diligently unpacking 17 "primal wounds" and 8 risk factors, and providing expert guidance for helping boys grow into healthy, moral, emotionally mature young men, Couture provides a much-needed response to an ongoing humanitarian crisis.
With a long career history as a child trauma specialist, an interdisciplinary background across the fields of psychology, education, holistic healing, Paleolithic tribal history, and beyond, as well as losing her own adopted son to suicide, the author's personal and professional commitment to these issues shines through in every chapter. She shares her son Brycen's story, as well as its connection to the developmental trauma faced by so many boys and young men, along the path teaching her "nature's intent" philosophy for healing this damaged and desperate portion of society.
The expansive, full-color book examines topics ranging from behavioral and mental health issues and sexual abuse to video game addiction, sexuality to body shame and misandry, framing each with a delicate combination of clinical rigor and heartfelt compassion.
As both a tribute to her son and an essential manual for parents, mental health professionals, educators, social workers, and beyond, Couture's thorough coverage of the developing male psyche (and the myriad of internal and external factors surrounding it) is nothing short of lifesaving.
Nurturing and Empowering Our Sons (ISBN: 9781958729304) can be purchased through retailers worldwide, including Barnes and Noble and Amazon. The paperback retails for $72. Review copies and interviews are available upon request. Wholesale orders are available through Ingram.
Learn more at https://www.laurieacouture.com/about/
From the back cover:
Nurturing and Empowering Our Sons is a magnum opus on male health spanning 34 comprehensive and insightful chapters… and not holding back by tackling controversial and often underappreciated topics in boys and young men's lives such as male sexual abuse, male genital mutilation, and misandry.-James E. Leone, PhD, Author, Concepts in Male Health
Are you worried about your son? Your grandson? Your young male clients?
Our boys and young men have been crying out to us for help, but their cries are in the form of nature's alarms signaling their distress: Behavioral, learning, and emotional problems; behavioral and chemical addictions; failure-to-launch; gender dysphoria; apathy; violence and criminal behavior; and suicide.
This book will bring you on a bewildering, breathtaking journey through the traumatic primal wounds suffered by our Millennial and Generation Z sons and the socio-political, digital, neuro-chemical, and endocrine dangers hijacking their holistic wellbeing. This journey takes mothers and fathers by the hand through step-by-step principles, actions, advocacy, and treatments that will actually help their sons heal.
Nurturing and Empowering Our Sons provides the puzzle pieces, insights, and solutions missing from other books about boys. It shifts the focus from the problem being within the boy to our society being out of alignment with nature's intent for the boy's optimal development. It boldly tackles tough topics like male body shaming, male victims of sexual assault, circumcision, psychiatric drugging, sexism against males, the male suicide epidemic, and many more.
This book covers historical, anthropological, scientific, socio-political, and current topics pertaining to our sons. It is written in a sensitive, conversational format, interwoven with graphics, lists, and resources. It also features insights and final interviews from Laurie's adoptive son, Brycen, an extreme child trauma victim who succumbed to suicide at age 23.
Nurturing and Empowering Our Sons is a deep-dive into Laurie A. Couture's "nature's intent" philosophy. It offers hope and is packed with guidance on neuro-somatic trauma healing, attachment repair, unschooling, alternative education, holistic health practices, adjunct therapies, direct advocacy, opportunities for family fun and community involvement, and so much more! It covers boys ages pre-birth to mid-20s with mild, moderate, severe, and extreme behavioral healthcare needs and includes a special chapter for guiding the behavior of special needs sons without using behavioral modification techniques.
About MindStir Media:
MindStir Media LLC is an award-winning book publisher. To learn more about publishing a book with MindStir Media, visit http://mindstirmedia.com or call 800-767-0531.
Media Contact
Company Name: MindStir Media LLC
Contact Person: Jen McNabney
Email: Send Email
Phone: 800-767-0531
Address:1 New Hampshire Ave Suite 125
City: Portsmouth
State: NH
Country: United States
Website: https://mindstirmedia.com/