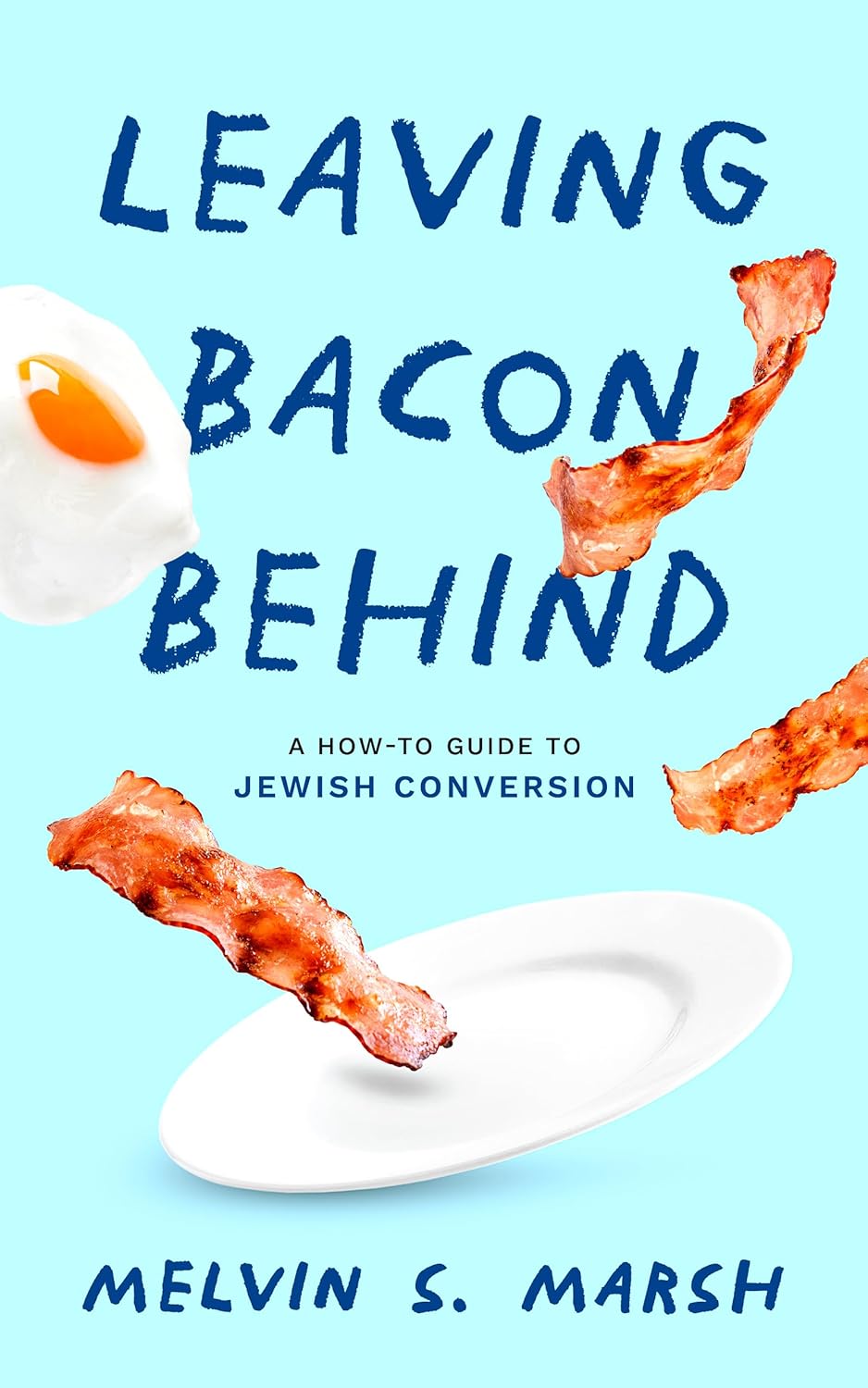 "Leaving Bacon Behind: a How-To Guide To Jewish Conversion" by Melvin S. Marsh has been released worldwide. This 171-page guidebook, which as achieved Amazon Bestseller status as #1 in the "Jewish Life" category, shares personal insights and practical advice for converting to Judaism in the modern world.
A self-described "Jew by choice," Marsh offers a step-by-step path for becoming a part of the Jewish community – from initial exploration to finding a Rabbi, gaining necessary education to ultimately converting and adopting the faith as a part of daily life. The included appendices provide an in-depth overview of observances, holidays, terminology, recommended reading, and beyond, making this guidebook a valuable resource for anyone interested in conversion, or simply looking to learn more about the Jewish faith.
The author masterfully condenses the complexities of religious conversion and the storied history of Judaism into a digestible, even entertaining format. The book serves as both an entry point to conversion and a useful reference throughout the process.
Because of his own experiences, Marsh also includes a section of special considerations that include converting on a budget, potential backlash from family and friends, being a member of the LGBT community, kosher eating, rural living, and more. He tells his own story of discovery and conversion, showing readers that not every path toward Judaism looks the same, and providing valuable, personal context to the practical advice that fills each page.
This excellent guide to conversion tackles every aspect of the process, and does so with friendly honesty that supports readers throughout their journey.
Leaving Bacon Behind (ISBN: 9781960142894) can be purchased through retailers worldwide, including Barnes and Noble and Amazon. The paperback retails for $18.95, and the ebook retails for $8.95. Review copies and interviews are available upon request.
From the back cover:
Leaving Bacon Behind provides a comprehensive, easy-to-read guide for conversion that focuses on questions prospective Jews by Choice might have, including "Why should one convert to Judaism?" and "What happens after the conversion?"
This book is a direct result of the questions the author fielded during his time as a moderator in one of the largest Jewish-by-Choice internet communities and his own personal experience as a disabled transsexual Jew by Choice. This includes content discussed in Judaism conversion classes and live courses, as well as questions, comments, and feedback from prospective and successful Jews by Choice. No other book on Jewish conversion has incorporated widescale, peer-reviewed feedback from the target community.
As the author does not fit the stereotype of an able-bodied, middle-class, white heterosexual female converting for marriage, this book includes a section of additional considerations for converting on a budget, if one is LGBT, disabled, or non-white, if one is already married to a non-Jew, or if one already has children.Leaving Bacon Behind is sure to be a must-read conversion classic.
About the author:
Melvin S. Marsh earned a BS from Emory University, a MS from University of North Dakota, a MS from Georgia Southern University; has published articles in Nature Human Behaviour and Proceedings of the National Academy of Sciences among others; has been recognized for excellence in teaching, clinical work, research, and both acting and directing; and he is the author of Leaving Bacon Behind. His website is www.melsmarsh.com
About Manhattan Book Group:
Manhattan Book Group ("MBG"), located on Broadway in New York City, is a registered trade name of Mindstir Media LLC. MBG is widely known as a premier hybrid book publisher. We have combined the best of traditional publishing with the best of self-publishing to provide authors with the "best of both worlds" in a sense. To learn more about MBG, visit https://www.manhattanbookgroup.com/
Media Contact
Company Name: Manhattan Book Group
Contact Person: Jen McNabney
Email: Send Email
Phone: 212-634-7677
Address:447 Broadway 2nd Floor #354
City: New York
State: New York
Country: United States
Website: https://www.manhattanbookgroup.com/