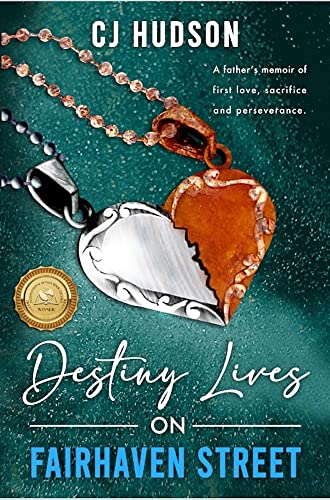 "Destiny Lives on Fairhaven Street" by CJ Hudson has been released worldwide. This multi award-winning, 236-page memoir tells the author's personal journey of love lost and found, and the difficult early life he had to endure before fulfilling his destiny. After escaping an abusive father and moving to Florida, a still timid young Christopher (CJ) meets Danielle and the two quickly fall in love.
At just 10 years old, Danielle was the very antithesis of the verbal cruelty CJ was still receiving at home. She became a beacon of positivity and source of self-worth for CJ, the first to remind him that he was valuable and worthy of love.
After a whirlwind and fledgling romance, and the wounds of CJ's past refusing to heal, the young couple is pulled apart when Christopher's family moves away from Fairhaven Street to Michigan.
This tumultuous beginning sticks with CJ, and he refuses to forget his love for Danielle. With half of a heart-shaped pendant and a promise to return to the love of his life, the next chapters of the author's journey are a struggle to heal from abuse, break cycles of anger and violence, and ultimately, to become the man Danielle always knew that he was. After years apart, he finally makes his way back to her with a heartfelt message of gratitude, and to show her that she was right about him all along.
This romantic and inspiring memoir reveals the power of emotional connections, as well as the lasting effects of kindness and support. Dedicated to the author's twin sons, it is a story of perseverance, growth, and honesty underpinned by a message of inevitability – that each individual is capable of shaping the life they want to live and can determine destiny for themselves.
Readers will be pulled into the vivid descriptions and riveted by the unpredictable turns in Christopher's true tale of love, destiny, and making his own way in the world.
The book has received high praise and multiple awards, including:
– Winner: 2022 Firebird Book Awards – Inspirational Novel
– Winner: 2022 Firebird Book Awards – Romantic Suspense
– Winner: June 2022 Impact Book Award – Inspirational Novel
– Runner Up: New York Book Festival Awards – Unpublished Novel
– Honorable Mention: 2022 New York Book Festival
Destiny Lives on Fairhaven Street (ISBN: 9781958729069) can be purchased through retailers worldwide, including Barnes and Noble and Amazon. The paperback retails for $14.99. Review copies and interviews are available upon request.
From the back cover:
His abusive family tore him away from her. Would destiny be enough to bring him back?
At ten years old, Chris didn't have good looks, a caring family, or a bright future. But what he did have for three years was the love of Danielle, his beautiful neighbor on Fairhaven Street who showed him a glimpse of a life he desperately wanted.
To escape his abusive father, Chris was forced to move out of state with his mother to the icy hills of Michigan. All he could leave Danielle was half of a heart-shaped pendant and a promise that he would one day return for her. To have any chance of getting her back, he had to end over one hundred years of abuse in his family, something his family claimed he was destined to carry on. All he had to keep him going was his half of the pendant, which tarnished over the years from his refusal to take it off.
Destiny Lives on Fairhaven Street is a touching multi award-winning memor from author CJ Hudson of his eight-year journey of preparation to return to the love of his life. Written to his twin sons, his story is a testament to the power of devotion and proof that the life you've always wanted is possible if you never give up.
"Destiny Lives on Fairhaven Street is a captivating and motivating memoir that will push its readers to believe in three things – love, fate, and hope." – Literary Titan
"If you only read one book this year, let it be this one." – N.N. Light's Book Heaven
"The ending of his story brings and unexpected and shocking revelation regarding his relationship with Danielle…" – BlueInk Review
"An exceptional emotional read." – The Reading Bud
"A story so powerful that even the most cynical readers will walk away thinking about the book's themes long after the last page is read." – Onlinebookclub.com
"Hudson transcends the darkness and captures with shining clarity what it means to find and express true love." – Indiestoday.com
Winner of seven awards, including the 2022 International Impact Book Award for Inspirational Novel.
About the author:
With a shaved head and a salt and pepper beard stacked atop a barrel-chested frame, CJ Hudson is a well-disguised hopeless romantic. As a teenager, no one would have expected him to remain completely devoted to his long lost first love throughout his young adult life. One would not expect him to return as a full grown man after eight years apart to try and win her back. Yet that is exactly what the Disabled Navy Veteran did. Residing in Pflugerville, Texas, he enjoys the result of his journey in the form of a loving marriage and twin sons.
About MindStir Media:
MindStir Media LLC is an award-winning book publisher. To learn more about publishing a book with MindStir Media, visit http://mindstirmedia.com or call 800-767-0531.
Media Contact
Company Name: MindStir Media LLC
Contact Person: Jen McNabney
Email: Send Email
Phone: 800-767-0531
Address:1 New Hampshire Ave Suite 125
City: Portsmouth
State: NH
Country: United States
Website: https://mindstirmedia.com/