An expression of what we all feel, the music of madness is rooted in hip hop and R&B culture and touches on complex ideas about life, love and humanity. Released on May 14, 2019 his latest album A World of Madness features intelligent lyrics over soulful beats and gives listeners a glimpse about what it is to be an artist in times of great racial and economic division.
Rapper MADNESS describes his music as an extension of his soul, a basic understanding of art through his unique worldview. His lyrics provide listeners with a profound outlook into what it means to live and accept the highs and lows that life offers. His rhythmic beats and poetic writing touch on abstract ideas while keeping the music in the realm of reality, allowing listeners to truly connect with the music on an intimate level.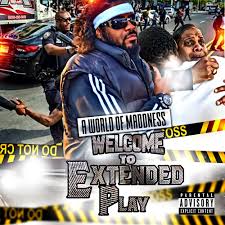 A victim of domestic abuse and having bounced from foster home to foster home, there is no doubt that MADNESS has seen his fair share of humanity's dark side. While his grandmother taught him good values, the rest of how MADNESS learned how to live came from the streets. Inspired by artists life Michael Jackson, 2pac and Curtis Mayfield, like many, he allowed music to be his emotional escape. It wasn't until the crowd's reaction to his act at a neighborhood talent show that he decided to truly pursue his craft.
After going on to win numerous other talent shows and record several albums and mixtapes at a young age, MADNESS was able to impress audiences around Maryland with his nuanced look at the relationships we build and our place in the world. The result of his hard work and unique life experience is an infectious style of rap that instills hope in the listener without dulling notion that sometimes pain is a part of living. Recorded in a home studio, A World of Madness has a polished sound combined with the rawness of an underground production.
Not shying away from the topics that divide us, MADNESS offers something more than the average brand of radio hip hop and conveys a deeper meaning. Having experienced a wide variety of economic and social environments, MADNESS is an artist who truly understands the ideas and emotions that speak to us on a deeper level.
For more information on MADNESS, his music and to order A World of Madness, check out http://www.Maddness911.com/music or listen to the album on Spotify https://open.spotify.com/album/23LRS4kbodmjWNOHXItkEh.
Media Contact
Company Name: 3000 Records
Contact Person: Terrance Schemansky
Email: press@3000records.com
Phone: (888) 463-4336
Address:P.O. Box 285
City: Fenton
State: MI
Country: United States
Website: http://www.Maddness911.com/music