The tool generates quick press releases, emailers or creative headlines and titles using the ChatGPT 3.5 Turbo AI engine.
Built for writers, journalists, reporters, marketing teams and entrepreneurs, Instaoffyz.com has launched the latest online AI writing generator built with prompt engineering expertise. The tool generates quick press releases, emailers or creative headlines and titles using the ChatGPT 3.5 Turbo AI engine.
Instaoffyz is offering free 3,750 words to all visitors to try out the tool that brings the best out of artificial intelligence writers.
After logging in with their Gmail id, users can follow 3 easy steps to create and tweak their content:
Select the audience and industry
Provide pointers and specific inputs
Hit the Generate button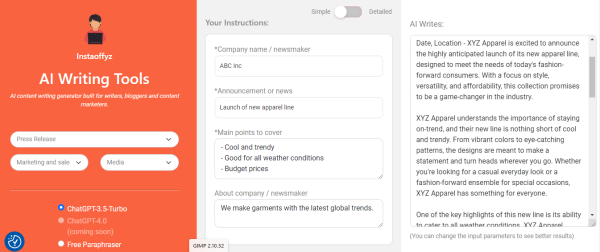 AI Press Release Writing and Distribution
The press release AI tool can be used by anyone, whether a small business, entrepreneur, artist or marketing teams.
Once the AI press release has been generated, it can be sent for human editing and proofing with a single click. Instaoffyz also offers online distribution for the AI press releases at discounted prices, which is sent to reputed news channels and over 400 news outlets.
To get the best AI content written, the tool offers various parameters that can be tweaked:
Different styles: Select from factual, professional, friendly, creative, sales and marketing style and even a whacky style for fun.
Relevant for objectives: Write content for internal messaging, business promotions, legal, marketing or sales pitch, academic, for publishing on a website or e-commerce sites, etc.
Target audience: The content can be made suitable for various nice categories of readers: customers, business clients, employees, non-native English speakers, academic / research, marketing and sales, government offices, etc.

AI Email Writer
The auto email writer AI can be used for writing various types of emails – an event invitation, a welcome email, a sales pitch, or a system generated message. The tools allows choosing different levels of creativity as well.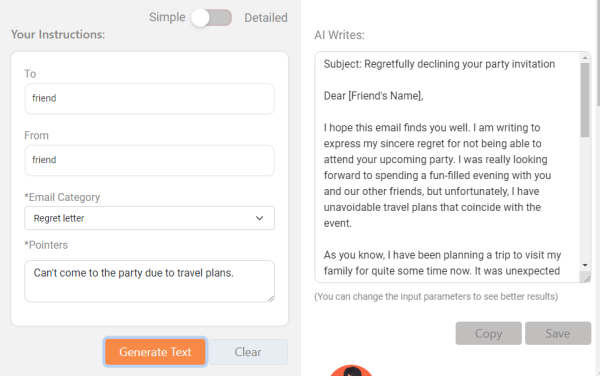 AI Title Generator
The AI headlines generator allows writing catchy titles for press releases, emailers, websites, blogs or articles. Provide the inputs and the AI title maker will come up with creative suggestions.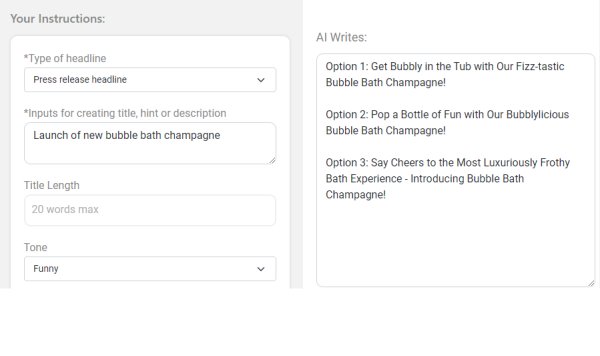 Free AI Sentence Rewriter
Instaoffyz offers a free sentence rephraser. The tool uses a free LLM called 'Humarin' that has been trained by ChatGPT itself. The sentence rewriter or reworder is totally free.
Behind the scenes, the Instaoffyz AI text generator uses refined and well-crafted prompts using techniques such as giving AI 'time to think', a step-by-step process and formatted output.
The website uses its token called ioT (1 ioT = 1,000 ChatGPT tokens). More tokens can be bought from the website using PayPal.
"Using AI to create content has taken the drudgery out of writing at least the first draft, if not the final copy. Instaoffyz is an AI tool developed by a writer for writers, and it will surprise users with its ease and control over output," said Amit Sharma, Director, Instaoffyz Digital Solutions (OPC) Pvt Ltd.
Instaoffyz Digital Solutions (OPC) makes smart apps and digital tools, and their dedication to creating user-friendly and innovative digital solutions shines through in this app.
Other helpful tools and apps from Instaoffyz:
Open Diary: A lean and fast note taking app https://play.google.com/store/apps/details?id=com.instaoffyz.instanote
YogaSiddhi: A yoga trainer and user video app https://play.google.com/store/apps/details?id=com.instaoffyz.yogo
About
Instaoffyz is a Mumbai based venture that develops smart apps and digital solutions. For media inquiries and more information, please visit: https://instaoffyz.com
Media Contact
Company Name: Instaoffyz Digital Solutions (OPC) Pvt Ltd
Contact Person: Media relations
Email: Send Email
City: Mumbai
State: Maharashtra
Country: India
Website: https://play.google.com/store/apps/details?id=com.instaoffyz.yogo