The camera comes with first time features not available anywhere else. It offers an easy way for anyone to secure their homes using innovative technology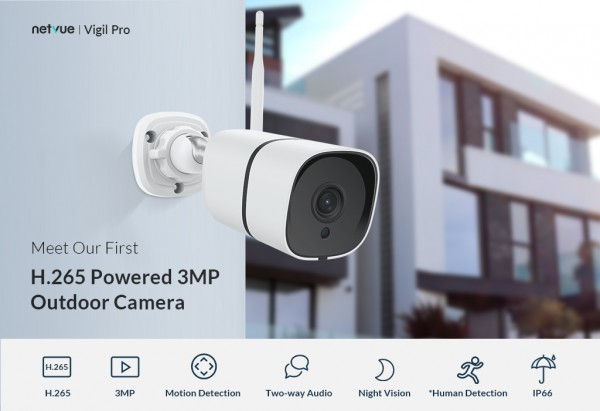 Netvue is proud to announce the latest addition to its online store, the H.265 Powered 3MP Wi-Fi Outdoor Camera—Vigil Pro. The security camera is packed with features of modern technology so that it performs better than most similar products in the market.
The new product's distinct features include 3MP definition, High-Efficiency Video Coding technology (H.265), and most importantly, the truly 2-way communication with Alexa.
Super HD 3MP Resolution
Compared to the most seen 1080P resolution in the market, 3MP definition means the camera has an much advanced image sensor, ensuring a clearer and more detailed image. What's more, image quality has still remained even zoomed in.
Advanced High-Efficiency Video Coding Technology (H.265)
It comes with an H.265 Video compression technology, making it the first brand to use this technology on domestic security cameras. Having an H.265 capacity means the security camera will be able to transmit with a high compression ratio. It ensures transmission of video at a lower cost of storage without loss of video quality. As technology emerges, H.265 remains a favorite in universal adoption and compatibility with playback support on different devices.
2-Way Communication with Alexa
Only ask your Alexa to show your cameras live feed? That's certainly not enough. Netvue Vigil Pro even allows users to speak to and hear from others via Alexa devices, not just from the device app. It is worth mentioning that Netvue is one of the few camera brands on the market that enables this feature.
4. Human Detection
Netvue Vigil Pro is enhanced with human detection software, which means the camera differentiates between humans and other things, and if that happens, it automatically sends a notification to the user.
To purchase the item, please visit here.
Netvue Vigil Pro is a security apparatus with innovative modern technology. The camera looks good on your wall, with its beautiful design and futuristic feel. It's also built to withstand aggressive weather conditions, heat, water, and snow so that it keeps working no matter the situation.
The outdoor camera offers the perfect solution that will help guarantee security for the entire family. Netvue security camera offers innovative technology that is efficient, reliable, dependable, and easy to use.
About Netvue
Netvue is a company that is dedicated to creating devices using modern technology to make people's lives better. They have a team of talents who work hard to create security devices that make use of Artificial Intelligence(AI), Internet of Things(IoT), and modern technology. They specialize in security cameras, doorbells, and other security items to help keep homes and families safe.
For more information, please visit their website at https://shop.netvue.com/
Media Contact
Company Name: Netvue
Contact Person: Abby Deng
Email: Send Email
Country: United States
Website: https://shop.netvue.com/