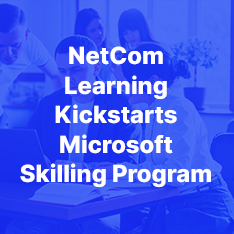 NetCom Learning launches a discounted Microsoft Skilling Plan for companies looking to train their employees on essential tech skills
New York, NY – August 23, 2022 – NetCom Learning, a leading IT and business training organization, recently announced a discounted training program for enterprises – The Microsoft Skilling Program. This special training program covers all Microsoft products and solution areas, including Microsoft Azure, Microsoft 365, Dynamics 365, Power Platform, and Microsoft Security, among others. The discounted courses and more details about the program can be accessed on the company's website.
With the high prevalence of hybrid work culture in most companies, it becomes imperative for organizations to invest in IT training and development of its workforce. As the Microsoft Gold Partner and winner of Microsoft Partner of the Year 2022, NetCom Learning offers 360-degree learning programs that include access to labs, 24×7 support, and training via Microsoft Official Curriculum (MOC) by Microsoft Certified Trainers (MCTs).
The main features of the Microsoft Skilling Program are as mentioned below:
Up to 80% off and exclusive enterprise discounts on Microsoft learning plans
Easy enrollment process through a tailored employee enrollment portal microsite
Access to NetCom365 – an in-house learning management and reporting portal
Enterprise Upskilling across all Microsoft Solution Areas – Data & AI, Digital & App Innovation, Infrastructure, Security, Business Applications, and Modern Work.
NetCom Learning CEO Russell Sarder commented, "As a Microsoft Gold Partner and Learning Partner of the Year, we're thrilled to announce Microsoft Skilling Plan because it will offer amazing opportunities to our learners with more flexibility to experience in-depth training solutions, enabling individuals and organizations to maximize their full potential." He added, "This learning program extends on our mission of lifelong learning, as it aims to provide learners the best educational and training outcomes validated by a comprehensive and proactive learning approach."
About NetCom Learning
NetCom Learning helps build innovative learning organizations in the workplace by structuring a smarter workforce, supporting changes, and driving growth. With more than 23 years of experience, NetCom Learning has been empowering innovative learning organizations to adapt and drive growth in this fast-paced world by closing critical skills gaps and ensuring smooth deployment, implementation, and consumption through authorized training delivered by Certified Trainers on vendors such as Microsoft, AWS, EC-Council, CompTIA, and more.
Visit us at www.netcomlearning.com. Like us on Facebook. Follow us on LinkedIn. Tweet us on Twitter.
Media Contact
Company Name: NetCom Learning
Contact Person: Media Relations
Email: Send Email
Phone: (212) 629-7265
Address:252 West 37th Street Suite 1200W
City: New York City
State: NY 10018
Country: United States
Website: https://www.netcomlearning.com/