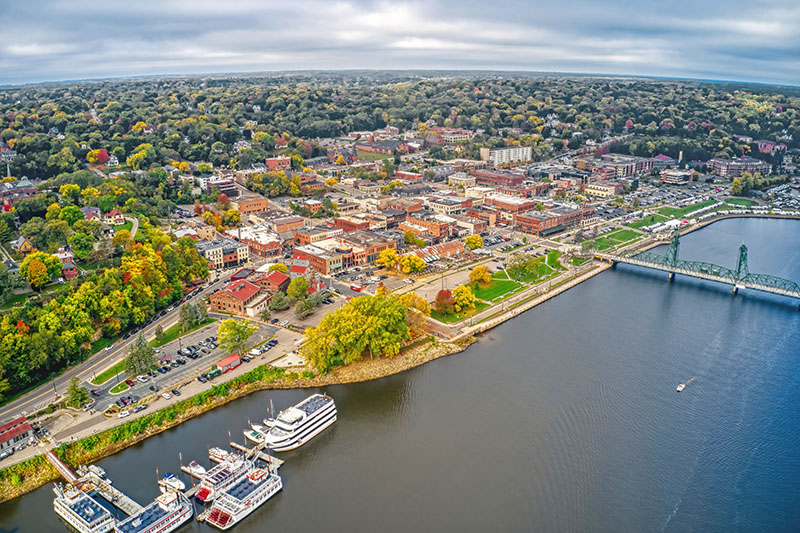 Property Records of Minnesota – Navigating the New Normal The Cooling of the Twin Cities Housing Market
Property Records of Minnesota is dedicated to supporting you through the changing housing market. Our experienced team is well-versed in various market cycles, ensuring you're well-informed whether you're buying, selling, or investing. While the Minnesota Twin Cities housing market is transitioning from its previous intensity, this shift presents new opportunities. Now is a great time to reassess your real estate goals, and with our guidance, you can approach the evolving market with confidence.
After an unprecedented era of soaring prices and intense competition, there's a refreshing change of pace on the horizon for the Minnesota Twin Cities housing market. As experts in the field, we at Property Records of Minnesota have been closely monitoring this shift, analyzing the dynamics at play and what it signifies for you – our clients.
Boom to Balance
Between 2018 and 2022, the Twin Cities witnessed an extraordinary surge in housing demand. Buoyed by historically low interest rates and a trend towards urban living, buyers flocked to the market. This frenetic activity triggered bidding wars, driving prices skyward at an unsustainable rate. As we journey into the latter half of 2023, however, the pendulum appears to be swinging toward a much-needed balance.
Data from the Minneapolis Area Realtors Association show a marked slowdown in price growth. After a staggering increase of 10% in 2022, the median sales price through July 2023 has edged up by a mere 1.5%. This deceleration signifies that we're not seeing a bubble burst, but rather a much-needed respite that will help restore equilibrium in the market.
A Much-Awaited Inventory Rebound
The shift towards market stabilization is further bolstered by a long-awaited improvement in housing inventory levels. Uncertainty brought about by the pandemic saw many potential sellers hold off on listing their properties, causing a supply shortage that only intensified price hikes. As confidence grows, more properties are entering the market, offering a wider selection to potential buyers and reducing the upward pressure on prices.
While the market is still shy of the ideal six-month supply indicating a balanced market, we're moving in the right direction.
Rising Interest Rates: A Double-Edged Sword
Interest rates, one of the main accelerants of the previous boom, are on an upward trajectory. The Federal Reserve's decision to hike rates to combat inflation has led to a gradual increase in mortgage rates from their record lows. While this may impact affordability and potentially decrease the number of eligible buyers, it's not all bad news. The increase is a slow and steady one, with rates still hovering at relatively low levels historically. Plus, this rise could be just what's needed to cool off an overheated market and restore sustainability.
Segmented Market Responses
Notably, the impact of these changes is not uniform across all housing segments. The luxury market, which heated up first, is cooling more rapidly. High-end properties are witnessing longer listing periods, and price reductions are becoming increasingly common. The entry-level market remains competitive, albeit less frenzied. The slow stabilization of prices and a slight increase in inventory provide an improved landscape for first-time homebuyers, who previously faced an uphill battle.
What Does the Future Hold?
It's important to understand that a cooling market doesn't mean a crash. In fact, the underlying fundamentals of the Twin Cities housing market remain robust: a strong economy, low unemployment rates, and an attractive quality of life.
We at Property Records of Minnesota anticipate that the shift towards a more balanced market will continue, with modest price growth and healthier inventory levels. For prospective buyers who've been holding off, this could present the opportunity they've been waiting for. The road ahead may be different, but with change comes opportunity. Rest assured, we at Property Records of Minnesota are here to help you navigate this evolving landscape. Armed with accurate information and tailored strategies, we're committed to guiding you through these shifting market tides to meet your real estate goals.
In conclusion, the Minnesota Twin Cities housing market may be cooling, but it is far from cold. It remains a dynamic environment, teeming with potential for buyers and sellers alike. With the right guidance and expertise, you can turn this market shift into an opportunity, and we at Property Records of Minnesota are here to help you do just that.
Realizing the Dream of Homeownership
One of the most exciting prospects of a cooling market is the renewed opportunity for first-time homebuyers. With a slight slowdown in price increases, more houses are becoming attainable, offering potential homeowners a glimpse at their dream of homeownership. Property Records of Minnesota is dedicated to helping these aspiring homeowners navigate the market, find their ideal property, and secure a home that suits their budget and lifestyle.
Investment Opportunities Abound
For investors, a cooling market can bring an array of opportunities. With more properties on the market and less competition, investors can explore real estate options at a more leisurely pace. The luxury market, experiencing the most significant cool-down, may offer particularly intriguing possibilities, as some properties are seeing price reductions. As experts in the local real estate market, Property Records of Minnesota can provide invaluable insights and guidance to investors, helping them capitalize on the changing market dynamics.
Seller Strategies in a Cooling Market
While sellers might not see the feverish demand of the past few years, this doesn't mean that they can't achieve a successful sale. The key lies in pricing properties accurately, staging them effectively, and marketing them strategically to stand out in a more crowded market. At Property Records of Minnesota, our real estate professionals have a deep understanding of local market trends and buyer preferences. We can help sellers price their homes competitively, present them in the best possible light, and attract serious, qualified buyers.
The Long-Term Outlook
While predicting the future of real estate markets with absolute certainty is impossible, the fundamentals suggest that the Twin Cities housing market is likely to remain strong and stable. The economy continues to be robust, employment levels are high, and the area continues to draw new residents due to its high quality of life.
A slowdown in the rate of price increases and an increase in inventory levels are signs of a return to a more balanced, sustainable market. This shift should make the process of buying or selling a home less stressful and more predictable, which will benefit everyone involved.
Property Records of Minnesota: Your Partner in Real Estate
As the housing market continues to adjust, remember that we at Property Records of Minnesota are here for you. Our seasoned professionals have weathered many market cycles and are equipped with the knowledge and expertise to help you navigate the current landscape. Whether you're a first-time homebuyer stepping into the property market, a homeowner planning to sell, or an investor looking for the next big opportunity, our team is ready to guide you. We're committed to ensuring that you have the information you need to make informed decisions and succeed in the ever-evolving Minnesota Twin Cities housing market.
The current cooling phase might be a shift from the past few year's frenetic activity, but it's a change that brings opportunities. With a balanced market on the horizon, now is an excellent time to consider your real estate objectives. With Property Records of Minnesota by your side, you can confidently navigate this new chapter in the Twin Cities housing market.
Media Contact
Company Name: Property Records of Minnesota
Contact Person: Customer Service
Email: Send Email
Address:2801 Hennepin Ave S #301
City: Minneapolis
State: Minnesota
Country: United States
Website: https://propertyrecordsofminnesota.com/