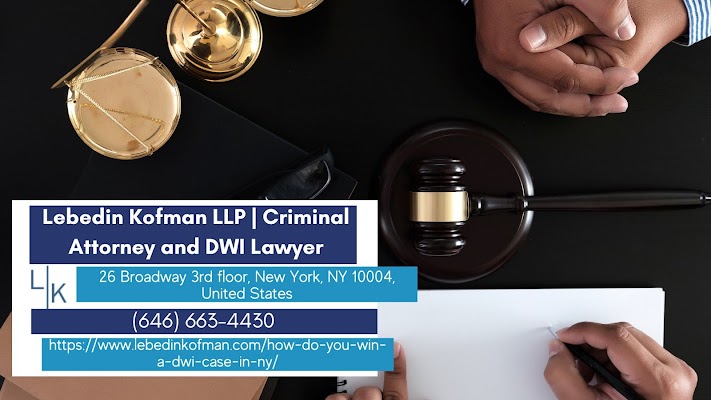 Renowned Nassau County federal defense lawyer Russ Kofman of Lebedin Kofman LLP has recently published an insightful article, mapping the complexities of Federal Defense Laws in New York. As a trusted criminal defense lawyer, Kofman shares his knowledge on the unique challenges federal cases present and the importance of securing a robust defense strategy when facing such charges.
In the article, Nassau County federal defense attorney Russ Kofman underscores the differences between federal and state laws and penalties, emphasizing the formidable nature of federal prosecutors. Kofman points out, "Federal prosecutors are some of the toughest in the nation and have the resources and talent to prosecute vigorously. The prosecution rate is high – over 90 percent of those who are prosecuted at the federal level are convicted – and the stakes are even higher."
Kofman, along with the team of attorneys at law at Lebedin Kofman LLP, reiterates their commitment to providing top-tier legal services to clients facing serious federal criminal charges. The Nassau County federal defense attorney handles cases across the Southern and Eastern Districts of New York, offering an assertive approach to help clients maintain their freedom and get their life back on track.
A notable portion of Kofman's article details the range of federal law enforcement agencies that can be involved in prosecuting federal offenses, from the FBI and IRS to the Department of Homeland Security. This highlights the breadth of potential challenges defendants may encounter in a federal case and underscores the need for a proficient criminal defense lawyer.
The article also breaks down common cases heard in federal court, including high-stakes crimes such as homicide, narcotics distribution, racketeering, and various types of fraud. Kofman notes that given the high conviction rate and severe penalties, it is critical to secure the representation of an attorney with extensive experience at the federal level.
In his own words, criminal lawyer Kofman advises, "When you are being investigated in a federal case, it is crucial to get the assistance of criminal defense attorneys who are experienced with defending cases in the federal court system and appearing before federal judges and juries, and who understand how federal prosecutors and judges work and think."
Drawing the press release to a close, it is clear that when facing federal charges, the best defense strategy incorporates deep knowledge of federal laws, procedures, and cases. With the high stakes involved in federal criminal cases, Kofman's recent article serves as an invaluable resource for those needing guidance in navigating the labyrinth of federal defense laws.
Taking action sooner rather than later is key. This is a sentiment echoed by Kofman throughout the article, underlining the necessity for immediate legal representation in the face of a possible federal investigation. The team of criminal defense lawyers at Lebedin Kofman LLP stand ready to extend their legal services to those in need.
About Lebedin Kofman LLP:
Lebedin Kofman LLP is a New York-based law firm that prides itself on providing aggressive and skilled legal services for its clients. The firm's experienced attorneys, including Russ Kofman and Arthur Lebedin, are dedicated to each client, offering personalized and assertive criminal defense strategies. With a focus on federal-level cases, the firm is committed to protecting its clients and their futures.
Embeds:
Youtube Video: https://www.youtube.com/watch?v=KqDQGRm6_ps
GMB: https://www.google.com/maps?cid=8774315708012683965
Email and website
Email: info@lebedinkofman.com
Website: https://www.lebedinkofman.com/
Media Contact
Company Name: Lebedin Kofman LLP
Contact Person: Russ Kofman
Email: Send Email
Phone: (646) 663-4430
Address:26 Broadway 3rd floor
City: New York
State: New York 10004
Country: United States
Website: https://www.lebedinkofman.com/