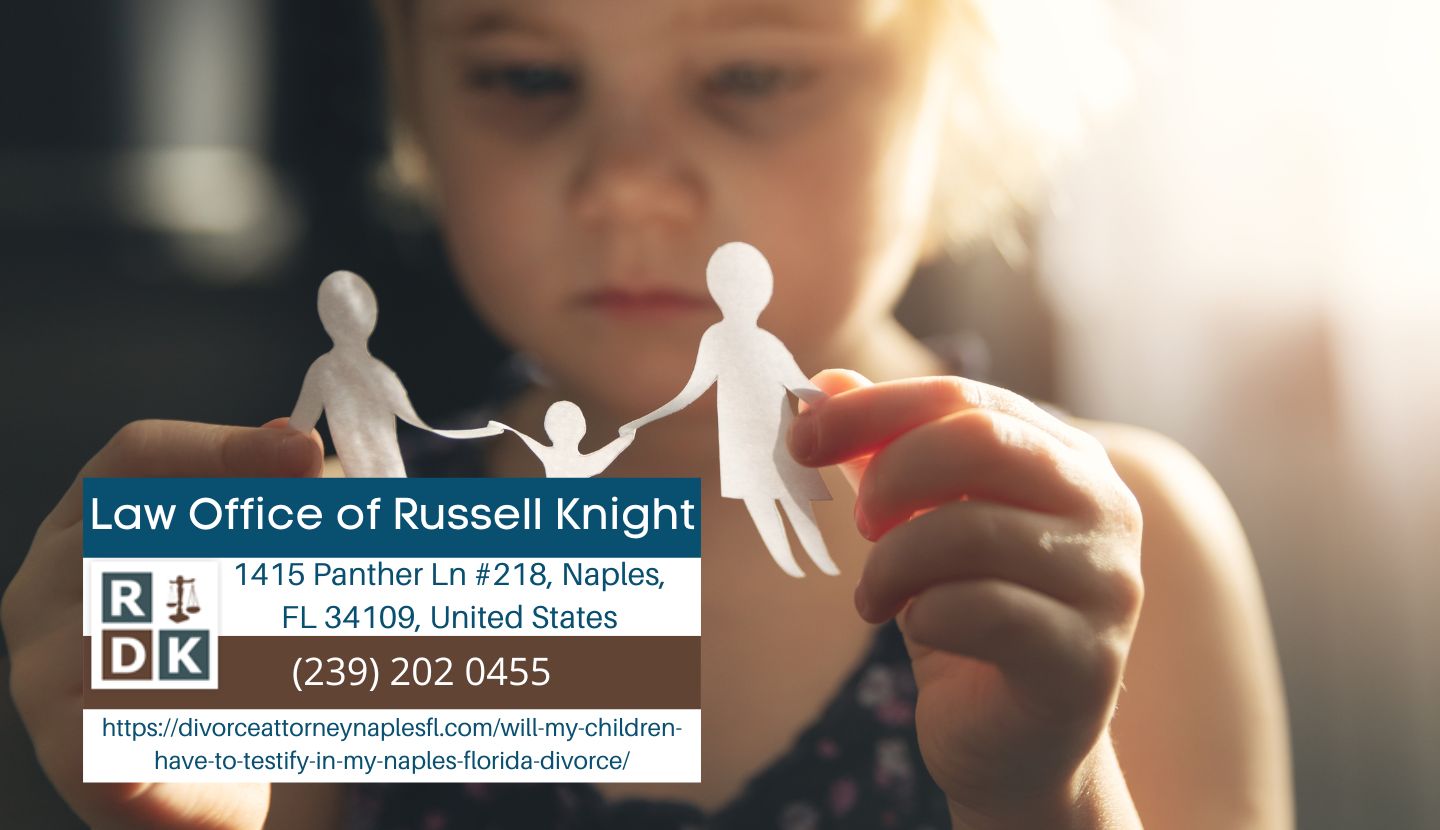 Naples divorce lawyer Russell Knight (https://divorceattorneynaplesfl.com/will-my-children-have-to-testify-in-my-naples-florida-divorce/) from The Law Office of Russell Knight has released an informative article titled, 'Will My Children Have To Testify In My Naples, Florida Divorce?'. This piece offers a detailed insight into the complex and sensitive issue of children's participation in divorce proceedings in Florida.
Knight, a renowned Naples divorce lawyer, begins by emphasizing the significance of children in the divorce process, stating, "When two parties divorce and those two parties have children, the whole family is getting divorced." He strongly advocates for the special consideration of children during divorce proceedings, noting that children should not be seen as mere objects to be negotiated over but as individuals with strong recollections and opinions about the divorce case.
The Naples divorce lawyer points out, "Florida courts consider the children's observations, reflections, and opinions in a way that fully considers the 'best interests of the child', which is also the standard for any custody consideration." This reflects his commitment to child welfare and his understanding of Florida's family law rules of civil procedure.
Russell Knight further elaborates on the Florida Family Law Rules of Civil Procedure, citing Rule 12.407(a). He explains that children are generally prohibited from being present in court during family law proceedings unless the court has granted prior permission based on good cause. "So, this means individuals cannot bring their kids to court in Florida in a divorce case to do any kind of testimony. They cannot bring their children to family court to even watch," states Knight.
The article also provides an in-depth look into the restricted testimony of a child, explaining how a Florida court may limit a child's testimony to protect the child's best interests. Knight uses his extensive knowledge of Florida's family law statutes to detail the factors the court considers in such decisions, such as the age of the child and the emotional trauma that may result from the defendant's presence.
Moreover, Knight discusses the use of child evaluators and social investigators as an alternative to direct court testimony. He explains that these professionals can provide an indirect way of getting the children's recollections and opinions considered in court. As he details, "The court, on motion of any party or the court's own motion, may appoint an expert for an examination, evaluation, testing, or interview of any minor child."
Knight emphasizes the importance of shielding children from the divorce process as much as possible. "The proper venue for healing families during and after a divorce is family therapy, not the courts," he advises. He encourages those in need of legal counsel to reach out to a seasoned Florida divorce lawyer for help navigating these complex situations.
For those seeking insights into the role of children in divorce proceedings, Knight's article is a treasure trove of information, blending legal experience with a clear concern for children's welfare. Readers are encouraged to delve into the article for a comprehensive understanding of this often-overlooked aspect of divorce proceedings.
About The Law Office of Russell Knight:
The Law Office of Russell Knight is a Naples-based law firm focusing on family law. Led by Russell Knight, the firm is committed to offering compassionate and knowledgeable legal counsel, helping families navigate the complexities of divorce proceedings while prioritizing the well-being of children. With a deep understanding of Florida's family laws, Russell Knight has built a reputation for his commitment to client care and his dedication to achieving the best possible outcomes for families.
Embeds:
Youtube Video: https://www.youtube.com/watch?v=0oPMyKP3LQI
GMB: https://www.google.com/maps?cid=18331445001396507178
Email and website
Email: russell@divorceattorneynaplesfl.com
Website: https://divorceattorneynaplesfl.com/
Media Contact
Company Name: Law Office of Russell Knight
Contact Person: Russell Knight
Email: Send Email
Phone: (239) 202-0455
Address:1415 Panther Ln #218
City: Naples
State: Florida 34109
Country: United States
Website: https://divorceattorneynaplesfl.com/