Australian organization Vayom International has conducted Nakshatra Awards 2022 event in the Constitution Club of India on 6th March 2022. This event was Fully funded by Rohit Sharma and Seerat Sharma from Australia and was organized by the Vayom India team. Acharya Anita Sharma, Shani Sanjeev Sharma and S K Joshi have done a wonderful job in keeping up the charm and shine of this event. During this event, Bhavin B Desai, Chetan Singh, Deenanath Sahu, Dr Sukesh Tretiy, Ishani Patel, Kashif Azmi, Kirti Sharma, Kriti Sharma, Pratibha Aggarwal, Rahul Sharma, Ravi Rana, Rreema Veerma, Meena Kumari, Chetna Kalra has shown their extreme cooperation and support.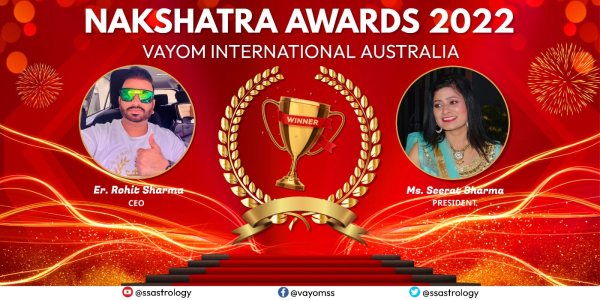 In this event, G. D. Bakshi JI (Retired Major General), Pt Beni Madhav Goswami JI (Lal Kitab translator and follower), Ramesh Chandra Ratn (PSC Railway Board Chairman), Renuka Singh (Minister of State for Tribal Affairs of India) joined as Chief Guests.
To make this event more cherishable, memorable and significant Dr Deepika Jain (Celebrity guest), Anoop Tanwar (Body Builder), Devikka Gurjjar (Model), Maa Shiv Sadhika (Religious leader and preacher), Ribhukant Goswami (Lal Kitab follower and Teacher), Rohit Tiwari (Editor in Chief – Navtej Tv) joined as Vip guests and Special guests. The national guest of honour of this event was Dr Jiggna Desai (Spiritual Coach & Psychic reader) and International guests of honours (joined online) were Smilymukta G (Award Queen / USA), Sameer Suri (Australia) Sunny Saini (Australia), Mella Deveza (Philippines), Frida Cai (China), Abhishek Subha (Canada), Nancy Sharma (Canada), James Moody (Political Candidate – Australia), Jason Wood (Member of Parliament – Australia)
There were also some special guests at this event, Ashish Jain (who gave horoscope software worth thousands to the guests), Raakesh J Joshi (certificates were sponsored), Rakesh Parihar (guests were welcomed in a traditional way), Nishi Kant Chandra (Softwares worths of thousands were gifted to all the guest) Monika Juneja (flower arrangement was done), Dharmender Bansal, Shree Man Vijay Pal, and M D Arvind Kumar Agarwal (religious items were gifted), Pt. Vishnu Shandilya Maharaj and Acharya Premlata Satyarth performed religious ceremonies during the start of this event. Dr Rajesh Ojha, Kapil Maharaj & Puneet Bhola also showed their special appearance during this event.
The entire event was beautifully anchored by celebrity anchor Jazz and she was also awarded the Master of ceremonies award. Acharya Anita Sharma, Acharya Anju, Acharya Kritti Sharma, Acharya Milli Arora, Acharya Ravindra, Acharya Sakshi Kasana, Ajay Kaushal, Ajaya Sharrma, Aanchal Singh, Anurdha Singh, Archana Rajput, Arvind Kumar Vasudeva, Ashok Kumar, Ashok Sen, Ashok Shrimali, Baidyanath Mishra, Baljit Singh, Bhagat Surinder Kaushal, Bhavin B Desai, Chandra Mukut Sharma, Chetan Singh Rathore, Chetna Kalra, Damodar Bansal, Deena Nath Sahu, Dr. Geetanjli Saxena, Dr. Prakshi Kaushal Madaan, Dr. Sudesh Sharma, Dr. Sukesh Tretiya, Durga Devi, Gaurav Soni, Geeta Jain, Geeta Pandey, Harinder Singh, Inderpreet Singh Khurana, Ishani Patel, Jayant Sharma, Jyoti Jayya Dabbas, Kajal Verma, Kashif Azmi, Khushboo Shokeen, Lucky Gujral, Meena Kumari, Meenakshi Sharma, Meenu Malhootra, Meenu Sharma, Meenu Sharmma, Najoomi Ji, Narender Kumar Sharma, Navya Singh, Nikita Jain, Nisha Bhatti, Pawan Dhiman, Pawan Gupta, Pooja Jain, Poonam Bhardwaj, Poonam Rathore, Pratibha Aggarwal, Pratima Kaushal, Precious Product (Tarun Kataria), Priti Doshi, Puneet Kaura, Raaj M Luthra, Radhika Kuumar, Rahul Sharma, Rajesh Srivastav, Rajiv Ahuja, Raju Abhang, Rakesh Gupta, Reena Rai, Rinku Chauhan, Rohit Dhingra, Rreema Veerma, S K Joshi, Sagar Varma, Shalini Malhotra, Shalu Jain, Shani Sanjeev Sharma, Sheikher Verma, Subbu Kriish, Surinder Kapoor, Suunita Vashishth, Dr. Vandana Sharma, Aruushi Jain, Kapil K Kaushik, Hemant Kapoor, Sunita Verman, Vimal Pahuja are some of the ones who were awarded in this event. The Supporting team for this event was Pankaj Wankhede, Aakash Dixit, Samiran Hazarika, Rahul Keshri, Madhu Dhakar and Honey Sehgal.
This Nakshatra Awards 2022 event has broken numerous records. For the first time in the era of astrology, it happened that any astrology award event was done by nomination and interviews. This was the first award function in the history of astrology, which lasted for months and this awards function has not lost its brilliance, even after its completion. Facebook and the internet are flooded with the pictures and posts of Nakshatra Awards 2022. This was the first award event in the history of Indian astrology which was conducted entirely from abroad by an NRI Rohit Sharma and Seerat Sharma. This event was truly an international event. This was the first-ever Astrology award event that was conducted by a couple. Booth Rohit Sharma and his lovely wife Seerat Sharma have shown equal interest and efforts in making this event successful.
For more information: https://ssastrology.com
https://www.facebook.com/VAYOMSS/
Media Contact
Company Name: VAYOM INTERNATIONAL
Contact Person: Rohit Sharma
Email: Send Email
Country: Australia
Website: https://ssastrology.com/