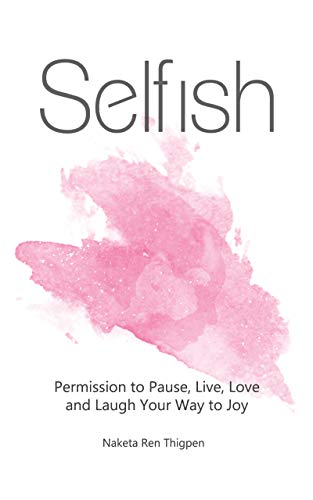 "Selfish: Permission to Pause, Live, Love and Laugh Your Way to Joy."
April 21, 2020 – Naketa Ren Thigen releases a new book based on her personal life encounters and experience. The book is titled Selfish and is simply a manual for every ambitious woman who wants the best experience out of life. Launched on April 14th, the book hit Amazon bestseller in multiple categories and hit the hot new release list in over 15 categories in just a few days. Selfish has 209 pages and an astounding cover page, which endears every reader. Currently, the book is published on Amazon and its paperback format can be purchased through http://bit.ly/SelfishBook. Another great thing about Selfish is that the kindle format can be read free on Amazon.
Renowned for her tenacity and high spirit, Naketa has gone through many ups and downs in life and had seen life in different lights, giving her an edge and insight into how every ambitious individual, especially women who should always live their lives fully, if they really want to achieve their goals and have their objectives met in life. Hence, the book, which is simply tagged permission to pause, live, love and laugh one's way to joy and happiness is written as a postcard to every young and old woman irrespective of class, creed, color or location.
As a trauma trained psychotherapist, coach and CEO of a global personal development company (ThigPro Balance and Relationship Management Institute), Naketa always encourages others to shake the shame that is binding their brilliance and impeding their success and that is exactly what she has done in her book. In Selfish, she maintains that doing that includes detoxing from other people's toxic opinions or need to control one's personal philosophies. She urges women to keep their heads up high and fix their eyes on the goal.
"I penned this book for the ambitious who wear too many hats, are overextended and underappreciated. If you're exhausted from work/life burnout, lacking balance, and feeling like one of two passing ships in your love life, being intentionally Selfish is the remedy. This isn't a license to be insensitive, egoistic nor inhumane. This is an unapologetically bold charge to redefine the term used to make so many people play small. After nearly four decades of putting other people before myself, personally and professionally, I've learned from quite a few mistakes. The first being that I had to denounce using the word "Selfish" when claiming time for myself because we've been taught to associate it with shame. While everyone is at home due to the coronavirus pandemic, this is the right time for every adult woman to pick up Selfish and restrategize their lives," said Naketa Ren Thigen.
Furthermore, in Selfish, Naketa also shares her own deeply personal experiences as an ambitious woman who has battled and survived rooted dysfunction, trauma, abandonment, and toxic relationships while growing a family, career, and global business while re-ignited the sparks in her marriage. Selfish is a memoir that is simply written to inspire the world and make women become more aware of the power they wield.
Media Contact
Company Name: ThigPro Balance and Relationship Management Institute
Contact Person: Naketa Ren Thigen
Email: Send Email
Phone: 215-315-9483
Country: United States
Website: www.thigpro.com