(ALBANY, US) Delveinsight has launched a new report on Multiple System Atrophy Market
DelveInsight's Multiple System Atrophy Market Insights, Epidemiology, and Market Forecast-2030 report delivers an in-depth understanding of the Multiple System Atrophy (MSA) , historical and forecasted epidemiology as well as the Multiple System Atrophy (MSA) market trends in the United States, EU5 (Germany, Spain, Italy, France, and United Kingdom) and Japan.
The Multiple System Atrophy market report provides current treatment practices, emerging drugs, Multiple System Atrophy (MSA) market share of the individual therapies, current and forecasted Multiple System Atrophy (MSA) market Size from 2017 to 2030 segmented by seven major markets. The Report also covers current Multiple System Atrophy (MSA) treatment practice/algorithm, market drivers, market barriers and unmet medical needs to curate best of the opportunities and assesses the underlying potential of the market.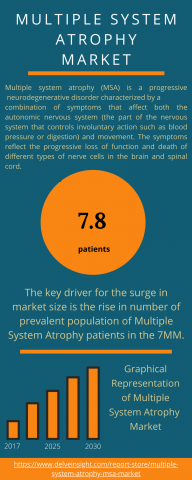 Request for Free Sample Page:- https://www.delveinsight.com/sample-request/multiple-system-atrophy-msa-market
Multiple system atrophy (MSA) is a progressive neurodegenerative disorder characterized by acombination of symptoms that affect both the autonomic nervous system (the part of the nervous system that controls involuntary action such as blood pressure or digestion) and movement. The symptoms reflect the progressive loss of function and death of different types of nerve cells in the brain and spinal cord. The initial symptoms of MSA are often difficult to distinguish from the initial symptoms of Parkinson's disease and include: slowness of movement, tremor, or rigidity (stiffness); clumsiness or incoordination; impaired speech, a croaky, quivering voice; fainting or lightheadedness due to orthostatic hypotension; bladder control problems, such as a sudden urge to urinate or difficulty emptying the bladder.
Multiple System Atrophy (MSA) Drug Chapters
Drug chapter segment of the Multiple System Atrophy (MSA) report encloses the detailed analysis of Multiple System Atrophy (MSA) marketed drugs and late stage (Phase-III and Phase-II) pipeline drugs. It also helps to understand the Multiple System Atrophy (MSA) clinical trial details, expressive pharmacological action, agreements and collaborations, approval and patent details, advantages and disadvantages of each included drug and the latest news and press releases
Multiple System Atrophy Market Insights
There are no treatments available to slow down or stop the progression of MSA. Currently, available treatments are symptomatic and include medications to treat parkinsonian symptoms, orthostatic hypotension, urinary symptoms, and sexual dysfunction. Patients typically get brief and modest responses to these limited arsenals of medications. Many mechanisms for the development and propagation of MSA have been postulated, including impaired elimination of α-synuclein within the cell, mitochondrial dysfunction, and direct toxicity of α-synuclein, oxidative stress, neuroinflammation, and prion-like propagation. The implication in genes, such as C9orf72, MAPT gene, Leucine-rich repeat kinase 2 (LRRK2), coenzyme Q2 (CoQ2) gene, and others are offering novel options in the target design. The mutations in the Glucocerebrosidase gene (GBA) confer a higher risk of developing MSA; hence, the treatment with enzyme replacement therapy may offer some benefit to patients who have MSA. Further progress in the research and development is likely to translate into a real improvement in the treatment options for patients with MSA and is likely to boost the revenue growth of the MSA therapeutics market in the forecast period.
Scope of the Report
The report covers the descriptive overview of Multiple System Atrophy (MSA) , explaining its causes, signs and symptoms, pathophysiology, diagnosis and currently available therapies
Comprehensive insight has been provided into the Multiple System Atrophy (MSA) epidemiology and treatment in the 7MM
Additionally, an all-inclusive account of both the current and emerging therapies for Multiple System Atrophy (MSA) are provided, along with the assessment of new therapies, which will have an impact on the current treatment landscape
A detailed review of Multiple System Atrophy (MSA) market; historical and forecasted is included in the report, covering drug outreach in the 7MM
The report provides an edge while developing business strategies, by understanding trends shaping and driving the global Multiple System Atrophy (MSA) market
Table of content
1. Key Insights
2. Executive Summary of Multiple System Atrophy (MSA)
3. Competitive Intelligence Analysis for Multiple System Atrophy (MSA)
4. Multiple System Atrophy (MSA) : Market Overview at a Glance
5. Multiple System Atrophy (MSA) : Disease Background and Overview
6. Patient Journey
7. Multiple System Atrophy (MSA) Epidemiology and Patient Population
8. Treatment Algorithm, Current Treatment, and Medical Practices
9. Unmet Needs
10. Key Endpoints of Multiple System Atrophy (MSA) Treatment
11. Marketed Products
12. Emerging Therapies
13. Multiple System Atrophy (MSA) : Seven Major Market Analysis
14. Attribute analysis
15. 7MM: Market Outlook
16. Access and Reimbursement Overview of Multiple System Atrophy (MSA)
17. KOL Views
18. Market Drivers
19. Market Barriers
20. Appendix
21. DelveInsight Capabilities
22. Disclaimer
23. About DelveInsight
Related Reports
About Us
DelveInsight is a premier Business Consulting and Market Research firm, focused exclusively on the life science segment. With a wide array of smart end-to-end solutions, the firm helps the global Pharmaceutical, Bio-Tech and Medical devices companies formulate prudent business decisions for improving their performances to stay ahead of the competitors.
Media Contact
Company Name: DelveInsight Business Research LLP
Contact Person: Yash Bhardwaj
Email: Send Email
Phone: +919650213330
Address:304 S. Jones Blvd #2432
City: Las Vegas
State: NV
Country: United States
Website: https://www.delveinsight.com/