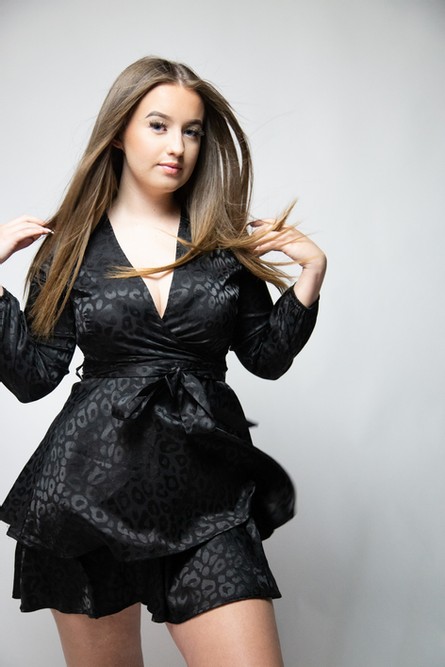 Norfolk, UK – December 16, 2020 – The tree is in place. The lights have been untangled and are strung across the boughs. The box of ornaments is waiting to be delicately placed and the festive drink has been poured. Almost everything is ready to start decorating the tree and officially begin the holiday season. Yet something is missing. No tree decorating session is complete without the year's hottest Christmas song.
This week, 15-year-old singer-songwriter, Hannah Birtwell, from Norfolk, England, released her much-anticipated music video on the heels of her newly unveiled Christmas song, Christmas To Me. Birtwell's pop-style song is upbeat and filled with festive cheers, but takes a more sentimental tone with its meaningful lyrics and dismissal of the materialism often associated with the holiday.
"Filming the music video for Christmas To Me was a challenge this year, as you can imagine, with all the lockdowns and restrictions in place," explains Birtwell. "I knew that I had to record and film a holiday song despite the difficulties. It has been such a challenging time, but it has also been a year when everyone is looking forward to Christmas. Everyone is 'counting days' as the chorus on my song says, until they can be with loved ones. We've all put the decorations up early and everyone is eager to feel the magic of Christmas. That magic is what influenced the song and the music video. We filmed it in the fantastic Thursford's Enchanted Journey of Light, which really set the mood and put me and the film crew in the holiday spirit."
Christmas To Me has playful, upbeat lyrics with one early refrain saying, "boy I know that you drive me crazy, but I like the way you do it to me." The playful lyrics hide a heartfelt sentimental message. The lyrics "every other girl wants diamonds and pearls, but I'm just praying that you get home safe," is the true message of the song, which is that the singer is yearning to spend time with her love during the holiday season, a message many are feeling deeply this year.
Birtwell, who has a flair for daring and cutting-edge fashion in her music videos, began singing at an early age and is passionate about modern music. She has written more than 15 songs and has released four, which have gained thousands of views, likes, and streams. She has performed for audiences across the UK, including at several festivals and the O2 Academy in Birmingham. Her music is well-received and has numerous five-star reviews from her eager fans.
Christmas To Me is available to stream on Spotify, YouTube, and all major streaming services.
For more information about Birtwell, her songs, and her upcoming scheduled performances, visit www.hannahbirtwell.com
To connect with Birtwell online, like her page at fb.com/hannahbirtwellmusic, follow her on Instagram @hannah_birtwell, and subscribe to her YouTube channel.
For more information, or to arrange an interview, please contact below.

Media Contact
Company Name: Hannah Birtwell
Contact Person: Media Relations
Email: Send Email
Phone: +44 7979189869
Country: United Kingdom
Website: www.hannahbirtwell.com