Motivational speaker and podcast host, Mriamdigital, seeks to trigger the passion in people as he releases his latest project titled "Million Dollar Dream"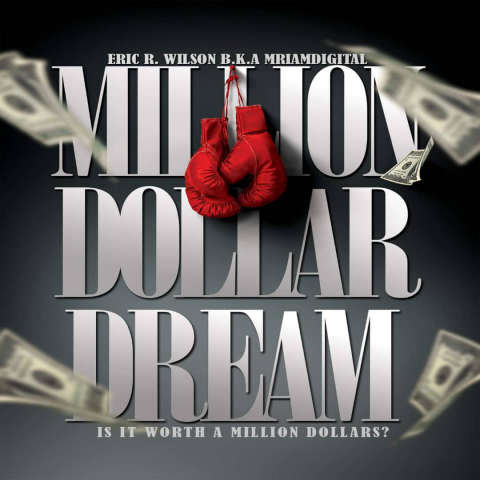 Eric R. Wilson, popularly known as Mriamdigital is a multifaceted individual who has his hands in several creative acts. As a podcast host on Digitally Interrupted and motivational speaker, he seeks to inspire his listeners to achieve their full potentials regardless of the obstacles that life might bring. In a related development, Mriamdigital recently released a motivational piece titled "Million Dollar Dream," where he teaches various life lessons to help his audience push boundaries.
"I wanted to create this spoken-word piece to let people know, the Million Dollar Dream is just a Dream without action. We all have million-dollar capabilities in us. We have to activate it. Everyone wants to put a value on their talents and skills. If you concentrate on being consistent with using your skills and talents, being a service for your communities and family around you, you'll see the million-dollar Dream is not monetary but more peace of mind and being able to leave a great legacy," said Eric R. Wilson.
As the host of Digitally Interrupted, Mriamdigital interviews guests from different walks of life, adopting a no-holds-barred approach to revealing hitherto unknown facts about the guests to give listeners a seemingly broader perspective about life and how they can leverage the experiences of the interviewees to channel their path to success. Some of the previous guests on the show include Venus Rose, industry stylist and owner of Haus of Creators, Collier Landry, cinematographer and creator of "Murder in Mansfield," Behzad Dabu, activist, music artist, and creator of "Get Out Alive," and a host of others.
In Million Dollar Dream, Mriamdigital talks about the art of financial discipline as well as other principles of success, including consistency, and their importance in getting the desired result.
For more information about Mriamdigital and his works as a spoken word artist, public speaker, and podcast host, please visit – https://www.Digitallyinterrupted.com/. Million Dollar Dream is available across different digital platforms, including Spotify, YouTube, Apple Music, and TikTok.
Mriamdigital, otherwise known as Eric R. Wilson is a screenwriter, producer, host of the popular podcast series Digitally Interrupted, and a motivational speaker. He seeks to inspire millions of people to greatness by creating a platform that allows successful individuals to share the stories with the world.
Media Contact
Company Name: I Am Me I Am Possible INC.
Contact Person: Eric R. Wilson
Email: Send Email
Phone: 848-863-7394
Country: United States
Website: Digitallyinterrupted.com