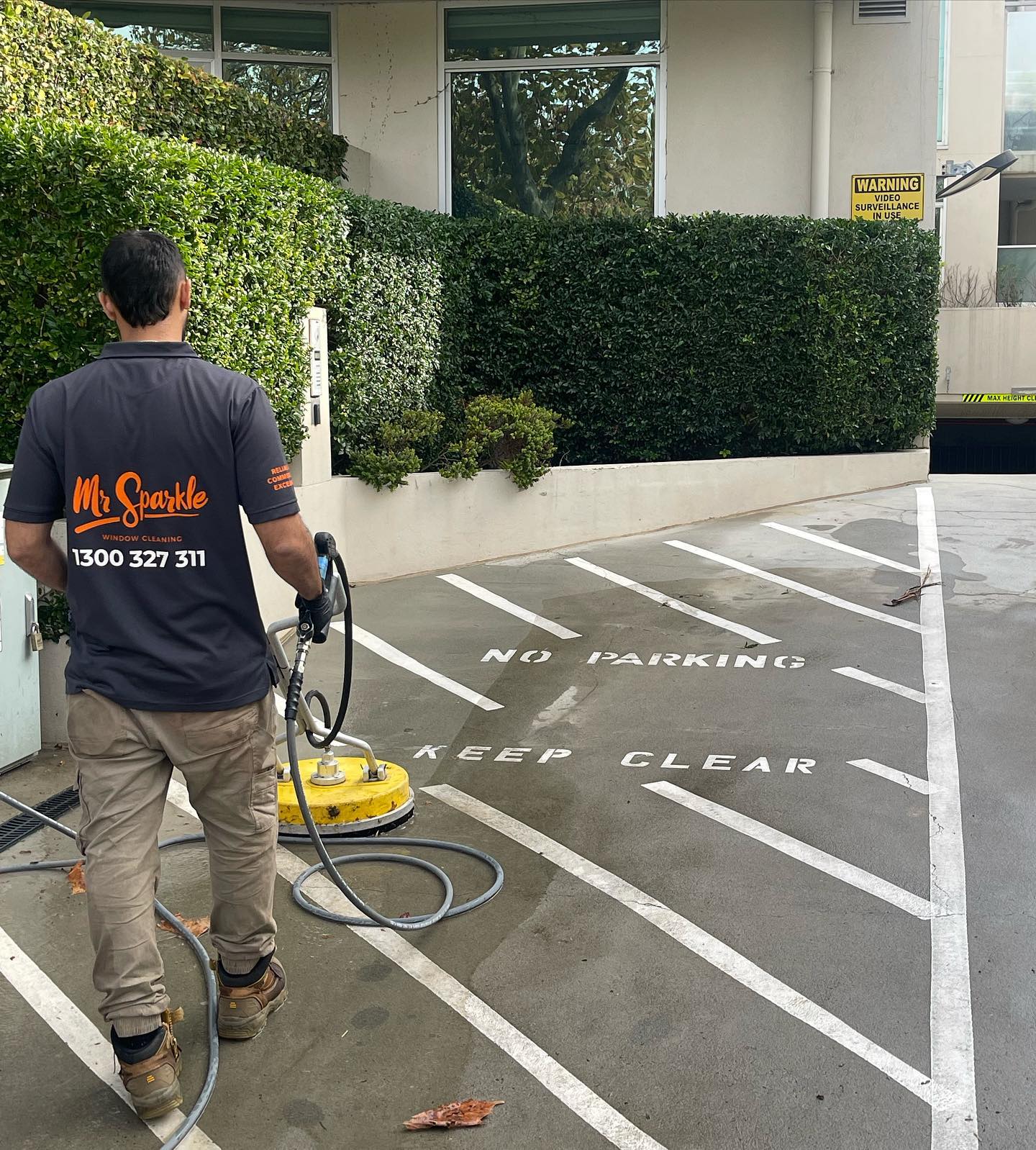 Pressure Cleaning in Melbourne, AU – Mr. Sparkle Window Cleaning & Pressure Washing. A Mr Sparkle technician, clad in the company's signature uniform, expertly operates a high-powered pressure washer on a Melbourne parking lot. As water jets forcefully from the machine, years of grime and dirt lift, revealing the lot's original lustre. The contrast between the cleaned and uncleaned areas is striking, underscoring Mr Sparkle's exceptional service quality.
Pressure Cleaning in Melbourne, AU – Mr. Sparkle Window Cleaning & Pressure Washing. Mr Sparkle Window Cleaning & Pressure Washing is Melbourne's top pressure cleaning service. Pioneering excellence and outstanding customer care, they've set the gold standard in home exterior upkeep. From stubborn stains to algae build-ups, Mr Sparkle ensures Melbourne's homes and businesses gleam with unmatched brilliance. Choose the best; choose Mr Sparkle.
Melbourne, Australia – When we think of exterior home care in Melbourne, there's one name that shines bright above the rest – Mr. Sparkle Window Cleaning & Pressure Washing. As the city's premier pressure cleaning company, they've truly set the benchmark when it comes to professional and outstanding customer service.
It's no secret that the conditions in Melbourne can sometimes play havoc with our home exteriors. From dusty windstorms to unpredictable showers, the city throws a lot at our patios, driveways, windows, and exteriors. Enter Mr. Sparkle. With their top-quality pressure cleaning services, Melbourne residents no longer have to stress over stubborn stains, algae build-up, or dirty windows.
"What sets us apart? It's simple," says James, a long-serving team member at Mr. Sparkle. "We genuinely care about the quality of our work, and more importantly, about our customers. Pressure cleaning isn't just a service for us; it's an art."
Now, for those of you wondering, "Why Mr. Sparkle for pressure cleaning in Melbourne?" Let's break it down.
1. Premier in Pressure Cleaning
Simply put, Mr. Sparkle has earned its title as the premier pressure cleaning company in Melbourne, and for good reason. Their state-of-the-art equipment combined with a team of highly trained professionals ensures that each job is done to perfection. Whether it's your driveway, deck, patio, or windows that need a good scrubbing, Mr Sparkle is the name to trust.
2. Outstanding Customer Service
Mr Sparkle isn't just about getting the job done; they're about getting the job done right. Their emphasis on customer satisfaction is genuinely exceptional. From the moment you get in touch, you're treated as more than just a client; you're part of the Mr Sparkle family. And boy, do they look after their own! Quick responses, flexible scheduling, and even post-service follow-ups to ensure you're satisfied – it's no wonder they've garnered such a loyal customer base in Melbourne.
3. Commitment to Excellence
Pressure cleaning might seem straightforward, but there's a finesse to it. Mr.Sparkle's team knows this, and they never compromise on their commitment to excellence. Every nook, every cranny, every stubborn stain – they tackle them all with unparalleled dedication.
4. Value for Money
High quality doesn't always have to come with a hefty price tag. Mr. Sparkle offers competitive rates without skimping on service quality. So, whether you're looking for regular maintenance or a one-time deep pressure cleaning in Melbourne, you know you're getting your money's worth.
James adds, "Melbourne's a beautiful city, and we aim to keep it that way. It's amazing how a clean exterior can uplift the entire look and feel of a place. That's the sparkle we bring!"
In closing, for those in the Melbourne area seeking to revive the external appeal of their homes or businesses, there really is no better option than Mr Sparkle Window Cleaning & Pressure Washing. Their combination of impeccable pressure cleaning services, a strong emphasis on customer care, and commitment to the art of their trade has solidified their position at the pinnacle of the industry.
To all Melbourne residents and businesses: next time you think pressure cleaning, think Mr. Sparkle. After all, why settle for anything less than the best?
For more information or to schedule a cleaning, contact Mr. Sparkle today.
About Mr Sparkle Window Cleaning & Pressure Washing
With years of experience under their belt, Mr. Sparkle Window Cleaning & Pressure Washing stands tall as Melbourne's go-to company for all things pressure cleaning. Their exceptional customer service, combined with unparalleled expertise, ensures that Melbourne's exteriors always shine bright.
Media Contact
Company Name: Mr Sparkle Window Cleaning & Pressure Washing
Contact Person: Anotnio P.
Email: Send Email
Phone: +61 1300 327 311
Address:Unit 5/142 Were St.
City: Melbourne
State: Victoria
Country: Australia
Website: https://mrsparklewindowcleaning.com.au/pressure-cleaning/