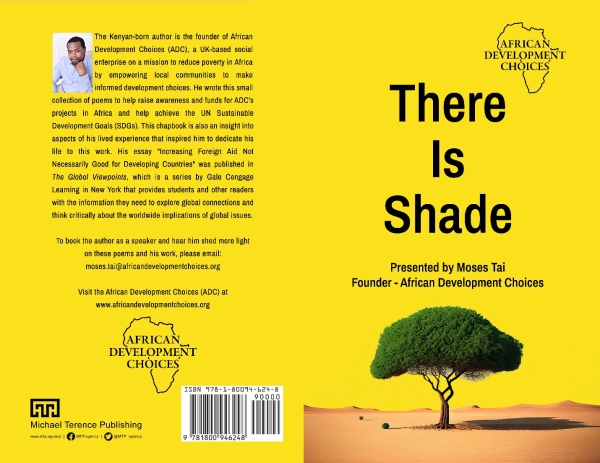 Author Moses Tai, the visionary founder of African Development Choices (ADC), presents his latest literary creation, a compelling collection of poems titled "There is Shade." This emotional chapbook not only showcases Tai's poetic prowess but also serves as a powerful tool to raise awareness and funds for ADC's transformative projects in Africa, aligning with the United Nations Sustainable Development Goals (SDGs).
Moses Tai, a passionate advocate for empowering local communities in Africa, has dedicated his life to reducing poverty through informed development choices. His work with ADC, a UK-based social enterprise, has inspired this poetic masterpiece, providing readers with a unique insight into the author's lived experiences that have fuelled his commitment to this noble cause.
In addition to his poetry, Tai has contributed significantly to the global discourse on development issues. His thought-provoking essay, "Increasing Foreign Aid Not Necessarily Good for Developing Countries," was recently published in The Global Viewpoints series by Gale Cengage Learning in New York. Through his writings, Tai encourages readers to explore global connections and think critically about the worldwide implications of key issues.
"There is Shade" is not merely a collection of poems but a testament to the resilience of the human spirit and a call to action for positive change. Readers will find themselves captivated by Tai's evocative words and moved by the underlying message of hope and transformation.
About the Author:
Moses Tai, raised in Kenya's Huruma Estate, observed poverty's roots in mismanaged public resources. Relocating to the UK in 2008, he dedicated a decade to research, founding African Development Choices (ADC) in 2019. Tai champions community empowerment through ADC, focusing on innovative Water, Sanitation, and Hygiene (WASH) projects. His book, "There is Shade," creatively outlines ADC's approach, aiming to combat poverty and raise funds for African projects. Available on Amazon, he urges support through book purchases and reviews.
Media Contact
Company Name: "AMZ Marketing Hub"
Contact Person: Moses Tai
Email: Send Email
Country: United Kingdom
Website: https://africandevelopmentchoices.org