The West Adams Fall Festival, which was organized by the West Adams neighborhood on 26th October 2019, packed a punch.
The idea of the Fall Festival was conceptualized to promote the benefits of Montessori education at the Montessori Academy of West Adams, showcase a deep commitment towards community building and propagate the notion of giving back to the community. Directly speaking, the aim of the event was to bring the community together — meeting neighbors and introducing them to the Montessori Academy of West Adams.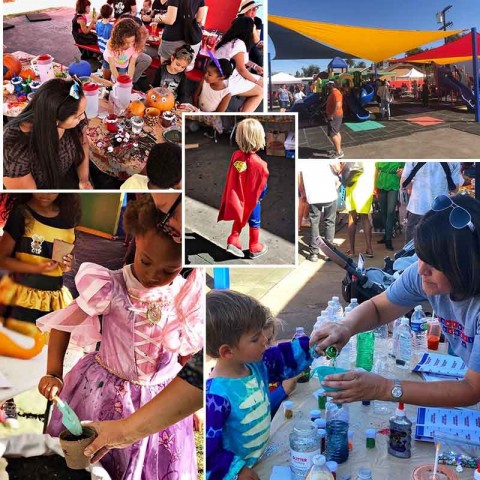 Collage Montessori Academy Festival
We, at Montessori Academy of West Adams, wanted to reinforce the idea that a community that comes together based on shared passions and common interests leads to strong social bonds. This abstract promise was exemplified in concrete terms at the West Adams Fall Festival, where the neighborhood was allowed to come together at a gathering space and become aware of the earnest offerings of the West Adams Montessori Academy.
The festival was a huge success with a footfall of 200 guests. We witnessed children coming forth in superhero costumes and princess gowns underneath the colorful blue, red, and yellow cloth canopies. The children engaged in activities such as painting pumpkins and reveled in the immense joys of toy cars, bouncy castles and slides while the adults and parents watched enthralled. An endless supply of refreshing and colorful drinks passed around. Last but not the least, in a highly symbolic gesture, the children planted seeds and did their bit for the environment.
There was happiness and positivity in the atmosphere, and everyone went home feeling content and connected with the neighborhood as a whole. A representative from Montessori Academy of West Adams succinctly summed up the beautiful experience by remarking, "This was the best day. Let's do it again next year."
The Montessori preschool Los Angeles offers a nurturing atmosphere in which the young children in our communities thrive. The traditional educational curriculum goes hand in hand with regular art classes and music education, which leads to the holistic development of children's social, physical, and emotional aspects.
The supervised play area and the serene atmosphere promotes the learning that is supported by the teachers with glowing credentials throughout the year. Our Montessori preschool caters to the needs of children between the years of two and six. Your child does not even need to be potty trained because we will potty train him or her at our school. The well-stocked library and well-equipped music and dance room support the holistic frame of education, and the parking spaces allow you to pick up and drop off your children with ease.
You can also get In touch our Culver City montessori location by following this link.
For further information, get in touch with our representative Ruhi Khan at ruhi@montessori-academy.com
Media Contact
Company Name: Montessori Academy
Contact Person: Ruhi Khan
Email: Send Email
Phone: (323) 795-0200
City: Los Angeles
State: CA 90016
Country: United States
Website: https://montessori-academy.com/