Monport's Fall Sale Offers Mega Discounts on New Fiber Laser Engraving Machines. Save big and unleash your creativity today! Limited time offer.
Monport Laser, a premier manufacturer of laser engraving machines, has announced their much-awaited Fall Sale. During this limited-time promotion, customers can enjoy stunning discounts on Monport Laser's best-selling laser engravers. The Fall Sale Campaign will run from September 28th to October 30th, 2023. An exceptional offer includes a $900 discount on the Monport 30W (5.9″ x 5.9″) Fiber Laser Engraver & Marking Machine. This is the perfect opportunity for customers to save big while acquiring a high-quality laser engraving machine from Monport Laser.
This Fall Sale is the perfect opportunity for businesses to upgrade their laser engraving machinery and enjoy the latest advancements in laser technology. Monport Laser is known for its robust and versatile laser engraving machines that cater to a wide range of businesses, including small businesses, artisans, and entrepreneurs. With the Fall Sale Campaign, Monport Laser continues to democratize laser engraving technology by making it accessible to more businesses at a significantly reduced cost.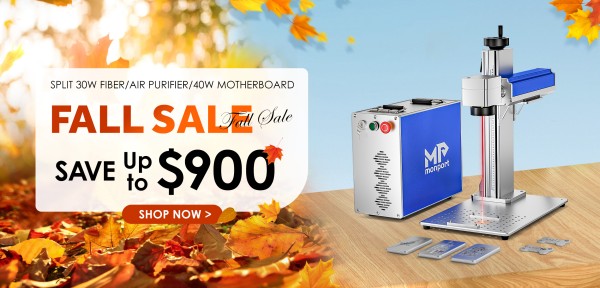 As part of the Fall Sale Campaign, Monport Laser is offering a massive discount of $900 on the Monport 30W (5.9″ x 5.9″) Fiber Laser Engraver & Marking Machine. This advanced laser engraving machine offers a range of features and benefits that make it a versatile tool for various applications. One of the standout features of the Monport 30W is its Galvo-tech Control, which enables it to deliver laser beams with incredible speed and precision. This technology guarantees quick scanning, engraving, and project turnaround times, allowing you to complete tasks efficiently.
Equipped with a Raycus fiber laser source, this engraver has an estimated lifetime of up to 100,000 hours, making it a reliable choice for marking metals such as stainless steel, gold, silver, and brass. With its high-quality laser source, you can achieve precise and accurate engravings on a wide range of materials.
Despite its powerful capabilities, this laser engraver boasts a portable size, making it convenient to use in any workspace. Its compact design allows it to fit well on a desk, and it can also be easily transported to different locations, making it ideal for studios or on-the-go projects.
The Fall Sale Campaign will also offer customers the opportunity to purchase additional accessories. Monport Air Purifier Laser Fume Extractor with 4 Filters is now $40 off. The air purifier is an essential tool for reducing the smoke and dust generated during the operation of CNC machines and laser engraving and cutting machines. Featuring a built-in noise reduction module, this industrial fume extractor effectively extracts smoke and dust using its 4-layer filter. The layers consist of a cotton filter, activated carbon filter, and aluminum-alloy filter, which work together to filter out smoke and dust effectively.
The Monport Air Purifier Laser Fume Extractor is suitable for use with CO2 laser engravers and comes with a 1-year warranty, as well as quick-reply customer service to ensure everything runs smoothly.
"Monport Laser is dedicated to providing high-quality and durable laser engraving machines that offer excellent value for money. We believe that this Fall Sale Campaign will help more businesses enhance their capabilities and increase their productivity," said Charlie Smith, Manager of Monport Laser. "Our30W (5.9″ x 5.9″) Fiber Laser Engraver & Marking Machine is innovative, versatile, and designed with our customers' needs in mind. We are excited to offer it at a significantly discounted price as part of our Fall Sale Campaign."
Monport Laser has built a reputation for delivering high-quality products that meet the most stringent quality standards. Their products are known for their durability, precision, and user-friendliness, making them ideal for small businesses, artisans, and entrepreneurs.
To learn more about the Fall Sale Campaign and take advantage of the mega discounts on Fiber Laser and CO2 Laser engraving machines, please visit Monport Laser's website.
About Monport Laser:
Monport Laser is a leading manufacturer of high-quality laser engraving machines. The company has been in operation for several years and has gained a reputation for delivering innovative and durable products at affordable prices. Monport Laser's commitment to exceptional customer service, product quality, and user-friendliness makes it an ideal partner for businesses looking to leverage the power of laser engraving technology to grow their business.
Media Contact
Company Name: Monport Laser
Email: Send Email
Phone: (+1)332-251-1208
Address:Monport Tech Inc. 300 LENORA ST 878
City: SEATTLE
State: WA, 98121-2411
Country: United States
Website: https://monportlaser.com/