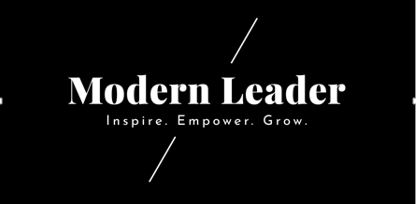 Modern Leader is a career coaching company that helps small and mid-size businesses to flourish their business. At Modern Leader, they are focused on meeting the holistic needs of the Modern day leadership. If you have a small business and need Leader development and career coaching without breaking the bank. Make sure you are working with "Modern Leader".
Their team is available to work with any mid-size business one-on-one if their company doesn't offer leadership development, or if they are needing extra support.
At "Modern Leader" their team of experts can curate plans to meet your specific needs. Through their one-on-one coaching, workshops and their learning management system they are ready to help upcoming Business Leaders. Take a first step in turning your dreams into action by scheduling a complimentary video call with the "Modern Leader" success coach. Their goal is to help future Leaders inspire, empower, and grow their teams.
They are confident that they will align with all your needs or goals if not then they are happy to suggest other avenues. At "Modern Leader", your need/goal is their top priority. You can book a career coaching/mentoring session anywhere and anytime! Not only that, at "Modern Leader" they are providing you with LMS (online courses) licenses. Take your organization's training and development to the next level with their LMS solution.
About Modern Leader
Modern Leader is more than a leadership program and learning management system, it is a mindset. In today's ever-changing leadership landscape the "Modern Leader" is trying to navigate their ever-changing leadership landscape. With that in mind, they have created programs to ensure they are prepared to meet the leadership development needs of an entire organization. You can also listen to their most amazing leadership podcast "Modern Leader The Podcast", which is on all streaming platforms and can be found on their site.
"Modern Leader" has revolutionized the coaching world. They have the most outstanding team who is ambitious to convert your dreams into reality. You can also check their website which has nothing but 5-star experiences Anthony Rubio, President and CEO, is a Maxwell Leadership Certified Team member, who has worked with some of the most amazing companies in the world. He founded "Modern Leader" to emphasize the world of career coaching. You can check his Linkedin Profile which is given below to get more information about "Modern Leader". Contact them to schedule your first session with the world's greatest business coaches now!
Media Contact
Company Name: Modern Leader
Contact Person: Anthony Rubio
Email: Send Email
Phone: 2104429465
City: Seguin
State: TX
Country: United States
Website: https://www.modernleader.net/