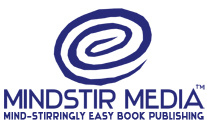 Mindstir Media, a self-publishing company founded in 2009, recently received its 16th book award as it enjoys its 10th year in business. The latest award comes from the Book Excellence Awards, an international book competition. The award-winning title is Growing Up, Poetry by Jennelle White, a Mindstir Media author who has published two titles with the company. Other Mindstir Media awards include a book design award presented by the National Indie Excellence Award contest and many more.
A list of Mindstir Media awards can be viewed at http://www.mindstirmedia.com/mindstir-media-awards/.
Mindstir Media has also garnered many positive reviews. One recent video review, from Mindstir Media author Danielle DiPietro Hawkins, raves about the service she received during the publishing process for her book The ABCs of Italian Travel. The full video can be viewed at http://www.mindstirmedia.com/2019/07/11/mindstir-media-self-publishing-review/.
Other reviews, including many more video reviews as well as written reviews, can also be seen here: http://www.mindstirmedia.com/category/author-testimonials/.
"Our awards and positive customer reviews make us an obvious favorite for many authors," said J.J. Hebert, owner and founder of Mindstir Media. "We're one of the good guys in the industry as evidenced by our many book awards and positive statements from our authors. These really have helped us get to the next level in the publishing world, proving us to be a legitimate book publisher that authors can trust…"
About Mindstir Media:
Mindstir Media is an award-winning book publisher headquartered in New Hampshire. Over the past 10 years, Mindstir Media has published over 500 titles, including many award-winners and bestsellers. Mindstir's books can be found at Amazon.com, Barnes & Noble, Books-A-Million and thousands of other fine retailers worldwide. Mindstir's books are available in over 100 countries.
To learn more about publishing with Mindstir Media and the reasons why Mindstir is different from other publishers, go to http://www.mindstirmedia.com/self-publishing-company/.
Media Contact
Company Name: MindStir Media LLC
Contact Person: Maggie Kelly
Email: Send Email
Phone: 800-767-0531
Address:45 Lafayette Rd Suite 181
City: North Hampton
State: NH
Country: United States
Website: http://www.mindstirmedia.com