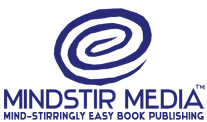 MindStir Media announced today that it is an official Gold sponsor of the 2021/2022 Next Generation Indie Book Awards. MindStir Media is an award-winning self-publishing company partnered with Shark Tank's Kevin Harrington. MindStir helps authors with all aspects of self-publishing, including book design, editing, printing, distribution, marketing and more.
As per the Next Generation Indie Book Awards website, it is the largest International awards program for indie authors and independent publishers. The Next Generation Indie Book Awards was established to recognize and honor the most exceptional independently published books in over 70 different categories, for the year, and is presented by Independent Book Publishing Professionals Group (www.IBPPG.com) in cooperation with Marilyn Allen of Allen O'Shea Literary Agency.
Cash prizes and more are awarded to the Winners and Finalists and they also receive a listing in the Next Generation Indie Book Awards Catalog; exposure for a full year as a Winner or Finalist at www.IndieBookAwards.com; an invitation to attend the Gala Awards Reception; the opportunity to display award stickers on their book; and other benefits. Additionally, the top 70 books will be sent to be reviewed by New York literary agent Marilyn Allen. Ms. Allen has over 25 years of sales and marketing experience, including serving as Senior VP, Associate Publisher, and Director of Marketing for Harper Collins, and directing sales and marketing teams for Simon & Schuster, Penguin Books and Avon Books. Ms. Allen has worked with legends Stephen King and Mary Higgins Clark.
J.J. Hebert, founder and owner of MindStir Media, shared his excitement about the sponsorship: "The Next Generation Indie Book Awards is a wonderful opportunity for indie authors and publishers, and I'm thrilled to be a part of this year's and next year's book awards competition. As an indie author myself, I see the incredible value that this book awards competition provides for authors and publishers alike."
Along with running MindStir Media, Hebert is also a #1 bestselling author featured in Forbes and Entrepreneur as a business and self-publishing expert.
About MindStir Media:
Since 2009, MindStir Media has helped thousands of authors through its unique self-publishing services and publishing consultations. To learn more about MindStir Media's book publishing and marketing offerings, download a free publishing guide at https://mindstirmedia.com/publishing-guide/.
Media Contact
Company Name: MindStir Media LLC
Contact Person: Jen McNabney
Email: Send Email
Phone: 800-767-0531
Address:45 Lafayette Rd Suite 181
City: North Hampton
State: NH
Country: United States
Website: http://www.mindstirmedia.com