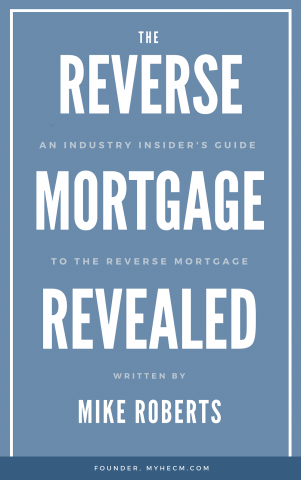 Mike Roberts, the founder of MyHECM.com and an experienced reverse mortgage industry veteran, reveals how a reverse mortgage really works in his new book The Reverse Mortgage Revealed: An Industry Insider's Guide to the Reverse Mortgage.
Published May 28, 2020 on Amazon.com, The Reverse Mortgage Revealed is filled with valuable information and insights that only an experienced industry professional can provide. In the book, Roberts explains how a reverse mortgage really works, who should (and shouldn't) get a reverse mortgage, what payout options are available and how they work, pitfalls to avoid, and how to increase proceeds and reduce closing costs. Roberts also includes detailed case studies based on real-life scenarios that tie together key concepts and terms and demonstrate how a reverse mortgage can help seniors live a more enjoyable and financially secure retirement.
"I am the first to acknowledge that a reverse mortgage isn't perfect for every senior", says Roberts. "However, it can be a fantastic financial solution for the right candidate. For many seniors, a reverse mortgage can even be life-changing."
Roberts has over a decade of mortgage lending experience and has helped hundreds of seniors get reverse mortgages over the years. Writing in plain language, Roberts cuts through all the rumors, misinformation, and hype that seniors have likely heard about reverse mortgages.
"Unfortunately, many seniors avoid the reverse mortgage because of the rampant misinformation floating around about it", says Roberts. "When seniors learn how a reverse mortgage really works, they like it. My goal with The Reverse Mortgage Revealed is to set the record straight and provide seniors with accurate information so they can decide if a reverse mortgage is the right financial solution."
Roberts acknowledges that The Reverse Mortgage Revealed isn't the first reverse mortgage book on the market. He explains that many reverse mortgage books available are dated or poorly written. Others are well-written, but often come from a more academic perspective.
"I wanted to offer a resource that is straightforward, practical, and real-world", Roberts explains. "My hope is that my book reads like I'm sitting across the kitchen table explaining how reverse mortgages work."
The Reverse Mortgage Revealed is available now on Amazon.com in paperback or for the Kindle or Kindle app.
MyHECM.com is a leading free online resource for seniors, their families, and their advisers to learn about the HECM reverse mortgage. MyHECM.com offers detailed and current reverse mortgage information and easy-to-use reverse mortgage calculators that require no contact information.
Media Contact
Company Name: MyHECM.com
Contact Person: Mike Roberts
Email: Send Email
Country: United States
Website: www.myhecm.com