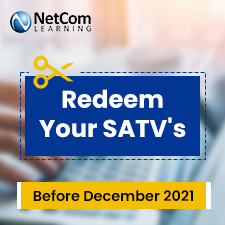 Microsoft SATV's retire by Year-end. NetCom Learning all set to help businesses Redeem the Training Vouchers
Aug 2, 2021 – New York, United States – NetCom Learning, a Software Assurance Training Voucher (SATV) approved Microsoft Learning Partner, is helping organizations take advantage of this fantastic training benefit. Microsoft has announced that it is retiring the entire SATV program by December 31, 2021. This announcement has created a sense of urgency among team leaders and Learning & Development decision-makers to redeem this Free Microsoft training benefit before it is too late.
With its uninterrupted support, NetCom Learning as a Gold Partner for Microsoft, has been assisting organizations in identifying and redeeming training vouchers. This helps them easily save thousands of dollars for training their teams and reaping the most benefits out of it. Through its Official Microsoft Curriculum courses on technologies including Dynamics 365, Microsoft 365, Power BI, Power Platform, Security, and SharePoint, NetCom Learning has been helping organizations maximize Microsoft SATV redemption during this transition phase to improve performance. These continuous efforts have empowered organizations to achieve better business outcomes and understand their teams and employees' upskilling needs and training requirements.
Significant Updates regarding the Microsoft Software Assurance Training Voucher (SATV) Program: 
Microsoft will discontinue the entire Software Assurance Training Voucher (SATV) program by the end of the year 2021.  
The last date to REDEEM the training vouchers for FREE Microsoft training at an official training partner like NetCom Learning is DECEMBER 31, 2021.  
Microsoft has also made the newly launched Security portfolio courses eligible under the SATV program. 

Quick Overview of Microsoft Training Vouchers (SATVs) and How to Redeem Them
Microsoft Software Assurance Training Vouchers (SATVs) are training credits that can be redeemed Free of cost for Microsoft training and certification exams. To be eligible for the vouchers, your organization should have a Software Assurance (SA) membership in the application or system pools as part of the Microsoft Volume License Agreement. These training vouchers enable free instructor-led official training courses redeemable through Microsoft Certified Learning Partners such as NetCom Learning.
The Software Assurance Training Vouchers are tied to training days. The number of days given to a particular company is determined by the product and the number of qualifying software licenses with Software Assurance. Training days or SATVs cannot be bought to acquire more of them independent of a volume license agreement. IT professionals or developers can redeem the vouchers for eligible courses on Microsoft technologies such as Dynamics 365, Microsoft 365, Power BI, Windows Server, Power Platform, Office 365, and Security, among others, by Microsoft Certified Trainers (MCTs). This free handbook will guide you through the complete process to redeem the free training voucher. It is also to be noted that the cost of training delivered by an official Learning Partner like NetCom Learning is covered under the Software Assurance agreement. It is important to remember one training voucher day equals one student classroom training day.
Take Advantage of Free Microsoft SATV Resources:
Download this Free SATV's handbook to understand the process of redeeming Microsoft SATVs
You may also explore the complete list of SATV Eligible Microsoft Training Offerings, which includes training on Dynamics 365, Microsoft 365, Power BI, and many more.
CEO of NetCom Learning, Russell Sarder, said, "Past few years have seen a surge in demand for Microsoft certified IT professionals. We're committed to helping organizations upskill their employees and giving IT professionals the chance to get certified and succeed in their careers. Organizations must act quickly and redeem the SATVs. By redeeming Microsoft SATVs, they can boost the productivity and technical competency of their employees and maximize ROI on its technologies investment."
About NetCom Learning 
NetCom Learning helps build innovative learning organizations in the workplace by structuring a smarter workforce, supporting changes, and driving growth. For over 22+ years, they have empowered organizations to reach optimal performance results and address challenges by managing all aspects of organizational learning. NetCom Learning has serviced over 80 percent of Fortune 1000 companies and helped over 14,000 organizations achieve their business goals with a team of dedicated and knowledgeable learning professionals with profound subject-matter expertise. 
NetCom Learning is a Microsoft Gold Partner and has been previously awarded No.1 Training Partner of the Year by Microsoft. They are also Customer Immersion Experience (CIE) approved and have partnered with Microsoft via Enterprise Skills Initiative (ESI) program to provide you with the latest training on Microsoft technologies. 
Media Contact
Company Name: NetCom Learning Inc.
Contact Person: Media Relations
Email: Send Email
Phone: (212) 629-7265
Address:252 West 37th Street Suite 1200W
City: New York
State: NY 10018
Country: United States
Website: https://www.netcomlearning.com/