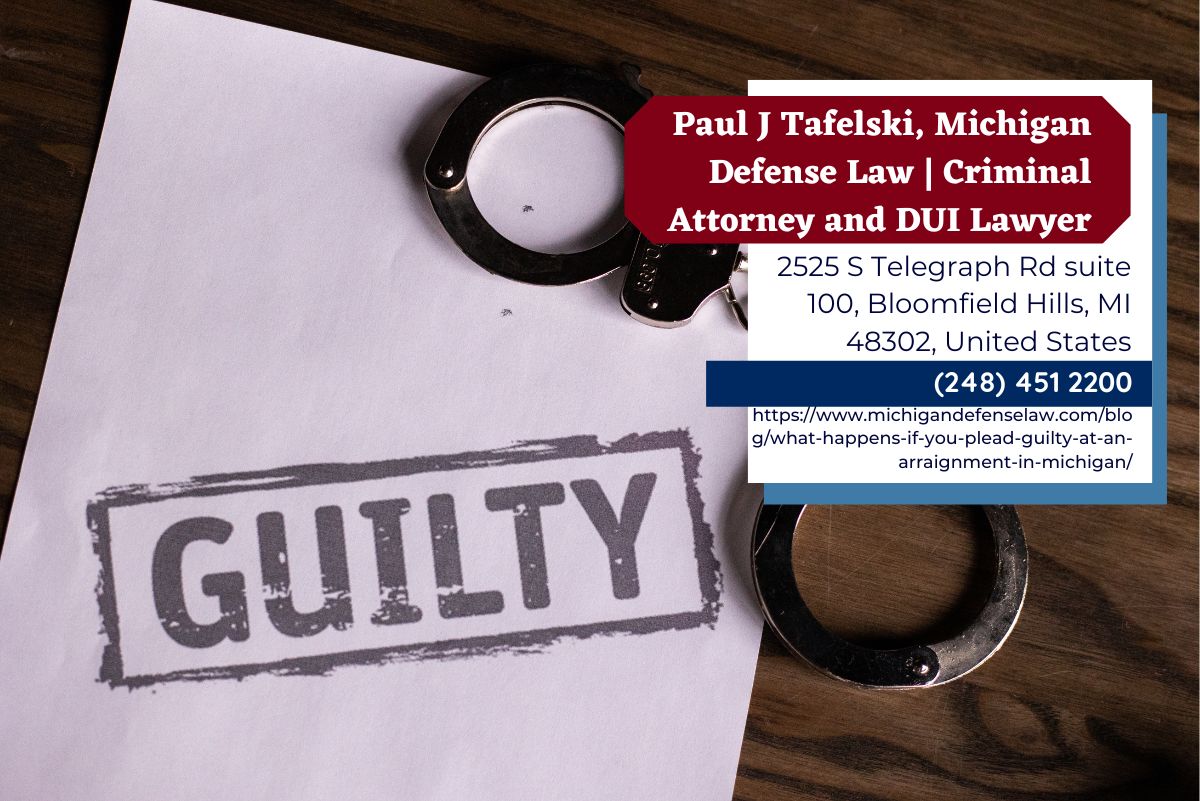 Michigan criminal defense attorney Paul J. Tafelski (https://www.michigandefenselaw.com/blog/what-happens-if-you-plead-guilty-at-an-arraignment-in-michigan/), of Michigan Defense Law, has recently published an article titled 'What Happens if You Plead Guilty at an Arraignment in Michigan?'. The article offers a comprehensive guide on the implications of a guilty plea during an arraignment, with the aim of empowering individuals to make informed decisions about their legal predicament.
In the first part of the article, the Michigan criminal defense attorney describes the arraignment as a critical stage in the criminal justice process. He emphasizes the importance of understanding the potential outcomes of pleading guilty, and the value of consulting a criminal defense attorney before making any decisions.
"Arraignment is the moment when individuals are formally informed of the charges against them and given the opportunity to enter a plea," explains the Michigan criminal defense attorney. "Pleading guilty means accepting responsibility for the alleged offense, and it can significantly affect one's future. That's why it's crucial to educate oneself about possible outcomes and consult with an experienced criminal defense attorney."
Tafelski delves deeper into the process of an arraignment in Michigan and the importance of choosing the right legal representation. He emphasizes that a defendant has the right to select their attorney, either privately retained or appointed by the court. The Michigan criminal defense attorney recommends evaluating potential attorneys based on their understanding of specific laws, local court customs, and procedures.
The article also provides a thorough understanding of the potential outcomes of pleading guilty. "When someone pleads guilty to a crime, they are admitting to the judge that they committed the acts mentioned in the criminal charge," says Tafelski. "They waive their right to a trial and become subject to the jurisdiction's sentencing guidelines and the judge's discretion."
Tafelski further addresses the sentencing and penalties in Michigan, the influence of prior criminal history, and the possibility of probation or parole conditions. He also touches on the potential restrictions on driving and professional licenses as a result of a guilty plea.
Tafelski reminds readers of the importance of seeking skilled legal assistance when considering a guilty plea. He stresses the role of a defense attorney as an advocate who will protect their rights, evaluate their case thoroughly, and provide skilled legal advice.
About Michigan Defense Law:
Michigan Defense Law is a leading law firm focused on criminal defense. Founded by Paul J. Tafelski, a Michigan criminal defense attorney with years of experience, the firm is dedicated to protecting the rights of individuals facing criminal charges. The team at Michigan Defense Law is known for providing thorough case evaluations, exploring all possible defenses, and guiding clients towards the best course of action. They are committed to ensuring that their clients are fully informed and supported throughout the legal process.
Embeds:
Youtube Video: https://www.youtube.com/watch?v=N6YK6NrtNjw
GMB: https://www.google.com/maps?cid=7441820969606749572
Email and website
Email: paul@michigandefenselaw.com
Website: https://www.michigandefenselaw.com/
Media Contact
Company Name: Michigan Defense Law
Contact Person: Paul J. Tafelski
Email: Send Email
Phone: (248) 451-2200
Address:2525 S Telegraph Rd suite 100, Bloomfield Hills, MI 48302
City: Bloomfield Hills
State: Michigan
Country: United States
Website: https://www.michigandefenselaw.com/