Wife, Mother, Serial entrepreneur, International motivational speaker and certified relationship coach, Michelle S. Thomas adds both International and National Best-Selling author to her portfolio of success in 2021! UNSPOKEN: Real-Talk of Today's Blended Family, is a book written to address real challenges happening within families today; especially the blended family. It is written in a raw, unfiltered style that does not shy away from issues "infecting" the modern family. To celebrate her global crossover, Thomas' media/pr agency @jesuscoffeeandprayer enlisted the help of 4x Grammy nominee Jekalyn Carr to personally show celebratory love to Michelle for her Epic win! She even sang a snippet of her #1 Billboard chat-topper 'You Will Win!'

Picture left to right: Michelle S. Thomas (International Best-Selling Author) Jekayly Carr (4x Grammy Nominated Gospel Artist), Min. Nakita Davis (CEO of @jesuscoffeeandprayer)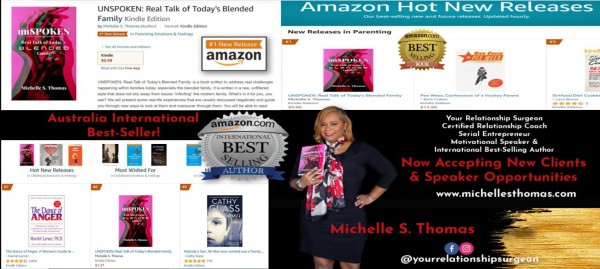 Known as 'Your Relationship Surgeon,' Michelle shares candidly about her life experiences as a Wife of a blended family, her real emotions, and coping mechanisms to create the successful life that she and her family enjoys today. During her headliner panel discussion for the epic Girl on FIRE! Book & Business Summit hosted by Jesus, Coffee, and Prayer to spark women to soar in 2021 and beyond; Michelle transparently shares how she endured the devasting effects of her 1st marriage that ended in divorce. During her heartfelt talk, there was not a dry eye in the house.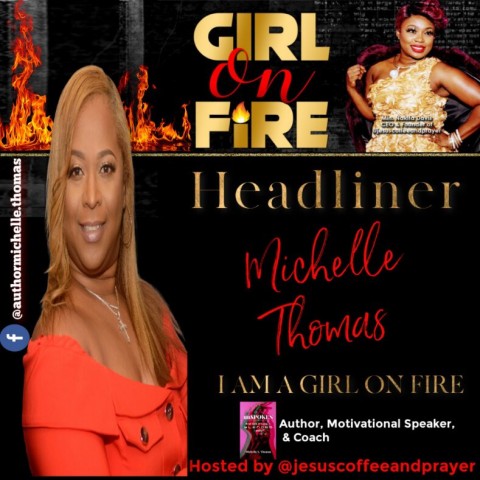 Catch Michelle's Night #4 segment in Girl on FIRE! HERE
As an innovator, pioneer, and strong woman of faith; Michelle gives all the glory to God for all her Victories!
She is currently accepting new clients for her 'Renew You in 2021' initiative and coaching opportunity. Space is filling up fast, so those who are ready to glean, grow, and glow from: "Your Relationship Surgeon," should book their consultation now!
So, What's Next for Michelle S. Thomas?
Michelle is proud to announce her induction into the 2021 Woman of Black Excellence honoree celebration for Black History Month. Michelle, along with 27 other Extraordinary Women of Black Excellence will have an opportunity to pour into Black Women all over the Globe in her panel discussion that addresses concerns for African American Women and what they must do collectively to Win in this season. She looks forward to sharing her knowledge and expertise; especially around family, parenting, and bossing up in business.
Insiders tell us that Michelle has several other projects and initiatives underway and looks forward to revealing with her newly found Global audiences!

Stay connected with Michelle!
Follow Michelle S. Thomas:
FB & IG @yourrelationshipsurgeon
Twitter @YourRelaSurgeon
Website: https://www.michellesthomas.com/
Email: info@michellesthomas.com
Media Contact
Company Name: Jesus, Coffee, and Prayer Christian Publishing House LLC
Contact Person: Min. Nakita Davis
Email: Send Email
Phone: (1) 833.333.0733
Country: United States
Website: www.jesuscoffeeandprayer.com