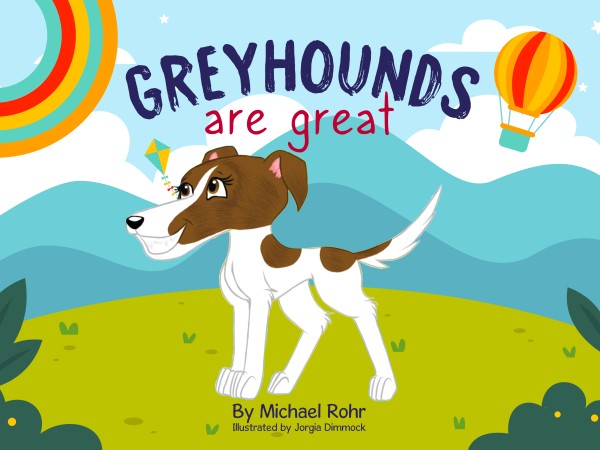 Gifted writer and author of Cowboy Monkey Talks Fluff (2020) and A Monkey Christmas (2021), Michael Rohr, is delighted to announce his new children's picture book titled 'Greyhounds Are Great.'
The book, which was released on 2nd September, was Illustrated by high school student Jorgia Dimmock- Newcastle (Michael's Niece) with a special forward by Dr Harry Cooper.
The book chronicles the life of a dog, an exceptional breed of dog. A dog with long legs, a long tail, and a long pointed nose. A dog that comes in many different colours. A dog with a coat like velvet and skin that is soft to the touch. This is also the fastest dog breed in the world, and possibly the oldest pure breed too".
Michael's book is dedicated to his beautiful rescue greyhound named SKYE. Speaking about the book, Dr Harry Cooper said: "as a dog owner who has spent much of his career caring for these wonderful speed machines, I have come to appreciate what genuinely unique animals they are. "I have bred them, raced them, they have been my pets, and for me there is no better dog than the GREYHOUND."
With colourful pictures, a simple storyline and fascinating facts about Greyhounds, this book is set to entertain young readers and educate them about the joys of owning a rescue dog, particularly a Greyhound.
Michael's Greyhounds, Skye and Gracie (adopted niece of Skye) have brought him and his family so much love, joy, laughter and loyalty.
"They are so easy to look after and in general do not have any major health issues to worry about. I wrote this simple children's story to educate others about the benefits of owning a rescue dog, in particular a Greyhound, due to the fact that they are such a loving, gentle and special breed of dog."
Additionally, Michael hopes to promote the rescue dog movement and encourage families worldwide to save a life and adopt a rescue dog.
"Michael Rohr has made a big change in writing about something that can see rather than something we can all smell, said Dr Harry Cooper. "I trust you will enjoy the exploits of SKYE and the wonderful illustrations. If you have ever thought of adopting a greyhound, why not give it a go? It is a subject I have talked about for over 20 years."
Michael Rohr's Greyhounds Are Great is currently available in local bookstores. Readers can also check out some of Michael's other books here.
Media Contact
Contact Person: Michael F Rohr
Email: Send Email
Country: Australia
Website: linktr.ee/MichaelRohrOfficial