What is Metaweek 2022?
Metaweek 2022 is a 2-day conference held in Dubai that contains high-level offline networking, technical knowledge, and content within the metaverse field. Blockchain masterminds, NFT creators, DeFi spearheads, AI forerunners, artists, gaming tycoons, data analysts, Metaverse instigators, and other experts interested in creating and nurturing the Web 3.0 world have attended Dubai for this significant event.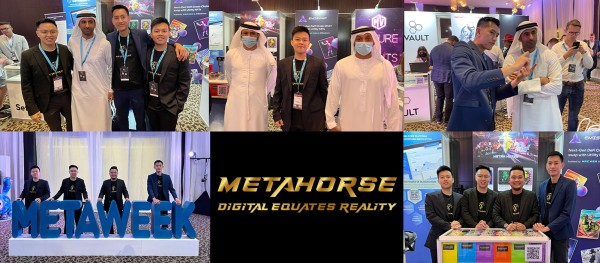 Dubai did show MetaHorse tons of love.
Fortunately, MetaHorse is one of the chosen partners for this high-level offline conference to showcase the vision behind MetaHorse and its prospective future to the Dubai Blockchain Community.
During the event, it turned out that MetaHorse was the most active booth in Metaweek with an overflowing crowd, surprisingly. We engaged with more than thousands of passionate individuals, organizations, and a couple of VCs who were looking for further partnerships.
Unexpected "Royal" Visit
If you think that's our most prominent moment in Metaweek, you couldn't be more wrong. While an overflowing crowd surrounded us during the event, we couldn't help but turn our attention to a few special guests. Unexpectedly, the crowd unintentionally caught the attention of the Royal Family Member of UAE. So many of them thought horse racing was an untapped market in this booming industry and loved the prospective profitability it could bring to the table.
They struck us as a huge surprise and gave a confidence boost to the project in certain ways. Furthermore, one of the members, Sheikh, showed much support by sharing this project with his own network.
Final Thoughts
MetaHorse is a very innovative idea, and it requires a tremendous amount of effort and time to develop. We would really like to present the final product to the lovely community, but right now, it's still slowly growing incrementally. Hopefully, we will be able to come up with alpha testing soon. Thank you, Dubai. It's such a great week with you guys!
Media Contact
Company Name: METAHORSE
Contact Person: John Chin
Email: Send Email
City: Dubai
Country: United Arab Emirates
Website: https://themetahorse.io/