Metaverse Are Going To Be Bigger
With the evolution of blockchain technologies and decentralized financial network, the exploded popularity of the non-fungible tokens (NFTs) industry should not be a surprise. They are actually the hottest "product" in crypto right now without a second thought.
As skyrocketing demand and exposure are expected, many creators take this as a once-in-a-lifetime opportunity to express their creativity to create their NFT projects and, most importantly, capitalize on it and make a ridiculous profit.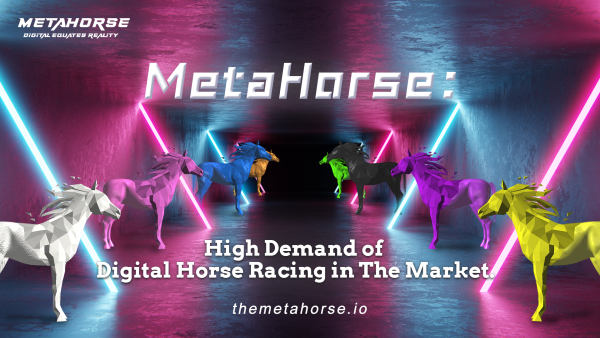 This results in an uncountable amount of projects & metaverses emerging out of nowhere within the industry. NFT enthusiasts could have a hard time looking for the most prospective project. On the bad side, for a creator or metaverse development company, it takes much more effort & creativity to get people to notice your project. On the contrary, if what you're building resonates with the community, it will be all over the world.
Unexpected Demand In Digital Horseracing
For example, there seems to be an untapped market for horse racing in the industry. With the release of MetaHorse, the high demand for digital horseracing has been justified. The highlight of this project is pretty self-explanatory. The MetaHorse allows its users to participate in exclusive horse racing and give you the perks to own or trade racehorses. The platform is cleverly designed on Binance Smart Chain, making it affordable and user-friendly for players. Additionally, it's a perfect match of both reality and the virtual world, where users can select racehorses backed by their counterparts in the real world.
Team MetaHorse believes that by combining the idea of traditional horseracing and the UCD (user-centric) approach, the project's potential looks pretty foreseeable.
Media Contact
Company Name: METAHORSE
Contact Person: John Chin
Email: Send Email
City: Dubai
Country: United Arab Emirates
Website: https://themetahorse.io/