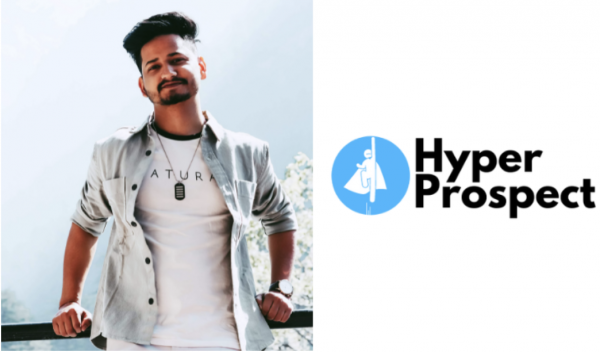 The 23-year-old Neeraj Negi is the founder of HyperProspect, a B2B sales prospecting company, who's bootstrapped his business to a five-figure online empire in just a year. Neeraj Negi is a young entrepreneur who has worked in ​​digital marketing and leading generation for the past 6-7 years. He worked with Fortune 500 companies and understands the needs of business owners very well. He has been featured in Yahoo News, Google News, Fox40, American Reporter, and many more.

With most industries and markets becoming heavily saturated and competitive, HyperProspect has been highlighted by many as a way for businesses to get their fair share of quality leads. The platform levels the playing field for businesses and allows them to focus on delivering exceptional products and services. The HyperProspect B2B lead generation platform was developed and nurtured by Neeraj Negi, a man who is referred to as "a guru" in the digital marketing & growth hacking world.

He started his career at 20 years old. Neeraj Negi was in his second year of college when he became interested in online businesses. He began by sharing his knowledge with his friends and family. His friends suggested that he should start charging for his services. ​​

This was the beginning of his entrepreneurial journey. He had just turned 20 years and already he had started his own business. Neeraj Negi has a degree in Bachelor's of Engineering in Computer Science from Chandigarh University, India.

When he was just 21, Neeraj Negi was already making over $1000 a month. It was at this time that he started HyperProspect, which he runs as a full-time business today.

Around December 2020, HyperProspect, under the stewardship of its founder, Neeraj Negi, launched an automatic lead generation platform. The company's only aim was to help businesses find quality customers or leads by leveraging HyperProspect's never-before-seen technology.

Months after its introduction to the public, HyperProspect has received hundreds of positive reviews from business owners who all seem ecstatic about the results that they have managed to obtain consistently using the company's autopilot lead generation platform. The product has been featured by Entrepreneur, Inc Magazine, and Bloomberg. HyperProspect now has offices in India, Estonia, and the Netherlands.

Neeraj Negi is a tech entrepreneur whose company HyperProspect is dedicated to helping business owners connect better with their target audience.

In his own words, the company's spokesperson, Neeraj Negi said: "The idea behind founding HyperProspect was to bridge the gap between business owners and their audience. As an entrepreneur, I know the kind of struggle I had to go through while trying to attract clients for my business. And, this was a problem that I wanted to solve, and I knew that there must be thousands of people out there, who must be facing this problem as well. So that is how I came up with a solution- a solution that will help business owners get more qualified leads for their businesses."

Neeraj Negi said: "I started HyperProspect in 2020 with some initial seed money that I had raised myself, and I have bootstrapped my business since then. I knew that if I managed to get my product out there and get people to use it, then I would be able to acquire more users and increase my revenue. And, that is exactly what happened. I have been able to generate over $60,000 in the past 1 year and I'm looking forward to getting well into the six figures this year."

Neeraj Negi is a whiz kid who is on his way to becoming a successful entrepreneur. He has come a long way from just being a college student to running his own business. He has a very strong vision for his business, and he is ready to put in whatever it takes to grow it.

Neeraj Negi said: "I want to help business owners, and I want to help them grow their businesses. That is what drives me. And, that is why I want to expand my business. I want to create a global community of business owners, and I want to help them succeed."

Now his company HyperProspect is a Five-Figure B2B business in 1 Year, Neeraj Negi's business has just gone from strength to strength. And, this is because he has always tried to improve his product to make it even better for his users.

He said: "We are on a mission to help business owners get more sales appointments. And, I'm proud to say that we have been more than successful in doing that. Our product is used by big companies and they have nothing but good things to say about it. We combine AI and Linkedin to help business owners get in touch with the right people. And, this has led to us bagging major clients along the way."

Considering its promise of quality b2b leads, it is not at all surprising that Neeraj Negi and the rest of the team at HyperProspect have chosen LinkedIn as their primary work area. The highly corporate social media platform is the world's foremost destination for b2b interactions. Coupled with HyperProspect's b2b marketing skills, many businesses have managed to consistently generate quality leads for their businesses which have translated to billions in revenue. The platform is a growth hacking machine.

Neeraj Negi said: "I'm hoping to get more customers this year, and I'm hoping to double my revenue as well. I'm going to keep working hard to ensure that my business succeeds."

Neeraj Negi is all set to change the way B2B business is conducted.

For more information about HyperProspect and its founder, Neeraj Negi, use the media contact outlets below:
Phone: (IN) +91 9756520769, (US&CA) +15182190032
Linkedin: https://www.linkedin.com/in/neerajnegi/
Instagram: https://www.instagram.com/neerajnegi_nj/
Twitter: https://twitter.com/realneerajnegi
Country: India, Estonia, Netherlands

Media Contact
Company Name: HyperProspect
Contact Person: Neeraj Negi, Founder
Email: Send Email
Phone: +919756520769
Country: India
Website: http://www.hyperprospect.com