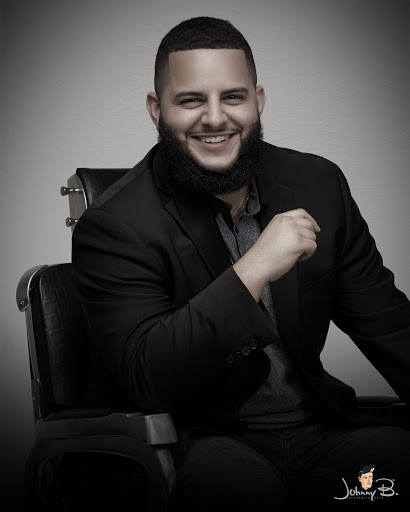 Meet Anthony Baez, the owner/operator of Xclusiv Barber Lounge. He's been barbering since the young age of 12 years old, starting off in his parents garage just as a hobby which turned into his passion. 13 years in the industry and he still strives to learn more and greatly loves the art of barbering, what moves him day to day is wanting to give his clientele the absolute best from the service he provides to the hair products he uses/recommends.
Today we'd like to introduce you to Anthony Baez.
Thanks for sharing your story with us Anthony. So, let's start at the beginning and we can move on from there.
At the age of 12 years old, I gained interest for barbering. During that era, I had a few family members that were barbers or stylist which in particular one of my older cousins that I looked up to started barbering 2-3 years before I did and every time I got a haircut by him I observed the environment he had Having fun and hanging out with his friends every day after school.
I saw how much respect people gave him simply giving clean haircuts. I was also intrigued how we can manipulate the hair to create certain styles. Ex. covering up bald spots by making the hair look fuller. What drew me to barbering as well is seeing how it makes people feel after getting a service, the instant boost of confidence it gives people Is like no other. Like anything else, I got where I am today by learning and practicing frequently, being consistent with my professionalism and techniques, and being persistent with wanting to grow.
Has it been a smooth road?
Starting at a young age and I did not have access to barbering school the minimum age I believe is around 17 years old. A lot of the things I learned was hands-on and back in those times, we didn't have YouTube to where it has hundreds of barbering content like today. I never really had one on one learning with anyone, the way I learned was observing and also asking questions but at times it gave me very minimal answers. With that being said, it forced me to try to things on my own and failing until I got it right which thankfully did not take long.
At 15 years old, I started working at my first barbershop. That forced me to grow up faster and mature since I was working around grown men, the closest age to me was 20 years old. Still to this day, it's very unheard of to see a 15-year-old working at a barbershop. Thankfully the men that were working at the shop looked out for me both in barbering and making sure I didn't get out of line hanging around the wrong crowd.
School became a little of a struggle since my interest in barbering started at 12 years old and entering the work field at 15 years old, my mind was consumed with wanting to get better and make money. I did Pursue with getting my barbers license and finishing high school, I did go to college for two years as well.
So let's switch gears a bit and go into the Xclusiv Barber Lounge story. Tell us more about the business.
Xclusiv Barber Lounge specializes in pampering the modern man along with little gentlemen's. We are known for being Palm Beach county's best barbershop and being the only appointment only barbershop in town. We specialize in scissor cuts, hot towel shaves, skin fades, tapers and sharp lines. I'm proud with only being established for four years, two of those years we maintain consistent being top three barbershop in Palm Beach County and proving to those who said the idea wouldn't work. What sets us apart from others is mainly the appointment only which helps with maintaining a steady schedule making it efficient to the client knowing they do not have to wait hours on end. Also, our attention to detail from the haircuts, the products we use/recommend and keeping up with the cleanliness of our shop.
How do you think the industry will change over the next decade?
Honestly, I feel like a lot of salons and barbershops are going to be closing down due to the salon suites concept. A lot of professionals want to be they're own boss and not give a chunk of their money to the salon they're working at and focus on the services they want to specialize in. I actually want to join that shift and create my own salon suites.
In terms of growth, I do see the beauty industry as a whole being worth a trillion dollars. With how fast new product companies and the technology behind the tools are evolving. Also, men are taking care of themselves more with getting services they commonly wouldn't of 5-10 years ago.
Pricing:
For our adult haircut we charge $30 and $40 for a haircut with beard.
A lot of people are stuck with old pricing which at times its irksome when I hear people complain about it. At 15 I was charging $15 that was 13 years ago. Everything since then has inflated and people need to understand that.

Contact Info:
Media Contact
Company Name: The Leverager
Contact Person: JT Literato
Email: Send Email
Phone: 5618771923
Country: United States
Website: theleverager.com