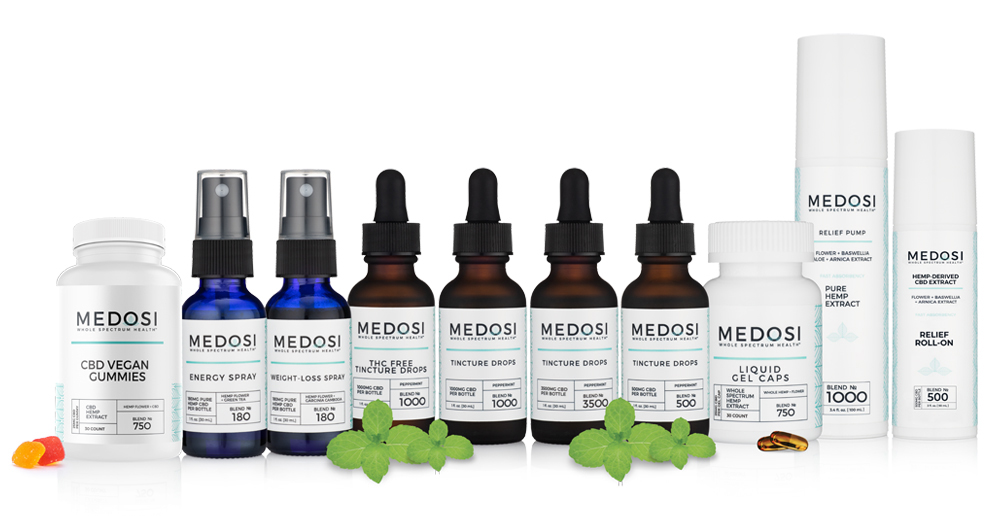 Medosi's family of products include sublingual tinctures and sprays, softgel capsules, editables, and topicals with new innovative products coming.
Legally compliant, physician formulated all natural, organically grown, non-GMO, US sourced Full Spectrum and Hemp derived CBD Products. Batch specific Certificate of Analysis with every product by an ISO/IEC certified 3rd party lab showing metals and pesticide testing and cannabinoid breakdowns. Medosi prides itself on quality products with best in class pricing, up to 50% less than leading competitors!
In 2018, the CBD market reached $500 million in sales, up from just over $100 million in 2014, according to Statista. An optimistic estimate by CBD industry analyst Brightfield Group places the market at $22 billion by 2022. The growth of the market indicates consumer interest in the natural product, which the companies believe independent pharmacies and healthcare professionals are well-placed to take a leadership position in providing.
Medosi's products are legally compliant, physician-formulated, non-GMO, all natural and organically grown on farms in the United States. All of Medosi's products are sourced in the United States. Medosi prides itself in offering a high-quality product with best-in-class pricing – up to 50% less than leading competitors.
The Medosi family of products include full spectrum and psychotropic-free hemp-derived CBD products such as tinctures, soft-gel capsules, gummies, topicals, a sublingual energy spray and a sublingual weight-loss spray, and there are new and innovative topical products coming soon. Each product comes with a batch-specific Certificate of Analysis performed by an independent, third-party, ISO/IEC certified laboratory that shows cannabinoid content, heavy metals, pesticides, terpenes and more.
Underscoring their commitment to educating pharmacists, healthcare professionals, their teams and their patients, Medosi offers a robust educational platform and materials that enable pharmacists and healthcare professionals to identify patients who may benefit from a Medosi product and help facilitate CBD education to those patients.
Guidance from a licensed pharmacist or healthcare professional who is well-versed in patients' medications and health histories will help ensure appropriate and effective use of hemp-derived extracts.
"We are really excited to partner with Mr. Checkout," said Mark Overdyk, Medosi's Chief Executive Officer. "This is a great opportunity to support our mission to provide greater access to a high quality, more affordable CBD product to people who need it. This goal aligns well with Mr. Checkout's reputation, which is built on uniting independent distributors throughout the country to service retailers and providing greater access to innovative products through its multiple channels."
Media Contact
Company Name: Medosi
Contact Person: Pamela Murray
Email: Send Email
Phone: 2403836410
Country: United States
Website: https://localretailpharmacy.com/featured-item/medosi/