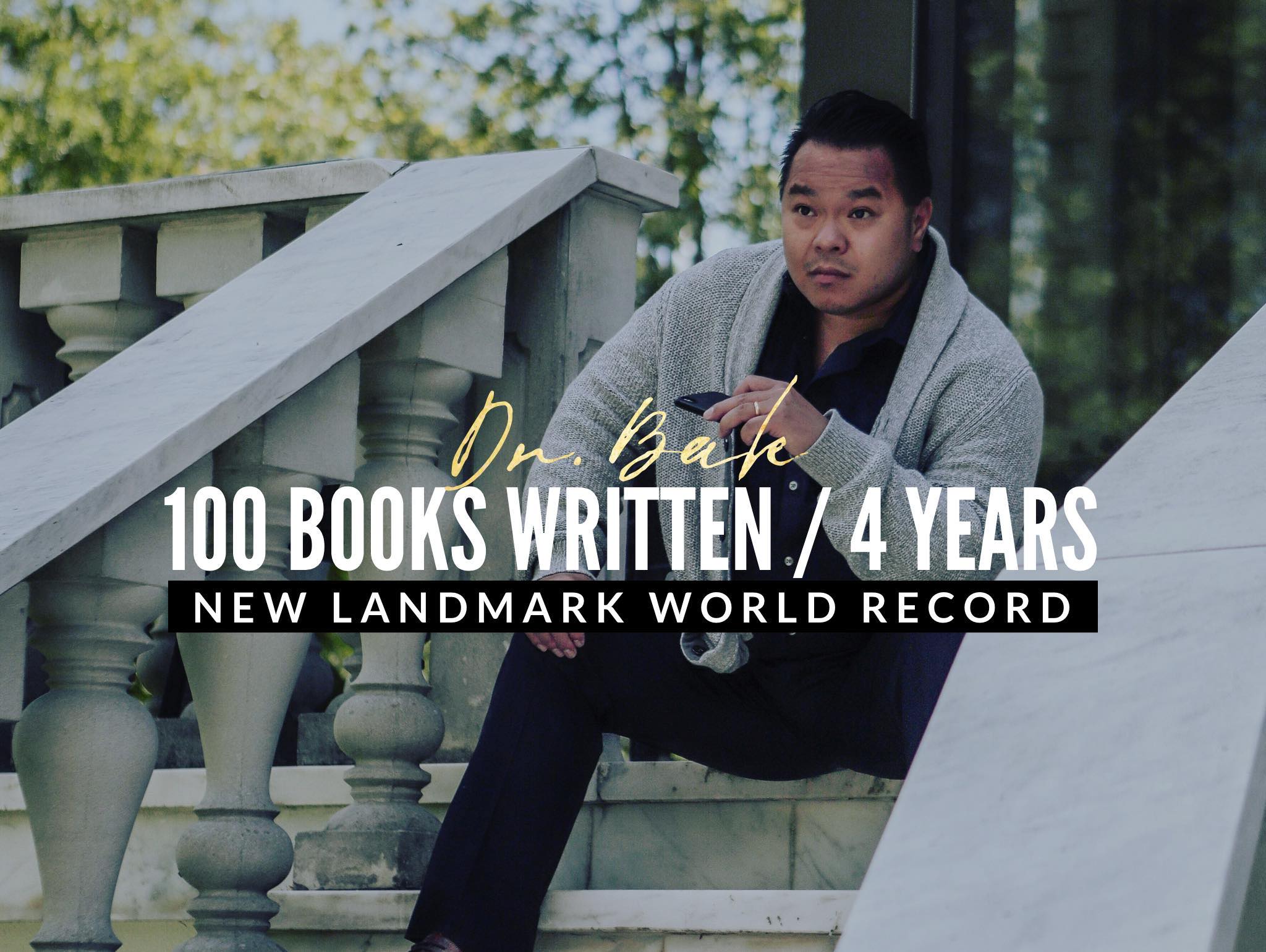 Gears up for the 101st
Last month, Mdex Founder, Dr. Bak Nguyen set a world record of writing and publishing 100 books in 4 years. In the last 4 years, Dr. Bak has continued to hit several book authoring milestones and world records. As one of the world's fastest authors, Dr. Bak completed this world record of writing 100 books in 4 years by writing 4 books in 16 days.
As setting a world record is no easy feat, Dr. Bak has faced difficulties in balancing out all the aspects of his life. In spite of the challenges, he pulled through with disciple and inspiration. According to him, "When it was harder for me to write, watching the Tokyo 2020 Olympics and especially the athletes (swimmers) coming back, contest after contest to keep winning medals helped me to relate. On that, I am very thankful to the Olympic committee and all the athletes. What they have done is to lift all of the world's spirits with their accomplishments. In COVID times, I believe that the difference they made will have a ripple effect for what is coming next, the comeback!
Since the Alpha Show Host started writing 48 months ago, he has written 2 books monthly. Over the years, his landmark world records were 9 books in 12 months, 15 books in 15 months, 36 books in 18 months + 1 week, 48 books in 24 months, 72 books in 36 months, and 96 books in 48 months.
As a highly experienced Alpha across many fields, Dr. Bak has written books about business, medical sciences (dentistry), self-help, travel, parenting, philosophy, and mindset. In spite of his achievements as a great author, Dr. Bak started his writing journey by writing children's books. ''The secret between 15/15 to 36/18 is that I started writing children's books with William, my 10-year-old son,'' says the world record-breaking author. Interestingly enough, now that Dr. Bak is setting his most significant world record with his 100 books written in 4 years, his son is also setting his, by having written his first solo book in only 9 days, allowing father and son to celebrate one accomplishment with another.
William Bak, Dr. Bak's son, is an 11-year-old prodigy who started writing at the age of 8. He co-wrote and translated 11 books, and has so far collaborated on 28 books with his father. To promote his books, William embraced the stage for the first time in 2019 talking to a crowd of more than 300 people. Since he has appeared in many videos to talk about his books and upcoming projects. In the midst of COVID, he started his YouTube Channel "GAMEBAK", reviewing video games. By the end of 2020, he has joined The Alphas as the youngest anchor of the upcoming world project Covidconomics, in which he will give his perspective and host the opinions of his generation. Dr. Bak should watch out because clear competition is coming his way!
Even though the world author is currently celebrating his world record with his family, he is not relenting. Dr. Bak plans to take a break for a few days, and then continue his journey with book 101.
All his books are available on Apple Books, Kindle, Amazon paperback, and Barnes & Noble.
For more information and to purchase one of Dr. Bak's books, visit his website, https://baknguyen.com/.
Media Contact
Company Name: Dr Bak Nguyen
Contact Person: Tranie Vo
Email: Send Email
Address:1002 Sherbrooke west R18
City: Montreal
State: QC H3A-3L6
Country: Canada
Website: https://baknguyen.com/