MAVERO is delighted to announce the launch of a Kickstarter campaign to help draw support for its ultra-soft boxers made from bamboo viscose material.
According to the company, the boxers were intentionally designed as an improvement for wearers who desire premium-styled boxers with a more relaxed fit. The team at MAVERO are urging gents to "give your balls a break" by wearing boxers with a little more room to breathe!
MAVERO says it perfectly understands the frustration associated with tight boxers which make for an uneasy and uncomfortable wearing experience. And so it crafted these boxers from bamboo viscose fabric to provide a softer feel superior to cotton.
MAVERO boxers offer a cool and anti-bacteria environment, with slightly loose fittings that create the much-desired breathing room typically provided by old-school boxer shorts. These premium styled boxers come in aesthetically pleasing colors and are carefully crafted to provide convenience while maintaining a classy tailored look which lovers of fashion will find appealing.
"Maintaining a slimmer fit, while giving the wearer some space was key to ensuring that we kept the boxers looking sharp. The premium fabric aesthetic and colors, along with the MAVERO logo stitched on the waistband in an embossed jacquard style create a fashionable pair of boxers."
MAVERO assures all customers that bamboo viscose is a flattering fabric with moisture-wicking properties, superior breathability, and an ultra-soft feel on the skin.
Made out of the bamboo plant, which happens to be one of the most renewable plant resources due to its ability to regrow almost immediately, MAVERO posits that the woody plant's health is improved by each harvest, making it one of the most environmentally friendly fabrics available.
"It's been over a year now since we started with the idea for MAVERO. We're at an exciting point in the project where we want the Kickstarter community to join us in creating an amazing product and getting it to the market."
The environmentally conscious brand also promises that its packaging will be produced by an eco-friendly packaging company and that shipping will be undertaken by Sendle to take advantage of its carbon-neutral delivery service.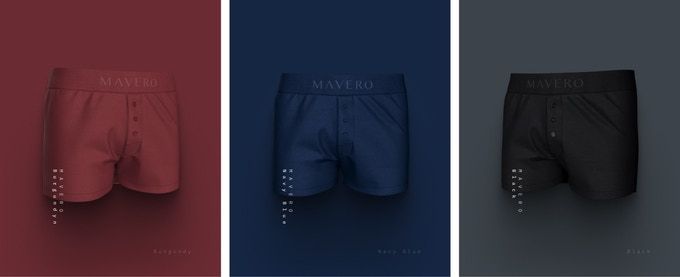 target="blank">https://waitinglist.mavero.store/
Facebook: https://www.facebook.com/mavero.store/
Instagram: https://www.instagram.com/mavero.store/
TikTok: https://vm.tiktok.com/ZSJnjW6c5/
Media Contact
Company Name: MAVERO
Contact Person: Conor McDonald
Email: Send Email
Address:Unit 802 181-185 St Kilda Road, St Kilda
City: Melbourne, 3182
State: VIC
Country: Australia
Website: https://waitinglist.mavero.store/