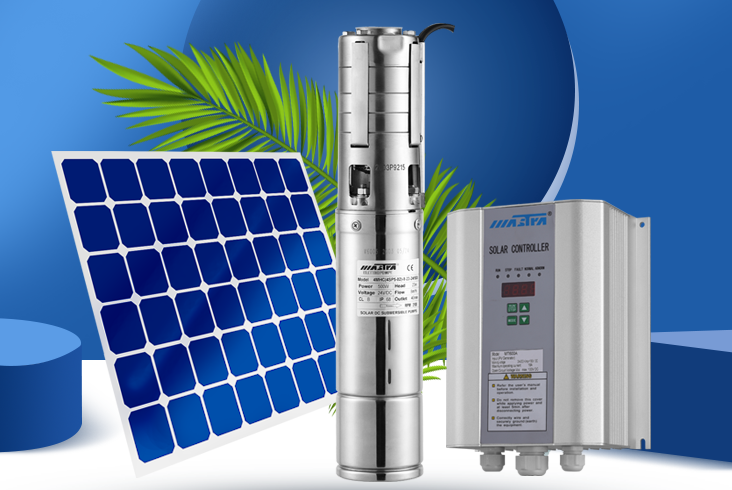 China-based MASTRA Electric Pump has introduced a new range of solar water pumps among its other merchandise. It comes as a major step towards building a more sustainable energy economy. The solar-powered submersible pumps reduce dependence on diesel and electricity, thereby promising great savings on fuel costs.
MASTRA solar water pump set includes a wide solar panel. The photovoltaic cells convert the energy of the sun into electricity, which is further used to pump water from rivers and wells. The water can be collected in reservoirs and storage tanks from where it is directed to irrigation systems, for domestic use or to fountain systems.
The corrosion-resistant stainless steel housings are highly reliable and durable. The lineup includes different types of pumps that one can select depending on the usage environment. There are two options to choose from: screw pumps and multistage impeller pumps. It depends on the daily water requirement at the duty head. Screw pumps are ideal for users requiring a high head and low water flow while multistage impeller pumps a low head with high water flow. The pump sets are designed to work in low-sun settings too, giving you adequate, consistent water output round the year, even when the sun is not too strong.
Also included are the electronic controller and electronic probe. The greatest advantage of the electronic controller is its near automated operation. It starts and stops pumping based on the output voltage and the water level signals. To add, it adjusts the operating speed to maximize efficiency and ensure a longer operating life. The controller features a digital tube display and LED signaller that lets one check the parameters when in operation. An in-built security feature shuts down the system in case of overloads or insufficient power.
As for now, MASTRA solar water pumps are available in DC category motors only. The manufacturer has also added in a small pack of basic accessories to further ease of installation.
MASTRA solar water pumps are a trusted and dependable solution. They are both energy efficient and low maintenance. The pump sets are among the best-in-class quality products manufactured and tested at the facilities ultramodern plant and research centre. Fashioned out of high quality materials and designed with precision, they give users the best value. The company further provides customer satisfaction with its extensive service support.
MASTRA Pump was under the aegis of Guangdong Ruirong Pump Industry Co. Ltd. They are a leading international supplier for submersible motors and pumps. The company has a global presence with customers based in over 80 countries worldwide. Their stainless-steel offerings support varied applications including residential, agricultural, commercial and industrial use.
As one of the key players in the industry, MASTRA Pump boasts of using cutting-edge pump engineering technology to produce high quality, energy-efficient and reliable pump sets. The company is backed by more than 20 years of experience and has over 90 patents to their credit.
Media Contact
Company Name: Guangdong Ruirong Pump Industry Co.,Ltd.
Email: Send Email
Phone: 0750-3656919
Address:No.22, North 3rd Road, Duruan Town
City: Jiangmen
State: Guangdong
Country: China
Website: https://www.mastrapump.com/