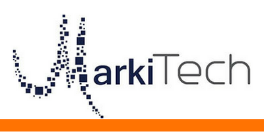 Canada – MarkiTech, a software development company specializing in healthcare, has announced the launch of its updated artificial intelligence (AI) software development services. The Toronto-based company has extensive experience in providing world-class software solutions for small and medium-sized enterprises (SMEs) in the healthcare and telco industries.
The updated AI development services aim to help SMEs achieve their growth goals by providing expert assistance with UX design, software development, testing, and product launch.
The team of over 50 software engineers and data scientists has a proven record of success, having partnered with fortune 500 companies, such as PWC, TELUS, and Rogers-Shaw. In addition, the company has launched several successful healthcare startups of their own, including YourDoctor.Online, SenSights.AI, Safe2Work.AI, and more.
As a global leader in software innovation, the company takes pride in driving progress in the healthcare industry. Though 5% of global data is healthcare-related, data remains underutilized in the healthcare industry. With their powerful AI-driven software solutions, the company helps clients collect data, perform analyses, and act upon their findings.
In the past 10 years alone, the company has delivered over 50 mobile, web, and tablet apps for Android, iOS, Windows, and Mac OS. Their applications have received widespread acclaim, accruing over 1600 positive Google reviews and more than 80,000 mobile downloads.
As MarkiTech maintains a commitment to workplace diversity, its team consists of ambitious men and women from across the globe. Their staff's diversity of experience gives clients access to seasoned professionals who have tackled a variety of challenging problems across several industries.
Further, the company takes pride in the speed of its development process. In as little as 2 to 4 weeks, clients can receive a working software prototype. MarkiTech understands the budget concerns of SMEs, so they provide top-tier software solutions at an affordable price point.
A satisfied client said: "I have worked with MarkiTech for some time now, and I am extremely impressed with their professionalism and focus on delivering high-quality, innovative products on time and within budget."
For more information, visit https://markitech.ca.
Media Contact
Company Name: MarkiTech
Contact Person: Nauman Jaffar
Email: nauman.jaffar@markitech.ca
Phone: (416) 684-2678
Country: Canada
Website: www.markitech.ca