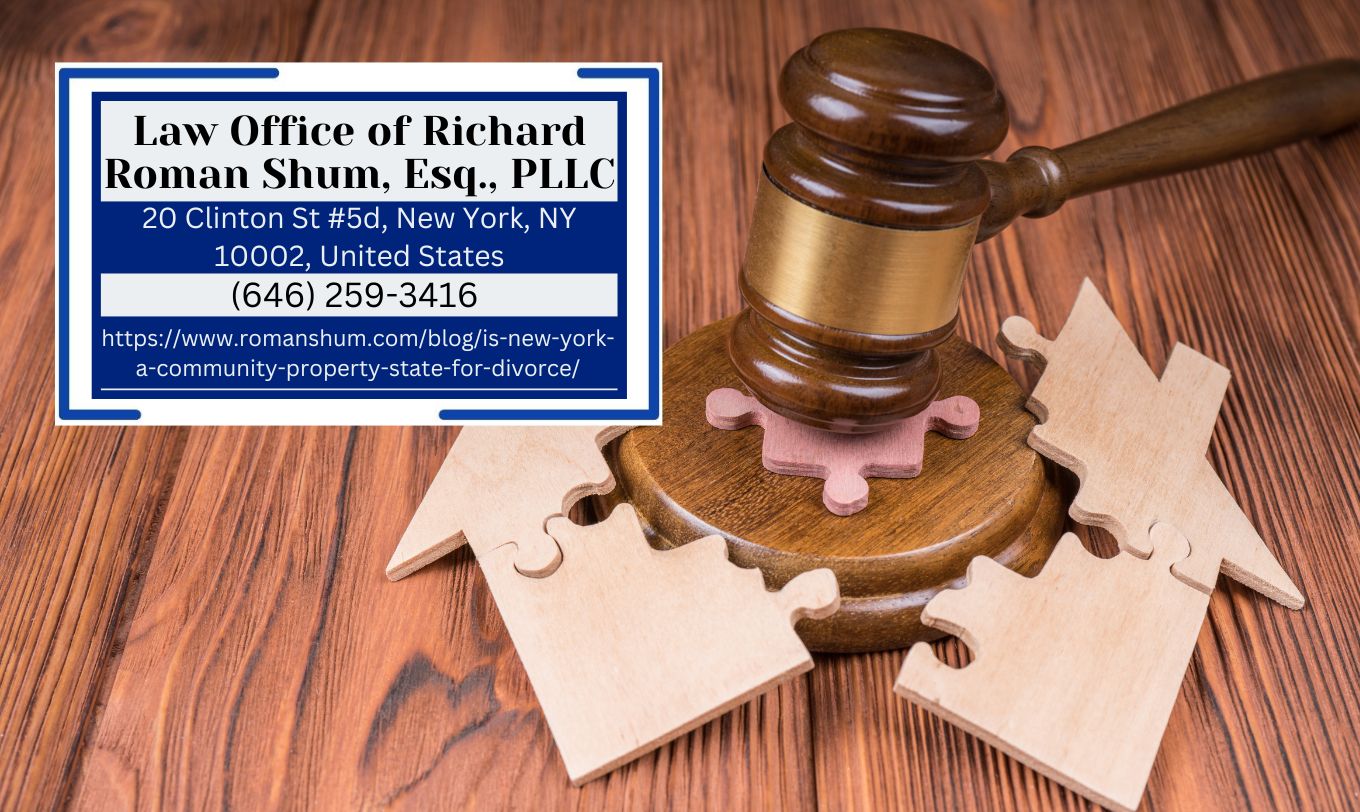 Manhattan divorce lawyer Richard Roman Shum (https://www.romanshum.com/blog/is-new-york-a-community-property-state-for-divorce/) has published a comprehensive article titled 'Is New York a Community Property State for Divorce?' through the Law Office of Richard Roman Shum. The piece provides vital insights into New York's property distribution laws, contrasting them with community property states, and educating readers on the intricacies of divorce proceedings in New York.
The Manhattan divorce lawyer elaborates on the system of equitable distribution, under which New York operates. This system ensures a fair and equitable division of marital property during a divorce, although not necessarily equal. Shum's article makes it clear that having a knowledgeable divorce lawyer is crucial to protect one's rights and ensure a fair allocation of assets.
In his article, the Manhattan divorce lawyer sheds light on the shift from the common law property system to equitable distribution in New York, which emphasizes fairness and justice for both parties involved in a divorce. He also highlights how New York's laws differ from community property states, where marital property is divided equally rather than equitably.
"Understanding the principles of equitable distribution and the rules governing the division of marital property in New York can better prepare individuals to navigate the divorce process and protect their financial interests," Shum states.
Shum further explains the legal concept of equitable distribution and how it applies in New York's divorce cases. He outlines the factors courts consider, including the length of the marriage, income, earning potential, and contributions of each spouse, among other elements.
The article also covers the New York Domestic Relations Law and its rules regarding the division of marital property in divorce cases. Shum explains the difference between marital property and separate property and how this distinction plays a significant role in asset division during a divorce.
Bringing additional clarity to the issue, Shum discusses notable case law and how it has influenced the principle of equitable distribution in New York. He highlights important legal precedents such as Grunfeld v. Grunfeld and Majauskas v. Majauskas, which have significantly shaped the division of marital property in divorce cases.
For individuals dealing with the possibility of property division in a divorce, the comprehensive article by the Manhattan divorce lawyer serves as an insightful resource.
About The Law Office of Richard Roman Shum:
The Law Office of Richard Roman Shum is a Manhattan-based law firm with a team of dedicated attorneys focused on family law, including divorce and property division. The team of skilled attorneys, led by Richard Roman Shum, is adept at guiding clients through the intricate divorce process in New York, advocating for their best interests. The firm is committed to providing quality legal assistance aimed at helping New Yorkers navigate the complexities of divorce and family law. The aim is to protect clients' rights, ensure a fair distribution of assets, and work towards a favorable resolution in every case the firm handles.
Embeds:
Youtube Video: https://www.youtube.com/watch?v=VNN91bHWHjo
GMB: https://www.google.com/maps?cid=3597344583150276913
Email and website
Email: richard@romanshum.com
Website: https://www.romanshum.com/
Media Contact
Company Name: Law Office of Richard Roman Shum, Esq PLLC
Contact Person: Richard Roman Shum
Email: Send Email
Phone: (646) 259-3416
Address:20 Clinton St #5d, New York, NY 10002
City: New York
State: New York
Country: United States
Website: https://www.romanshum.com/