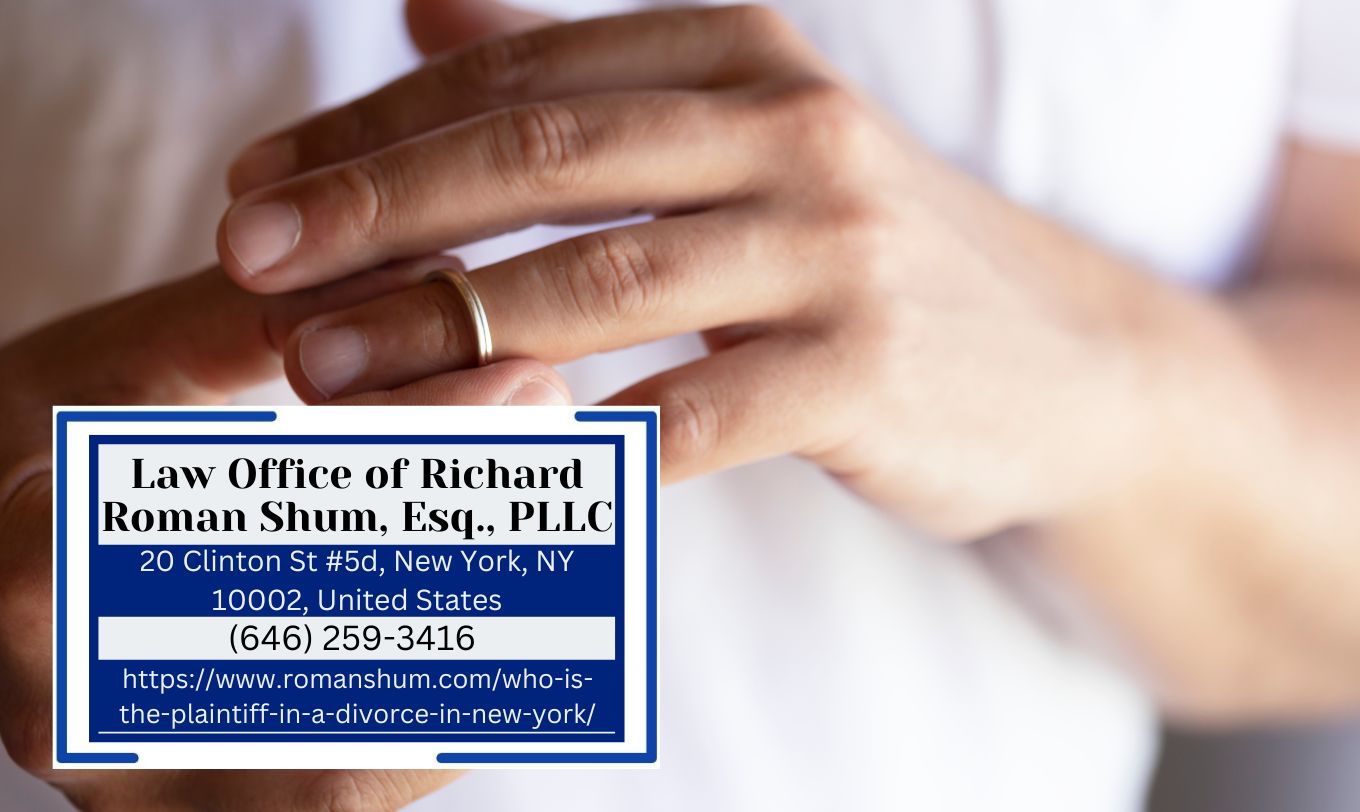 Manhattan Divorce Lawyer Richard Roman Shum Clarifies the Role of the Plaintiff in Divorce Proceedings
Manhattan divorce lawyer Richard Roman Shum (https://www.romanshum.com/blog/who-is-the-plaintiff-in-a-divorce-in-new-york/), of The Law Office Of Richard Roman Shum, has recently shed light on an often misunderstood aspect of divorce proceedings: the role of the plaintiff. In an insightful article, Shum explains the concept of the plaintiff in a divorce, providing comprehensive details of the responsibilities and potential challenges that come with this role.
Richard Roman Shum, a prominent Manhattan divorce lawyer, emphasizes that understanding the role and responsibilities of the plaintiff is critical to effectively managing divorce proceedings. He provides clarity on the term plaintiff, referring to the spouse who initiates the divorce process.
"The role of the plaintiff in a divorce case isn't just limited to initiating the process," the Manhattan divorce lawyer explains. "As the plaintiff, there are several responsibilities throughout the divorce proceedings that can profoundly impact the outcome of the case. These responsibilities span across legal and financial obligations, cooperating with the court, maintaining open and honest communication with the attorney, and attending court hearings."
The article offers a comprehensive look at the process of filing for divorce, the legal and financial obligations of the plaintiff, and the potential challenges faced during the proceedings. It delves into the many crucial steps involved, such as preparing the necessary documents, serving the divorce papers to the defendant, and waiting for the defendant's response.
The Manhattan divorce lawyer also highlights the challenges the plaintiff may face, such as dealing with a contested divorce, navigating issues related to child custody and support, and managing the division of assets and debts. Shum points out that being prepared to handle these challenges and making critical decisions can significantly impact the future.
Shum's article is a valuable resource for anyone considering filing for divorce in New York. It provides a clear understanding of what being the plaintiff in a divorce entails, offering a roadmap to navigate the often complex and overwhelming divorce process.
To fully understand the responsibilities and challenges of being the plaintiff in a divorce, consider reading Shum's insightful article. It's an empowering resource that could provide individuals with the knowledge they need to make informed decisions and navigate the divorce process effectively.
About The Law Office Of Richard Roman Shum:
The Law Office Of Richard Roman Shum is a respected legal firm located in Manhattan. They have a dedicated team of divorce lawyers who offer personalized legal guidance tailored to the unique needs of each client. The firm is committed to providing comprehensive support that goes beyond legal counsel, working towards the most advantageous outcome for their clients. Through their legal services, the Law Office Of Richard Roman Shum helps individuals navigate the challenging path of divorce with assurance and tranquility.
Embeds:
Youtube Video: https://www.youtube.com/watch?v=paPc-xW8ZeU
GMB: https://www.google.com/maps?cid=3597344583150276913
Email and website
Email: richard@romanshum.com
Website: https://www.romanshum.com/
Media Contact
Company Name: Law Office of Richard Roman Shum, Esq PLLC
Contact Person: Richard Roman Shum
Email: Send Email
Phone: (646) 259-3416
Address:20 Clinton St #5d, New York, NY 10002
City: New York
State: New York
Country: United States
Website: https://www.romanshum.com/